The Cosmopolitan arose from one of the great epochs of vodka: the Eighties. There were many abominable recipes birthed in that period, but the Cosmo — made properly, of course — wasn't one of them.
And we get the sense out there that the drink is coming back into favour a little bit, and turns out that Sydney bar, Double Deuce Lounge, has their own updated take on the drink made famous by Madonna, Sex In The City, and Dale DeGroff.
As to who invented the Cosmopolitan — one of the most famous drinks the world has ever known, frankly — there is a bit of conjecture.
One claim has it that Cheryl Cook invented it in South Beach, Miami, some time around the mid 1980s. Another version of it has it being invented by a bartender called John Caine in Provincetown, Massachusetts , who took it with him to the gay bars of San Francisco.
The most credible, we think, is that the drink was invented by bartender Toby Cecchini at New York restaurant The Odeon in 1987. His spin used citrus-flavoured vodka, fresh lime juice, and cranberry juice — it was a riff on a drink a waitress at The Odeon had said she'd seen doing the rounds of gay bars in San Francisco.
ADVERTISEMENT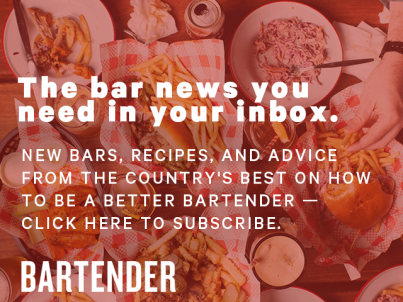 &nbsp
Cecchini's recipe is a strong one: 2 parts citrus vodka to 1 part each of triple sec, lime juice, and cranberry juice. You'll note that it's not absolutely drowned in cranberry juice; the cosmo should have a pinkish hue, not look like a deep crimson glass of cranberry juice.
But we've enjoyed a few — okay, more than a few — of the riff employed at Double Deuce Lounge by bar manager Oliver Churcher, simply titled The Cozmo. It employs a host of native Australian ingredients, and the delicious Marionette Apricot Brandy.
Get a look at the specs below, and should you happen to find yourself at Double Deuce Lounge, ask the guys how co-owner, Sebastian 'Cosmo' Soto got his nickname.
The Cozmo
35 ml Wyborowa vodka
15 ml rosella grenadine
5 ml Aperol 
5 ml Pierre Ferrand Curacao
5 ml Marionette Apricot Brandy
20 ml lemon juice
Shake with ice and strain into a coupe.
Garnish with lime and orange spritz.
Recipe by Oliver Churcher, Double Deuce Lounge, Sydney.