In October, one of the world's great advocates for agave spirits, Julio Bermejo, came to Australia — Melbourne, to be precise — to judge the national final of the Patron Perfectionists competition. 
Bermejo is the proprietor of his family's restaurant in San Francisco, Tommy's Mexican Restaurant. And if that name sounds familiar to you, well – it should. Tommy's is the home of the Tommy's Margarita, the Margarita variation that is made these days all over the world, and Bermejo is the drink's creator.
But Tommy's is much more than the home of a famous drink, it's also one of the world's most hospitable restaurants — Bermejo is known throughout the bartending world for his passion and his warm welcome to visitors.
And the place has been open for 54 years. You know they're doing something right.
So we stole a chat with Bermejo to talk all things hospitality, what to look for in a great tequila, and how to sell it.
ADVERTISEMENT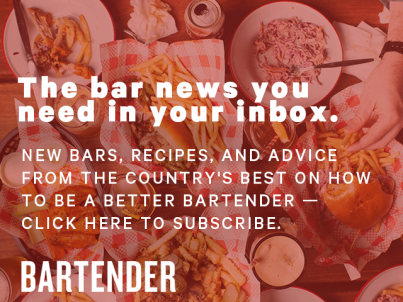 &nbsp
Tommy's Restaurant, whoever you ask about it, the thing they come away with is the hospitality there — they way they're made to feel welcome. What do you guys do that makes the hospitality so great?
When I was working to save money, the first thing I wanted to do was travel. And I have the great fortune, of almost everywhere I went, of meeting nice people — kind people — people were genuinely nice. And it always occurred to me, that when anyone comes to our restaurant who has been there or never been there before, you kind of treat them a little like family if they're nice, if they deserve it, and they're open to it. And especially the traveler and the new guest, I really appreciate someone taking the effort to go so far away in San Francisco to come and visit.
Is it easy to find?
It's one of the western-most points in the city, so you have to want to go there. We're in a residential neighbourhood. We're not close to the tourist areas, so you have to want to go. So that makes it special for me as well. But I gotta tell you, the few times if you've ever travelled, and you've ever had bad luck and someone helps you? Man, I remember being in countries with coup d'etats and not being able to get money, cards don't work, no access, and then a stranger is kind enough to go, here's 20 dollars, or a free ride to get to your embassy — I want to repay that a million times and a half. And so do our staff. It's very kitschy, and family _ to give you an example, the youngest team member working at Tommy's right now has been with us for about four years. The oldest guy has been over 30, bartenders something like 16 and 23 years.
That's not something you see everywhere.
Definitely not. They're not probably making the most money of anyone in the world, but we all work in a family environment, that I think is very healthy and relatively friendly and open  and that's cool.
OK so how do you do that, though — there's a lot of bars in the world and these people could work anywhere. How do you keep them for 16 years?
Well hopefully they're making money! And it's also just a basic axiom of keeping your promises. In 54 years we've never missed a pay day, and I know no business should miss a pay day.
But in hospitality and small business, it can happen—
It does. We're busting our ass for everybody. I wish I could have or known how to own a bar and I didn't have to be there. I like being there. I want to greet my guests, I want to see my guests. The coolest thing, I think, about the hospitality experience at Tommy's is you walk in and you see people of all shapes, of all sizes, all age groups, all colours — all everything. So my parents' friends continue to go to the restaurant, the children of my parents' friends go to the restaurant, their kids go to our restaurant, and they're bringing their children to the restaurant. 
There's a lot to be said for having three generations of a family coming into your restaurant.
It's cool. We're extremely privileged and honoured, and when people come to celebrate their weddings or to celebrate the lives of people that have passed, or to celebrate their birthdays — it's pretty cool.
Has Tommy's changed a lot in the 54 years it has been open?
You know we haven't changed the menu in 30 years, we only make one drink — I mean we're doing everything wrong.
Are you pretty much just putting out Tommy's Margaritas?
99 percent of the day! It takes me over a year to sell a case of vodka — it takes me three years to sell a case of rum.
So one of the things we do at the bar, when you come in and you're new and you're looking at the list and you may not know what you like, you finally decide on something — we'll put the bottle in front of you, you can touch, you can smell it, you obviously can't pour yourself. But we want that guest to be empowered to feel like they chose that product. 
For example, one of the things that kills me, if I go to a new bar or restaurant and I'm greeted warmly, and I ask the server, you know I've never been here — what do you recommend? And they say, 'Oh sir, you should have our special today, it's great.' This person doesn't really care about me. Without asking me questions about foundation, they want me to do this, this and this. So I know it's all about the money. That's fine. When someone who has never been to Tommy's and they get me unfortunately, and they ask me what I recommend? I recommend you get laid as often as you can, I recommend leafy green vegetables, I recommend you quit smoking cigarettes, how can I recommend something if you don't tell you don't eat beef, or green vegetables? Once you tell me that, I'm yours.
So what are the questions you ask them?
When someone comes in and says that they know nothing about tequila? No problem. First, do you drink distilled spirits, yes or no? Do you drink only fermented beverages or hard spirits? How do you drink them, neat, or in a cocktail? Neat? Okay, what kind of distillate do you drink, do you drink something with age, or no age.
If we're busy? Sir, here's two bottles: the one on your left is a highland reposado, the one on your right is a valley reposado — shake them both up, smell each one, and tell me which one smells better to you and then I'll bring you two more like the one you chose. Then we can go somewhere.
Unfortunately I'm the worst salesman in the world — I want to one day sell you something that you'll come back on your own and you'll order it yourself.
When it comes to tasting tequila, what do you look for in a good tequila?
If you're looking for good tequila, having to remember that tequila is made from a different plant than most other distillates in the world, it's important that good tequila smells of the raw material. Now, there's a huge problem today, like I said before with tequila being basically the only alcohol in the world not looking for customers, the response of big tequila to get in order to get to tequila to more and more places at a reasonable price, that can compete with products with products that cost infinitely cheaper to make, is to now make tequila with chemicals. Instead of taking agave and cooking it with heat, it's cheaper, much more efficient and faster, to hydrolyse it raw with acids. But if you take tequila that is made this way, and you take a glass of tequila that has been cooked, and smell the side by side, the one hydrolysed with acid smells more neutral and grainer and maltier, and the other tastes sweet and round.
Good tequila has to [taste] of agave, that raw material is unique.