The first thing that takes you is the aroma of toasted jaffles that wafts out the door; you must be on Greeves Street in Fitzroy, and you must be at Bad Frankie.
Bad Frankie is one of the world's great neighbourhood bars, if you ask us; it's a small little space with an outsized welcome ready for you when you enter. Sidle up to the bar and you're confronted with a wall of mostly hard to find and little-known spirits (and a couple of jaffle making machines working overtime).
Those spirits aren't that well known because they're all homegrown. Bad Frankie exclusively stocks Aussie-made hooch, and was the first bar to do so. From a rather small collection when they first opened back in 2015, the 2017 Small Bar of the Year winner is quickly running out of space to stock the best of the burgeoning Australian spirits industry.
Here, we speak to bar manager Lewis Halls about their latest cocktail list, the process behind it, and why working within the limitations of using exclusively Australian spirits allows him to be more creative when creating drinks.
What's the big idea driving the new list?
ADVERTISEMENT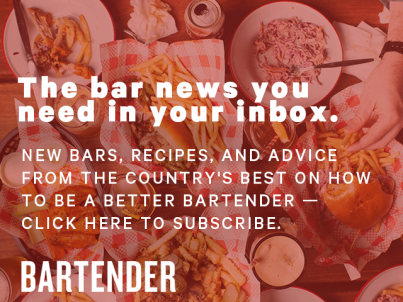 &nbsp
Australia. As we only stock Australian spirits this has been the natural course of all our cocktail menus. However with this menu I wanted to take it a step further. In the past we have definitely used many native ingredients, but for this menu it was the focus. Past menus have generally been about twisting a classic with all Australian spirits, vermouths, bitters etc. Whereas with our new menu I made a point to focus each drink around at least one native botanical.
How do you know when a drink is ready to go on the menu? When do you have it locked?
We kept looking for that third or fourth dimension of excitement in the drink. If it was too simple or even too reminiscent of a classic we weren't happy. Nothing against classics, we make them all the time. But for our list with an Australian native focus we really wanted it to jump out. Our last drink we nailed is actually our most simple drink. A Starward Two-Fold highball with a strawberry gum syrup. The flavours were good but it was just missing something; that something was malic acid. It really made the drink pop and gave the correct sweet and dry combo.
Can you describe the process you go through when developing a new cocktail list?
Well this time around I wanted to seperate the menu into three parts. 'Before Jaffles', 'Citrus & Refreshing' and 'After Jaffles'. I then separated each section into five cocktails. So for the 'Before Jaffles' section I chose to do light and apertivo-styled drinks and had a look at relevant styles of cocktails for inspiration. Such as the Spritz, the Negroni, the Martini etc. Then I designated certain spirits companies that we wanted to work with and at least one native botanical to each style. After the bones of each drink was ready and a little trial an error I had the drinks at about 90 percent of the way there, and in no way were they good enough. I then took them all to Seb and Theo to taste and discuss. The last 10 percent came from those discussions; the menu was now ready.
You've been strong advocates for Australian spirits — what are you seeing come through which excites you?
It's been great to see the sea of gins showing all the crazy ingenuity of Australian distillers for one thing. We've definitely really appreciated great whiskies like Starward's Two-Fold, both as a reasonably priced whisky that we can sell as a house spirit and for the Australian whisky industry in general (It's also a cracking drop). The different amaros and liqueurs popping up have also been really great to work with in recreating numerous classic cocktails with, like Okar Gold, Never Never Black Juniper Amaro, Imbroglio, Imperial Measures Distilling Ruby Bitter and everything Marionette.
What are some of the native Australian ingredients that you love and why?
Some of my favourites would be strawberry gum — what a flavour; wattleseed, useable in so many ways; alpine mint looks stunning; river mint [has a] crazy bush mint flavour; Geraldton wax — great for garnishing; finger lime [is] tasty as and so uniquely Australian; dried quandong shells, great for garnishing; muntries (awesome as a syrup that tastes like spiced apples) and blood lime makes for a good Daiquiri.
Is it easy to find these ingredients?
It's getting easier but is still a ways off. Farming in quanity is becoming more and more a thing as bars and restuarants are changing their priorities and shopping locally. Some great companies we work with are Spurrel Foraging, Bush Food Shop, and Something Wild. Every two weeks may also include a local urban forage.
Do you like having the restraint of using only Australian spirits?
I do enjoy the restraint as it focuses my mind more clearly with less blur in the peripherals. It can seem restricting but I've actually found it a little easier when coming up with new drinks. The amount of spirits made in Australia is not gigantic but it isn't tiny either. You won't get totally lost with endless options but there are still many interesting possibilities.