Every two years since 2009, Australian Bartender magazine, the country's leading bar industry title, announces the Most Influential List, the Top 100 names from the bar industry; the people who have led the charge to make this industry the innovative and entertaining game it is. And again this year, The House of Angostura jumped on board to sponsor the event, held during Sydney Bar Week last September, helping to make it bigger and better than ever.
Over the next week we'll be featuring the Top 10 as they shed some light on making a career in the industry, their thoughts on the ideal bar experience, mentors in their careers, the trends we'll see next year and more.
First up, it's number one on the Bartender Magazine Most Influential List sponsored The House of Angostura:  Michael Madrusan from Melbourne's Made In The Shade Group. Madrusan, along with his wife and partner Zara, are the ones behind the iconic Melbourne cocktail bar, The Everleigh, as well as five star dive Heartbreaker; most recently they opened Bar Margaux to critical acclaim.
#1 Michael Madrusan
Made In The Shade, Melbourne
Where do you see the bar world heading in 2020 — what do you want to see more of?
I'd like to see a focus on community within the industry. With an influx of new venues in Melbourne in 2019 and more exciting spots in the works, I hope the bar world can work together to support each other, share knowledge and better practices, and above all inspire a positive and healthy industry culture. Whilst competition is healthy and undoubtedly drives us forward, together we are always stronger. Out with the old, in with the new. The stagnant and outdated have no place in 2020, there's change in the air. I anticipate innovation and rejuvenation in all areas of this industry, from media, to brands, judging panels, venue concepts and drinks themselves.
ADVERTISEMENT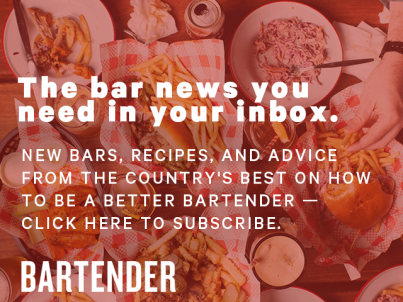 &nbsp
What's your ideal bar experience?
Cold beer and warm service. Turn the lights down and the music up.
What are you working on at the moment — what can we expect in 2020?
Made in the Shade will continue to diversify. We're constantly challenging ourselves and 2020 will be no different.
You'll see big things from The Everleigh Bottling Co. with a new direction for our fourth bottled cocktail collection. We doubled our team this year so we'll be concentrating on them. We'll be working on group wide programmes and initiatives that focus on education and wellbeing.
Who has been a key mentor in your working life and why?
There are a few. I, myself, am a bit of a project so I've had to lean on a lot people to get here.
Sasha [Petraske] was the reason I fell in love with cocktail culture. 
He taught me the principles that I govern myself by to this day, both in my professional and personal life. 
My family have supported me unequivocally on my journey. Even through the stupid decisions. They've always been there and helped build every bar and renovation to date. They've supported me when nobody else would. Their commitment and unconditional support taught me how to support my teams and what kind of leader I want to be. 
And my wife Zara, without whom most of what we have today wouldn't exist. 
What advice do you have for younger bartenders wanting to make a career? 
Check your ego at the door and remember, you're not saving lives. Stay humble and open to learning, whatever stage you're at in your career. 
Be polite and gracious. This industry moves fast, but that doesn't mean you should. Walk before you run and listen to people's stories. 
Above all, please remember it's not all about the goddamn drink. Anyone can make a great drink. Work the floor, learn about people and what they want. You can't care about this industry if you don't care about people. 
Learn how to make drinks efficiently so you can lift your head up and engage. 
Smile, you're not behind a desk.