During Sydney Bar Week last September we announced the Bartender Magazine Top 100 Most Influential List sponsored by The House of Angostura, and the Top 10: the people who have led the charge to make this industry the innovative and entertaining game it is.
As we close out the year, we'll be featuring the Top 10 as they shed some light on making a career in the industry, their thoughts on the ideal bar experience, mentors in their careers, the trends we'll see next year and more.
Next up is number three on the list, Martin Lange. Lange has four Brisbane venues under his watchful eye right now, Death & Taxes, Savile Row, Cobbler, and Finney Isles, with plans for another in the works.
Here, Lange share his thoughts in what the year ahead will bring.
#3 Martin Lange
Death & Taxes, Savile Row, Cobbler, Finney Isles, Brisbane
Where do you see the bar world heading in 2020 — what do you want to see more of?
For what I've seen so far happening in 2019, I think 2020 is going to reinforce even more going back to basic, true and tested cocktail offerings. Three to four ingredient cocktails using well thought-out combos and flavours. The rotovap is obviously staying, and as people keep experimenting and getting better at it, better flavours and ideas are going to come out, which I'm excited for. I believe Low ABV cocktails will continue to grow and appear in bigger numbers on cocktails lists.
ADVERTISEMENT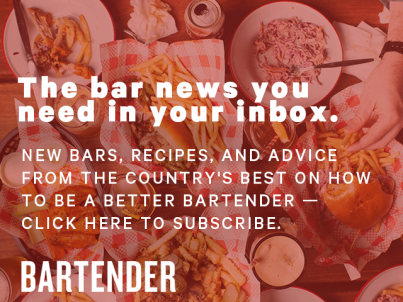 &nbsp
I will definitely love to see more of that simplicity. Get more elegant and fresh cocktails, using Australia's super-privileged access to fresh and incredible produce, that most of the world doesn't get.
What's your ideal bar experience?
A comfy bar stool, a long bar and a hospitable bartender or host that can serve you a beer and a shot with the same enthusiasm as a Corpse Reviver #2.
What are you working on at the moment — what can we expect in 2020?
We are currently looking at a couple of locations around Brisbane to do something slightly larger, with possibly a kitchen. There are a few ideas being thrown around, but the main goal would be to keep it simple but amazing. There is a lot happening in Brisbane in 2020, so we are taking it easy to see how the city evolves. 2019 threw a lot of curve balls, not only in our industry, but many others as well. It will be interesting to see how the new roaring 20's decade develops.
Who has been a key mentor in your working life and why?
I will always say that Nick Pinn has had a massive influence on work ethic and running bars. I worked for him in 2006 at Glass Bar and it showed me a side of the industry that I hadn't seen yet, and he is the one that inspired me to open my own bar one day. I will also say that Blake Ward and Dustin Davis had also a massive influence on me when I worked with them at Sun Bar in 2004, showing me real passion for cocktails and knowledge.
What advice do you have for younger bartenders wanting to make a career?
Put your head down, listen to your elders and work hard. I know it sounds like advice a dad would say, but as a business owner, I value hard work and a willingness to learn over any other attribute. Knowledge, cocktail making, even proactivity can be taught. Having an attitude for hard work can't.