During Sydney Bar Week last September we announced the Bartender Magazine Top 100 Most Influential List sponsored by The House of Angostura, and we unveiled the Top 10: the people who have led the charge to make this industry the innovative and entertaining game it is.
As we close out the year, we'll be featuring the Top 10 as they shed some light on making a career in the industry, their thoughts on the ideal bar experience, mentors in their careers, the trends we'll see next year and more.
Next up is number four on the list, Paige Aubort. Aubort is the driving force behind Coleman's Academy, and you can find her behind the stick at Sydney's Bulletin Place.
Here, Aubort share her thoughts on what the year ahead will bring.
#4 Paige Aubort

Coleman's Academy & Bulletin Place, Sydney
Where do you see the bar world heading in 2020 — what do you want to see more of?
ADVERTISEMENT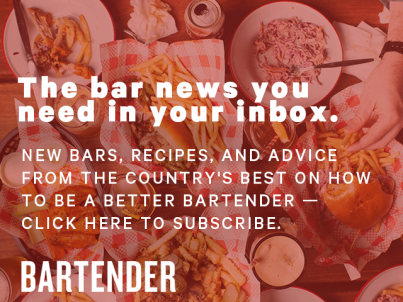 &nbsp
Social media is here to stay and whilst our feeds feel like a forever sliding power point presentation of different fruit leathers and perfectly coiffed drinks on top of marble table tops, it will also continue to give a platform to voices of minorities or otherwise often unheard people of our industry. People of colour, people of different abilities, people who asked to be defined by their work not their gender. I encourage everyone to seek these people out. Social media is a powerful tool and it can be used for much more than just advertising our cocktail of the day.
I want to see more shared knowledge. That elderflower, chamomile and fig leaf drink truly looks incredible, now please, please tell me how you make it. I want to keep learning and I want to know how to use the same ingredient 20 different ways and come up with 100 different results. Let me into that wild brain of yours and pour out some of that sweet sweet wisdom nectar.
What's your idea of the ideal bar experience?
My ideal bar experience is one that favours warm service supported by attention to detail and a thoughtful approach to what goes into it's glass. I want to be served by someone who wants to be there, some one who cares. I will always return to a place with average drinks and brilliant service over a brilliant drink and average service. I like drinking things that have come from small independent producers. Support your local extends to not only your grocer but also your neighbourhood bar and in turn we should be using our position of privilege/buying power to make sure we support our local (supplier, producer, wine makers, brewer, distiller etc).
Who has been a key mentor in your working life and why?
Lewis Jaffrey. The man is so emotionally intelligent and empathetic, not to mention has an incredible work ethic. It's a lethal combination. He has an ability to lead, to nurture, to teach, to rally. I've never worked for him directly but by far he has had the greatest impact on my working career. He taught me how to understand and how to care for people, he taught me what compassion looks like, he taught me about self worth and he taught me that often people don't even need you to have the answers to all their problems, you just need to be willing to make the time, show up and listen.
What advice do you have for younger bartenders wanting to make a career?
The term sustainability doesn't just apply to the ingredients you should be sourcing for your drinks. It applies to yourself — both your physical and mental health. Invest in your emotional well being, prioritise exercise, learn how to consume alcohol without excess, get a therapist. Don't make your venue your whole life, that bar isn't even the whole life of its own owners. Get creative, have a side hustle, be on the look out for new projects at all times. It will make you a more interesting person to be around, to work with, to be served by. It'll provide you with new experiences, open up new worlds and make you more aware of the world around you. If you're too tired from work, if you're too exhausted and you don't have enough time or energy to be getting excited or involved in other projects then pull back at work, not from the ideas and projects that light a fire in your belly. Make sure you're checking your contracts/pay slips, that your hours are being financially recognised and that your super is being paid. Start a savings account you don't have easy access to, chuck your tips in there. Be hungry to learn, know your self worth and always, always stay humble.