During Sydney Bar Week last September we announced the Bartender Magazine Top 100 Most Influential List sponsored by The House of Angostura, and we unveiled the Top 10: the people who have led the charge to make this industry the innovative and entertaining game it is.
We've already published our interviews with the top four on the list — Michael Madrusan, Anton Forte, Martin Lange, and Paige Aubort — and today we hear from number five on the list, Matt Whiley.
Whiley is the brains behind Scout in London and Scout Sydney, which wrapped up its residency at The Dolphin in Surry Hills in December. He has also recently taken on the role of beverage director for Maurice Terzini venues The Dolphin, Bondi Beach Public Bar, and CicciaBella.
Here, Whiley sheds some light on making a career in the industry, his thoughts on the ideal bar experience, the trends we'll see next year and more.
#5. Matt Whiley
Scout, Sydney
Where do you see the bar world heading in 2020 — what do you want to see more of?
I think there is no better time to work in this great industry. I think there are some amazing initiatives around the world. I love how the community is opening up to each other and championing each other's success… I would like see even more openness and more coming together and sharing ideas.
ADVERTISEMENT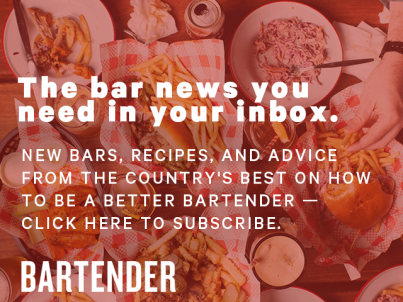 &nbsp
What's your ideal bar experience?
I love experiencing the unexpected. In the age of social media there is so much info on a venue before you have arrived so when you get to experience something you do not expect, I think it's very special. The way the room is, or a drink that blows your mind, or a member of staff that made your evening with incredible service — I love all that.
What advice do you have for younger bartenders wanting to make a lasting career in the bar world?
I recently heard a young bartender in the city say all he cares about was being a famous bartender… this blew my mind. I would say forget about being famous and concentrate on taking care of guests and making tasty shit.
Who has been a key mentor in your working life and why?
I'm an introverted person and with my sporting past I'm driven from within, with the simple focus on being better than the day before.
In terms of mentors I haven't really worked under or been mentored by anyone but I'm inspired by a lot of chefs and bartenders around the world. I'm really close to Luke Whearty, and [we] discuss ideas and give each other a lot of banter; [I] also keep in touch with friends in London especially Alex [Kratena] and Monica [Berg] at Tayer + Elementary.
What are you working on at the moment — what can we expect in 2020?
I'm alway working on both Scout London and Sydney and always striving to improve what we do. I'm also working across the group for Maurice Terzini. In London we are working on new menus at both the Zetter Townhouses in Marylebone and and Clerkenwell. We have a large scale consultancy project that will open in the new year in Brixton and [I'm] also working on the liquid for a new bitter British aperitif. For 2020 expect a couple of new venues in Sydney and maybe Asia.