During Sydney Bar Week last September we announced the Bartender Magazine Top 100 Most Influential List sponsored by The House of Angostura, and we unveiled the Top 10: the people who have led the charge to make this industry the innovative and entertaining game it is.
We've already published our interviews with the top five on the list — Michael Madrusan, Anton Forte, Martin Lange, Paige Aubort, and Matt Whiley — and today we hear from number six on the list, Sam Egerton.
Egerton is the group bars manager for the Sydney-focused hospitality group, Merivale. At the moment he's working on getting a couple of new bars open for the group: Bar Totti's in the Ivy complex, and Will's on the middle level of Coogee Pavilion.
Here, Egerton shares some advice on making a career in the industry, his thoughts on the ideal bar experience, the trends we'll see this year and more.
ADVERTISEMENT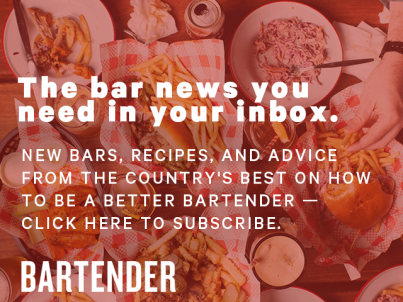 &nbsp
Where do you see the bar world heading in 2020 — what do you want to see more of?
I think the realities of global warming are going to start to have a profound impact on the bar industry in 2020. With climate change affecting and leading to shortages in crops, produce and livestock the increase in cost to the average bar operator or the complete lack of availability of products will cause the drinks being offered in venues to evolve. Seasonal produce will start to become a luxury rather than the norm.
What's your ideal bar experience?
A big New Orleans-style brass band, delicious pints and a beautiful untouched pub. So, in essence, the East Sydney Hotel on a Sunday evening.
 
What are you working on at the moment — what can we expect in 2020?
The pace at Merivale always reaches a fever pitch over summer, for some reason we have a knack of opening venues during this time. And this summer is no exception. We have a bar-oriented version of Bar Totti's coming to George Street as well as a late-night Falafel joint just down the road. And we are finally getting into the middle floor of Coogee Pavilion with a cocktail bar, restaurant and wine bar filling the space and bringing the whole building together. All going to plan these should be all rolling by the end of summer.
Who has been a key mentor in your working life and why?
I have been lucky to have a few people that have been integral in points of my life in the hospitality industry.
Jason Ratcliffe employed me in both my first nightclub and then a cocktail bar in Christchurch, and then got me my first job in Sydney at 360 in the Centrepoint tower, and then the bar manager gig at The Lincoln. I don't think I ever thanked him enough for the multiple leg ups he provided me — so thanks Jason!
And the other person of major note would have to be Paul Mant. The group bars manager before me and a mentor when I moved from venue operations roles to the gig I do now. I do not think I would have been as successful as I have been and I consider it a privilege and an honour to work with him.
What advice do you have for younger bartenders wanting to make a lasting career in the bar world?
Read books, drink at bars that you find intimidating and/or inspiring, find something that you love to do outside of the world of bars and don't stop doing it, and drink (and eat) everything — responsibly of course.