Whiskey Apple revisited: get the Double Deuce Lounge take on the popular Whiskey Apple recipe
The Whiskey Apple is a simple drink: take American whiskey, and freshly juiced apple juice, and drink with abandon. It's the drink that is well known throughout bartending circles around Australia, and that's thanks to a few venues in the Swillhouse portfolio: Shady Pines Saloon, The Baxter Inn, Frankie's Pizza. The drink's simplicity has seen it pop up on menus from Penrith to Perth.
But Oliver Churcher's take on the drink, at Double Deuce Lounge in Sydney, takes another route, providing an elevated version of the drink that pours clear, in homage to the original.
"All the boys worked at Swillhouse venues, which made the whiskey and fresh apple juice a thing, and this is an example of taking something and updating a little, changing it a little," Churcher says.
"It's meant to be a very familiar flavour profile, just done in a different way which is what we've done with most of our cocktails."
ADVERTISEMENT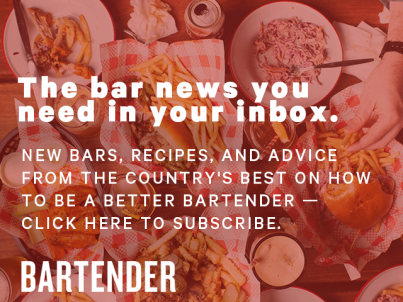 &nbsp
To do this, Churcher batches the ingredients and carbonates them ahead of service — and there's a bit of technique involved in clarifying the apple juice, and some simple kit to pick up.
"Just any kind of PET bottle," says Churcher. "We re-use them. The rig you can get from home-brew stores, and the one we use is called Hop & Grain on Sydney street at Sydenham station. You get a gas cylinder, a bit of PVC piping, a regulator, and then what's called a quick lock gas disconnect, some carbonated caps and you're good to go.
"Obviously a Whiskey Apple is all cloudy and foamy, whereas this is austere and clear."
Churcher says that there's a bit of a learning curve involved in carbonating drinks in-house, but it isn't too complicated once you get used to it.
"It's pretty straightforward," he says, "it's just getting familiar with using it and understanding what's going on."
And the result is an elegant take on a classic flavour combination, one that is proving a hit with the punters.
"It's definitely one of the more popular drinks on the menu," Churcher says.

Whiskey Apple
40 ml Makers Mark
5 ml Roger Groult Calvados
15 ml rooibos syrup
10 ml vanilla acid
70 ml clarified pink lady*
20 ml water
Batched and force carbonated, and poured into a tall glass with a long, clear block of ice.
Recipe by Oliver Churcher, Double Deuce Lounge, Sydney.
*For the Clarified Pink Lady Apple
Cut pink lady apples into quarters, and place 1/2 teaspoon of ascorbic acid into the liquid receiving container.
Feed pink lady apples through Breville juicer. As the first juice comes through, stir quickly to dissolve the ascorbic acid.
Once pink lady apples have been juiced and have settled for a moment, skim foam from the top using a julep strainer.
Add pectinase to the apple juice at the ratio of 2 grams per litre, then stir to dissolve. Allow to sit for at least 15 minutes.
Pour apple juice into cloth filter bag with receiving container underneath. As the juice is straining through, check the clarity using a tablespoon every few minutes. Once the liquid is running perfectly clear, place a new receiving container underneath.
Pour the remaining cloudy juice very gently down a barspoon into the cloth bag, being very careful not to disturb the filter layer of apple solids at the bottom of the bag.