During Sydney Bar Week last September we announced the Bartender Magazine Top 100 Most Influential List sponsored by The House of Angostura, and we unveiled the Top 10: the people who have led the charge to make this industry the innovative and entertaining game it is.
We've already published our interviews with the top six on the list — Michael Madrusan, Anton Forte, Martin Lange, Paige Aubort, Matt Whiley and Sam Egerton — and today we hear from number seven on the list, Adelaide's Ollie Margan.
Margan is co-owner and bartender behind Maybe Mae in Adelaide, which last year took out the top prize in the Cocktail List of the Year category at the Bartender Magazine Australian Bar Awards, and a number of other Adelaide venues including West at Henley, Shobosho and more.
Here, Margan shares some advice on making a career in the industry, his thoughts on the ideal bar experience, the trends we'll see this year and more.
#7. Ollie Margan
Maybe Mae, Adelaide
Where do you see the bar world heading in 2020 — what do you want to see more of?
A blurring of lines between the culinary world and the bar world has really unlocked a new approach to to not only flavour and technique, but the DNA of what constitutes a 'cocktail'. I think this aspect will develop even further. It is great to also see the 'fun' brought back into the premium drinking space – bars like Fancy Free, Bulletin Place and Maybe Sammy are setting a great example with respects to concept, brilliance and good times!
ADVERTISEMENT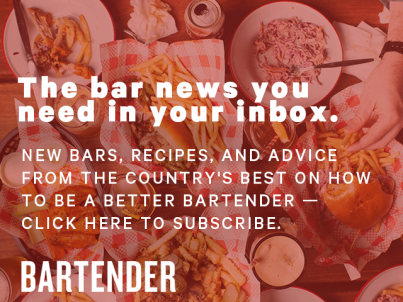 &nbsp
What's your ideal bar experience?
For me context is everything. There are so many venues, covering so many genres, themes and niches that it is really important to know what to expect from a venue. This is where the customer experience and product come together best. I think the strongest bar experiences I have to memory are ones where the venue undersells and over delivers.
What are you working on at the moment — what can we expect in 2020?

Normalising my life balance a little, it has been a pretty full on period of expansion — seven venues in five years. We are looking to really push the Maybe Mae brand and see where we can get to with that, hopefully it will be a name oft-seen outside of Adelaide in 2020. I have a really strong team there at the moment and I want to try and make that place as fulfilling as possible for them, so we are all going to give it a good nudge. Also hoping to graduate from a uni degree I started eight years ago.
What advice do you have for younger bartenders wanting to make a career?
I'm not sure I've quite been around long enough to speak retrospectively! I think tenacity and loyalty go a long way – if I were to isolate two traits I look for and would like to think I carried. Also, look after yourself. This is a profession, and if it is to be your career, get serious about it – this will be easily identifiable to your employer and it will be the best way to move up the ladder.

Who has been a key mentor in your working life and why?

There has been a number of massive influences for me over the last half decade, in the early days I really wanted my bar to be drinks in the style of Bulletin Place (thanks Tim), and service in the style of Black Pearl (thanks Matt Stirling and Nathan Beasley). More recently, Rob Libecans has been a great source of support and guidance – I have a tremendous amount of respect for the way he conducts himself in the industry.