During Sydney Bar Week last September we announced the Bartender Magazine Top 100 Most Influential List sponsored by The House of Angostura, and we unveiled the Top 10: the people who have led the charge to make this industry the innovative and entertaining game it is.
We've already published our interviews with the top eight on the list — Michael Madrusan, Anton Forte, Martin Lange, Paige Aubort, Matt Whiley, Sam Egerton, Ollie Margan and Jenna Hemsworth — and today we hear from number nine on the list, Sven Almenning.
Almenning is no stranger to the top 10 of The Most Influential List, being the only person to make the top 10 in every year the list has been released.  Almenning is the managing director of the influential Speakeasy Group of venues — Eau de Vie Sydney and Melbourne, Boilermaker House, Mjølner Sydney and Melbourne, Nick & Nora's Sydney (and a forthcoming Melbourne outpost) — and he is responsible for having trained thousands of bartenders down the years.
Here Almenning shares some advice on making a career in the industry, his thoughts on the ideal bar experience, the trends he wants to see this year and more.
#9. Sven Almenning
Speakeasy Group & Ananas, Sydney/Melbourne
Where do you see the bar world heading in 2020 — what do you want to see more of?
To be honest, where I see the bar world heading is probably not where I'd like to see it go. We'll probably see an avalanche of so-called 'alcohol free spirits and liqueurs' launch in the coming 12 months, which is not a trend I endorse in any way. I am all for "healthy and mindful drinking", but I don't think flavoured waters priced at $50 for 700ml is the solution.
ADVERTISEMENT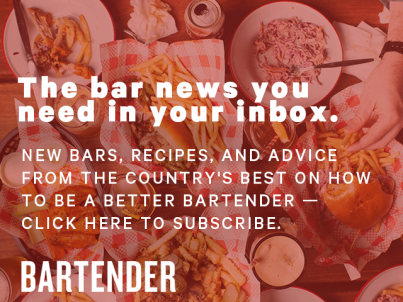 &nbsp
Nor do I think the products are particularly good, and it's my opinion that bars can do a better job by doing regular, daily infusions and hydrosols at a far cheaper price.
In terms of what I'd like to see more of: I just love watching bartenders, chefs, and wait-staff open their own venues. This is a trend I am loving and want to support where I can, hence the launch of our own Speakeasy Group Pathway to Partnership program.
What's your idea of the ideal bar experience?
My ideal bar experience is not hard to describe. I enjoy small to medium sized venues that have a lot of character, where the music is kept to a level that encourages conversation, where the drinks are meticulously prepared and tasty and that serves great food designed for the environment where it is being enjoyed. I prefer table service over bar service, so nobody has to leave the conversation to get a drink, and cocktails and whisky over beer and wine.
What are you working on at the moment — what can we expect in 2020?
There's a lot on the cards for 2020 for us. We're opening Nick & Nora's in Melbourne end of March 2020, and have another venue in the works for Sydney in February. The lease has yet to be signed, so we'll see… In addition we hope to open at least one venue in partnership with our staff as part of our Pathway to Partnership program and then of course there is the ongoing growth and expansion of our ANANAS learning and management platform.
Who has been a key mentor in your working life and why?
Unfortunately I have never had a mentor in my life, something I do lament. That said I have been fortunate to work with some amazing people over the years and I have no doubt learned a lot from the various legends we have been lucky enough to have work in our businesses for the past 15 years or so.
If I had to mention anyone it would have to be my wife who always inspires me to be a better person, and Greg Sanderson, my business partner, who never ceases to impress me, and who probably understands my strengths and weaknesses better than I do myself. Russ McFadden, is another super star who never seizes to amaze me with his knowledge and skill.
What advice do you have for younger bartenders wanting to make a career?
A key one for me is staying power. In order to really make a name for yourself I believe bartenders need to stay for a longer period of time in the venues they work in. Two years should be the minimum in a good bar, ideally more. When I think of great bartenders, I always associate them with a specific venue. By staying in the same place for an extended period of time, you can become known for something, by moving around every six months or so, there is no time for you to properly establish a profile for yourself.