During Sydney Bar Week last September we announced the Bartender Magazine Top 100 Most Influential List sponsored by The House of Angostura, and we unveiled the Top 10: the people who have led the charge to make this industry the innovative and entertaining game it is.
We've already published our interviews with the rest of the Top 10 on the list — Michael Madrusan, Anton Forte, Martin Lange, Paige Aubort, Matt Whiley, Sam Egerton, Ollie Margan, Jenna Hemsworth and Sven Almenning — and today we hear from number 10 on the list, Penny Sippe.
Sippe is the sponsorship, experiential and PR manager for Bacardi-Martini Australia. Sippe has a hand in everything experiential, including all the big training, competition and event initiatives put on for bartenders and the bar industry throughout the year from BMA, as well as the company's consumer-facing experiential side.
Here Sippe shares some advice on making a career in the industry, her thoughts on the ideal bar experience, what she wants to see this year and more.
#10.Penny Sippe
Bacardi-Martini, Sydney
Where do you see the bar world heading in 2020 — what do you want to see more of?
2019 was the year of equality, wellness and no fear of honesty and speaking out for what you are passionate about. I am sure this will continue into 2020.
ADVERTISEMENT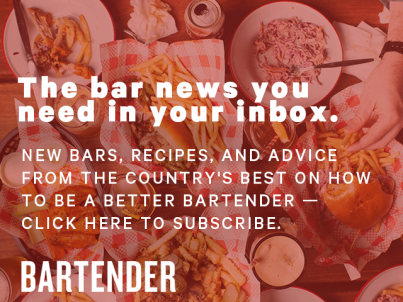 &nbsp
There is always something new and continuous blurring of lines between styles of venues which is exciting, but also venues need to keep their authenticity – you don't want to be a one trick pony but you also want to be proud and stay true to what you believe in, your heritage as such.
What advice do you have for younger bartenders wanting to make a career?
Attitude is everything – you never know who you are talking to or who is watching. Put in the hard yards, don't expect that one competition win or press article to send you straight to the top. Support your peers and know your worth. Eagerness to learn and get the most out of every experience will set you up for success in the future. I always take note of bartenders who do the right thing and try to support [them] where I can.
What's your idea of the ideal bar experience?
My favourites are where you always feel welcome regardless of if you go every week or it is your first visit. Service makes it memorable and great service makes it ideal. This could be a genuine smile when I walk in the door, treating all customers as equal, recommending drinks to suited to your customer requirements and great bar food – who doesn't love a snack.
What are you working on at the moment — what can we expect in 2020?
Too much at the moment – lucky I love what I do and the industry I am fortunate enough to be part of. It is a constant balance between executing this year's plans, wanting to plan for next and also taking a step back to keep challenging myself, our team and agencies on how things could be improved – more creative, more successful, more engaging, more newsworthy and more unique.
Experiential is one of the four core pillars of the Australian business so the calendar is full all year round. There isn't an experiential project I don't oversee and my passion means emails all day but also the satisfaction of delivering projects for consumers and bartenders that I and the brands are proud of.
2020 will be filled with experiential programs across our Bacardi-Martini Australia portfolio. Expect to see bartender competitions, consumer activations, international guests and maybe a new product launch or two. Each project and brand is so different so every day is an adventure keeping me motivated and inspired. To do lists – expect lots of those for 2020!
Who has been a key mentor in your working life and why?
From my old days of fashion and retail my manager Lucy Bennett from both Selfridges in London and Myer in Australia was an inspiring leader – always pushing the creative boundaries.
Mikey Enright is a constant inspiration – everything he does is with detailed planning and passion. He is one of the nice guys!