As the bar scene in Sydney comes into its second decade since the influential small bar legislation made it easier for hospitality pros to start their own venues, many of those who had the first-mover advantage — bars like Grandma's, say — have evolved into multi-venue concerns.
And the smart groups — like Liquid & Larder, who have Grandma's, The Wild Rover, Bistecca, and recently-opened The Gidley — pick up a talented group bars manager, someone, say, like Jonothan Carr.
Carr has been in the bartending game for around 15 years, and he began with Liquid & Larder in the first half of last year. The guy has talent, that's for sure — he's been at the pointy end of pretty much every cocktail comp worth entering over the last decade — and he's well-known for offering top-flight service.
Here, Carr talks to us about his role and just what it entails, and details a little about his approach to bartending in general.
As told to Sam Bygrave
ADVERTISEMENT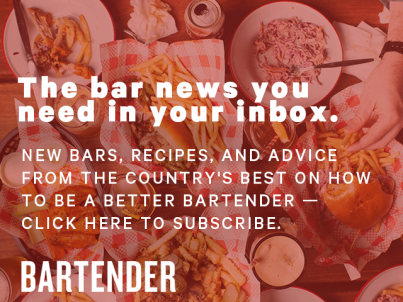 &nbsp
My role is group bars manager, which means I take care of any new cocktail development, service standards, and training across the group.
I think any good cocktail list is a collaboration. The team in each venue tend to know our guests and their tastes better than me so I like to get everyone putting forward cocktail ideas.
With any new venue, we throw everything at it to begin with. You'll find it's myself and the rest of Liquid & Larder exec team here [at The Gidley], and once we have aces in places we'll start to take a few steps back and let the general manager of each venue lead the way.
The Gidley takes customers back to a golden era, kind of like a gluttonous feast: which can be interpreted as a room of fancy people getting pissed — responsibly, of course. That's legit. My involvement is first and foremost in the lounge, the beginning of The Gidley's customer experience. Much like the rest of the venue, it's classy and opulent but in no way stiff. Have oysters, clams and caviar in the lounge if you want, or smash a burger with a Manhattan in the other hand it's all about having a bit of fun amongst mostly civilised people.
Each venue has its own identity, say Bistecca, which is a well-ironed white shirt kind of venue, to The Wild Rover where you rock a tee-shirt and have a foot stomping good time, then over to Grandma's wearing a tiki shirt, whereas coming here you dress fancy and act a little bit less fancy. It's a snapshot of how you have to act in each venue, and going across all four venues in one night you have to change your service style to suit each of them.
I attack trainings in a couple of different ways. We've got our standardised group training, which is called Create The Experience and the Bartender Rulebook. Like everything we do, we have a bit of fun with it — the first rule in the Bartender Rulebook is don't be a dick. That's kind of just how we treat life in general. 'Create the Experience' is where we dive into what makes a memorable guest experience and the role the human 'five senses' plays in achieving it. We do a bunch of other standard training and all those are paid for. We also get brand ambassadors to do sessions teaching the team about their products. The Whiskey Co-Op, for example, is the Wild rover's whiskey club who put on free tastings for members but we also put on a session in the afternoon for staff.
I think it has been 13 years [I've been bartending].  I think bartenders need to be humble. At the end of the day, what we're serving is drinks. We're creating an experience for guests, but the drink side of things? Let's not get caught up, you don't need to explain the 17 steps you take to create the drink if someone's enjoying it — if they ask, then go for it, but I think we're all now at a place where we can just make good drinks, give fucking great experiences, and make someone's time with you as memorable as you can.
I like to approach that by being empathetic — you never know what's going on in someone else's life.