Nominations for the 14th annual Spirited Awards held at Tales of the Cocktail in New Orleans, are now open.
The Spirited Awards are divided into four categories: an American category, for USA bars and bartenders; the International category, for bars and bartenders around the world; the Writing & Media category for publications across the globe; and a Global category that sees the world's best spirit selection and cocktail list (among other things) awarded.
The Spirited Awards, which takes place on Saturday July 25th this year, recognise not just the best bars and bartenders in the USA but also feature the international bars and bar teams that are kicking goals across the world. Between now and February 26th, you can visit the Spirited Awards and nominate yourself, your venue, or some other bars and bartenders you think are competing with the best in the world.
Click here to go to the registration page and then get your nominations in.
It's remarkable how few Australian bars actually put themselves forward, but you've got to be in it to win it. If you think, like we do, that Australia has some of the world's best bars and bartenders, then take 10 minutes to nominate them and get them in the running.
ADVERTISEMENT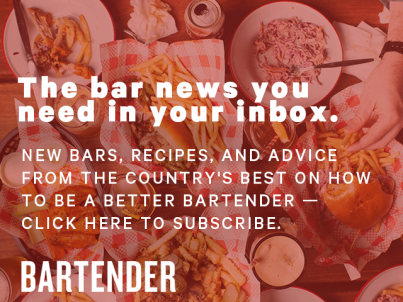 &nbsp
This year they've added more chairs of the judging process in each region of the globe, and have added to the overall number of judges. The way the process works is this: anyone can nominate any bar, bartender, writer, product or publication — all it takes is one nomination to be considered by the judges.
The judges then review said nomination, and rank what they consider to be the best examples in their given categories. This gives the long list — the top 10 in each category, announced on May 4th, 2020 — which is narrowed down once again to a top 4, announced on June 1st, 2020.
It's at the Spirited Awards on July 25th (during Tales of the Cocktail in New Orleans) that the winners are announced.