When you ask the great bartenders what they look for in the next generation, who they think will rise to the top and provide great hospitality, one of the key things is always knowledge. Yes, drink knowledge is important, but so too is spirit knowledge and the kind of understanding that can only come from truly knowing one's craft.
That's why the role that ambassadors and spirit companies play in providing training to bartenders is so important. The best of these programs educate not only on their own brands, but on wider trends and other brands, too. 
The Campari Academy got its start last year, filling bars around the country with bartenders eager to learn more and become better bartenders — the program was so popular, in fact, that at the Bartender Magazine Australian Bar Awards in September last year they took out the title of Training Program of the Year.
But just what goes into such a program? We spoke to Daniele Pirotta, Campari's national bartender advocacy and engagement manager (and himself a weapon on the tins) to find out more.
The Campari Academy is in its first year, and just won the Training Program of the Year — how did that feel?
It felt amazing, I mean – the team and I were in disbelief. I was totally shaking and biting my lower lip while staring at my plate during the announcement of the nominated programs – I couldn't look up to the stage! 
ADVERTISEMENT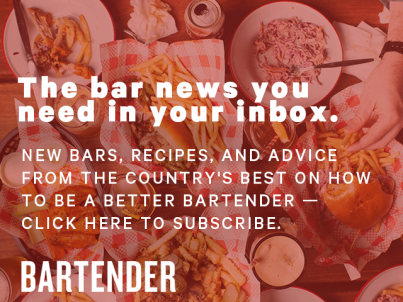 &nbsp
Hats off to all the legends involved in all bartender and industry advocacy, engagement and education programs out there – you keep inspiring bartenders and raising the bar to make Australia best in class in what we do.
It was such a rewarding experience – and I would like to dedicate this win once more to the collective effort of our Brand Ambassador Team. Thank you, Tristram, Luca and Jay. I am so glad we managed to create a meaningful impact in a short period of time. Bring on 2020!
When you put the program together, what did you set out to achieve? 
From the get-go our objective was to consolidate all our bartender education, training and advocacy platforms under one comprehensive "Ecosystem", aimed at ultimately achieving our vision.
The Campari Academy strategy unfolded from there. One of the biggest parts of this ecosystem is our Masterclass Program which aims at bringing to life multiple topic, category and guest speaker combinations across the country.  
This program challenges the one-dimensional nature of what has in recent years been labelled a 'Masterclass'. For us, a true Masterclass should comprise three key elements; a real Master, an expert in their field, focusing on a unique subject-matter, through the lens of our brands.
A Masterclass should follow strict guidelines, and the consistency in delivering these has guaranteed unprecedented attendance at our sessions whilst exceeding our audience's expectations.
What has been the highlight of your training program for you so far?
Picking outstanding guest speakers to facilitate some of our Masterclasses has definitely been rewarding: Australian TV and Radio icon Dr. Karl Kruszelnicki, Melbourne's Orlando Marzo and Naren Young, from the number one bar in the world Dante, NYC.
But in all honestly, my favourite part throughout the development of our Masterclass program, has been to see our BAs reach their full potential in terms of creativity and technical expertise.
Whilst engaging aspirational, experienced and relevant guest speakers is naturally an important aspect of our platform, we must also be able to integrate their key teachings with our messaging. For example, by developing fresh and compelling subjects together with these experts, and shaping the content to deliver practical insights, that are applicable behind the bar. This is the high point for me.
Proud moments? The collection of our "Why do we Taste?" cocktails championing the way we perceive acidity, sweetness, bitter, salt and umami. Our newly demonstrated view on "What were people drinking in Italy" depicting the journey from the first glass of vermouth to the Negroni, challenging the status quo on what we truly know about the origins of the 100-year-old masterpiece born in Florence; or for example, "Getting geeky on amaro" — even beyond our brands — have all been thrilling exercises.
What do you think makes a good bartender become a great bartender?
Staying humble and curious. Always. Sharing learnings and insights with peers. Networking whenever you can. Rocking up on time and attending if you RSVP to anything. Serving Italian vermouth by the schooner (jokes, but at least 60 to 90mls). Stop flaming oranges or over-rimming your glassware with heavy citrus oils.
Lastly, flair more!
What can you tell us about what is in store for Campari Academy in 2020?
We are working closely with some amazing guest speakers for our Masterclass Program 2020. No spoilers, but we have some international industry heavyweights and subject combinations that will wow the bartending community, plus a couple of unconventional hosts to tackle very relevant topics.
On another note, a fresh improvement will see a renewed focus on the way we go about training beyond our masterclasses. Expect a series of dedicated modules across the year, scheduled every six weeks, during which the BA team will take a particular set of brands and category insights, coupled with some cool added bonus topics across the country. Cairns to Byron. 'Newy' to the Gong and everywhere in between and beyond.
Essentially, if you cannot make it to join one of our rotating Campari Academy masterclasses across the capital cities, rest assured, we are making a big effort to reach aspirational bartenders in our up-and-coming regional areas. Watch this space and expect long chats along the lines of, "the impacts and science of oak ageing", deep dives on the "when, how and why of classically adopted cocktail techniques" and why not, maybe some smart phone professional photography hacks?
How can bartenders find out more about Campari Academy?
Visit www.campariacademy.com.au for the full calendar of Masterclass and Training Sessions, and follow us on Insta and Facebook at @CampariAcademyAU.