Melbourne's Capitano is an Italian-ish restaurant with one heck of a bar operation, with bar manager Darren Leaney putting out some of the country's best cocktails.
We've interviewed Leaney before (which you can read here), and he has described their approach to drinks like this: "We look to take great produce at the height of its season and either use it fresh or look at the best way of preserving it (shrubs, alcoholic fermentation, tinctures, kombucha, cordial etc.). Aside from a few drinks we deem untouchable and part of our identity we try to keep the drinks list rotating as often as possible to reflect whatever the current season may be."
It's approach you'll see that Leaney takes in the Bellini recipe below: instead of employing sparkling prosecco to give the classic drink its signature fizz, Leaney makes his own fermented peach cordial, and batches all igrendients before carbonating them.
Take a look below.
ADVERTISEMENT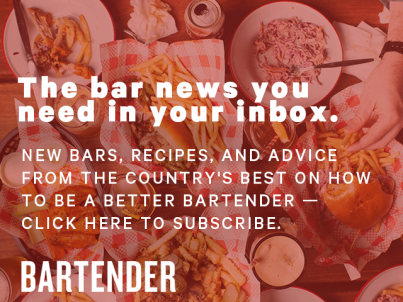 &nbsp
Bellini
350 ml Fermented peach cordial*
75 ml Rinquinquin
125 ml Andrew Thomas verjus
25 ml H by Hine Cognac
175 ml water
1.25 g citric acid
2.5 ml orange blossom water
Makes 5 drinks. Add all to 1.25L PET bottle and chill, ideally overnight.
Once batch is cold pop a carbonation cap on and carbonate to 50psi, give it a few shakes to make sure maximum C02 is absorbed and leave to settle in the fridge.
Pour 150ml per drink into a flute.
*For the fermented peach cordial:
5 medium white peaches, sliced thin
5 medium yellow peaches, sliced thin
 200g caster sugar
0.44g cider yeast
1500ml water
Add all to a mason jar and stir to dissolve sugar, cover with a napkin or muslin cloth and leave to ferment for 5 days, stirring daily.
After 5 days strain through a chinois into another mason jar and leave in the fridge to clarify for 5 days.
Pour off clarified peach wine and measure the volume. Add 30% caster sugar and stir to combine. Measure new volume of liquid (should be around 1400-1500ml) and add 1% citric acid and .5% tartaric acid. Stir to dissolve.
Recipe by Darren Leaney, Capitano, Melbourne.