It's somewhat of a fool's errand to be writing about trends for the year ahead: these days, in the globally-connected world in which we live, a bartender in Dubuque in the USA can set off a trend that spreads around the world and is picked up by a bartender in Darwin, in just a matter of hours. And trends, these days, are more ephemeral. 
Having said that, there are a few that we think we'll see get wider play in 2020. We'll see more and more carbonation rigs kicking around backbars, more in-house fermentation, and native botanicals reaching a critical mass.
1. Carbonation-plus
We're increasingly seeing bartenders bringing carbonation rigs behind the bar, and we think that's because longer, refreshing drinks — the kind that benefit from a bit of bubbles — are very much in demand these days. Is that because of the popularity of the Spritz? It very well might be; there's barely a week that goes by without an email from a brand about their own particular take on the Spritz.
ADVERTISEMENT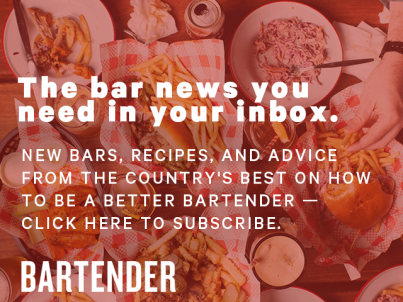 &nbsp
And there's good reason for it: Australia is, by and large, a hot climate, and we spend a lot of time outdoors. So drinks that lean towards the refreshing, effervescent side of things? They'll always do well.
2. Ferments thrive
We looked at in-house fermentation last year, and spoke to Evan Stroeve at Bulletin Place about why he thought it was becoming popular: "Everyone's got their hands on the Noma book," he told us. That book, The Noma Guide To Fermentation, gave more bartenders the tools to get started with their own in-house ferments. But guys like Scout's Matt Whiley and Byrdi's Luke Whearty have been making these wines for a while; as those they have influenced start running more bars, expect to see more ferments on menus this year. 
In the meantime, if you're looking for some inspiration, take a look at the recipes from Darren Leaney here: fermented peach cordial, anyone?
Makes 5 drinks. Add all to 1.25L PET bottle and chill, ideally overnight.

Once batch is cold pop a carbonation cap on and carbonate to 50psi, give it a few shakes to make sure maximum C02 is absorbed and leave to settle in the fridge.

Pour 150ml per drink into a flute.
*For the fermented peach cordial:
5 medium white peaches, sliced thin
5 medium yellow peaches, sliced thin
 200g caster sugar
0.44g cider yeast
1500ml water
Add all to a mason jar and stir to dissolve sugar, cover with a napkin or muslin cloth and leave to ferment for 5 days, stirring daily.
After 5 days strain through a chinois into another mason jar and leave in the fridge to clarify for 5 days.
Pour off clarified peach wine and measure the volume. Add 30% caster sugar and stir to combine. Measure new volume of liquid (should be around 1400-1500ml) and add 1% citric acid and .5% tartaric acid. Stir to dissolve.
Recipe by Darren Leaney, Capitano, Melbourne.
3. Native botanicals get wider play
We think 2020 is the year — we hope it is the year — that native botanicals really break through in a big way. Bartenders at the country's best bars have been tinkering with them on the edges for a few years now, but we're beginning to see full menus being driven by those flavours (take Melbourne's Bad Frankie for example) and that is a good thing. 
The more bartenders are clamouring for these native ingredients, the easier access to them will become.
4. Geometric shapes and designed drinks
How many ways can you present a citrus peel garnish? Garnishes in 2020 are less about cumulonimbus clouds of liquid nitrogen and cloches of smoke; indeed the trend of the last couple years has been toward clear drinks served over clear blocks of ice in clear glasses with clean lines. Hopefully we'll see a little more colour this year, but we've already begun to see bold, geometric shapes and a real design mindset being applied to the look of your libations — take a look at Natalie Ng's BACARDÍ Legacy drink to get an idea of how a simple, contrasting circle of lime leaf can make a drink stand out.
5. Gin shows no signs of slowing
Every week. That's how often we get a new release gin come across our desk. You almost have to feel sorry for the average punter in a battleshop, trying to work out which of the three hundred and forty-nine gins in front of them they need for their Gin & Tonic on the weekend.
But, we remember the dark ages of gin, too, when there were but a handful of London dry gins available. Much better to have too much choice, we think, and especially when things are as they are today with the quality standard so damn high.
9 bottles for a new year
Whitely Neill Rhubarb & Ginger Gin
The essence of rhubarb adds a tart crisp edge to a smooth English gin base whilst the ginger extract warms the palate for a full-bodied finish. Halewood International
Grey Goose La Vanille
Made using real vanilla from Madagascar, this was first released in 2003 and has come back as a limited release; it is complex in aroma, and made using winter wheat from Picardie as is they way with all Grey Goose vodka. Bacardi-Martini
Bushmills Black Bush Irish Whiskey
Gin isn't the only spirit category booming. There's still a ton of investment going into Irish whiskey, but it's hard to get past old favourites like this one: it is a blend of single malt and grain whiskeys, triple distilled and aged in sherry casks. Proximo Spirits
Hendrick's Midsummer Solstice
The boom in gin wouldn't be where it is without Hendrick's, and they're not done innovating yet. This is a deeply floral gin inspired by the eternal mystery of nature's most vivid blooms, which take place on the midsummer solstice. William Grant & Sons
Brown Brothers NV Prosecco
Made using the Metodo Italiano or Charmat method of production which is done via a pressurised tank to retain the bubbles, the grapes are generally harvested early to get high levels of natural acidity and fresh crisp flavours. It's also a banger in a Spritz. Brown Brothers
Belvedere Single Estate Rye Smogóry Forest
Unfiltered and made from Dankowskie diamond rye, this vodka's bold and savoury character is evocative of the woodlands surrounding the Smogóry Forest estate in Poland, where the rye is grown. Moet-Hennessy
Jack Daniel's Rye
Don't expect rye to go anywhere in 2020 thanks to winners like this one from Jack Daniel's. With aromas of soft fruit, layered with rye spice and oak, there's a palate of well rounded flavours of caramel and dry baking spice, followed by a peppery rye character finish on the back end. Brown-Forman
Method & Madness Gin
New to our shores, Method & Madness is a micro-distilled Irish gin that features 16 botanicals, including black lemon and Irish gorse flower. Pernod-Ricard
Sipsmith London Dry Gin
Sipsmith, which launched in 2009 is the original London Gin distilled the way it used to be: distilled in small batches in copper stills, using only the heart cut (middle cut) and 'one shot' method (but not skimping on the juniper). Beam Suntory