Singapore is a cracker of a town and its bars are booming, and this is in no small part, thanks to a handful of well-known Australian faces who have stamped their mark on this town. Online this week we'll be hearing from three Australian expats who now call Singapore home.
First up is Jason Williams. A fixture on the Melbourne bar circuit in the noughties, the Queensland native has worked in Brisbane, Melbourne and Sydney, was crowned our Bartender of the Year in 2010, and took out the Beefeater 24 Global Bartender Competition in 2013.
He's now the creative director for Proof & Company and the co-creator of Widges Gin.
Jason Williams
Creative Director of Proof & Company
Where do you work/ what is your role in Singapore currently?
Creative Director for Proof & Company, an independent spirits and creative services company. I run a team of seven people across four countries conceptualising, developing and opening bars and beverage offerings for clients across Asia Pacific. We do everything from bar design, beverage development, recruitment, OS&E, glassware design and much more. We focus a lot on the openings but also education.
ADVERTISEMENT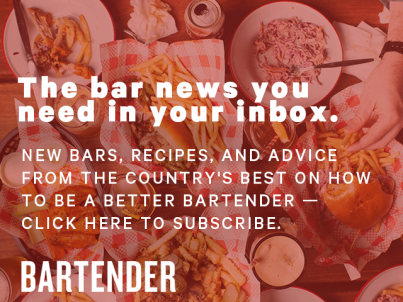 &nbsp
I am also the and co-creator and 'The Eponymous' of Widges Gin with our True Believers team who create our spirit brands.
How long have you been living in Singapore? Did you move there for work?
I've lived in Singapore almost five years now and I made the move after a serendipitous phone call from my good friend Mr Zdenek Kastanek telling me about what was happening with Proof & Co and Asia more broadly. His English has improved markedly since he lived in Sydney but I still didn't know what he was talking about initially! I am forever grateful he made that call.
What do you love about it?
Singapore is a very easy place to live, it is super organised and a very modern clean city – it is a very cushy place to live. I love that it is a mix of modernity and old Asia. It also a great melting pot of SE Asian cultures and food. The work itself has been amazing and we get to work across numerous different markets and cultures all in close proximity. That proximity is awesome for personal travel too. And of course the bar scene has blown up here in recent years – so it's a great place for great eating and fine drinking
What do you hate about it?
I miss pubs and meat pies! I don't really hate anything but like any country there are things that you might miss. Singapore is a relatively new country and quite wealthy, very organised and pretty conservative. This means it can be too cushy for some people and I do personally miss a bit of 'colour' and energy in a city. For example, there is not a great deal of live original music and basically no street art. There are very major differences in social and political ideologies from Australia but perhaps not topics for Australian Bartender magazine.
Do you plan on staying long or are you planning a move back to Oz? Or somewhere else?
I'll be here for a while longer but do plan on coming home one day. Sam Bygrave said I am omnipresent in Australia – not sure if he meant that in a good way or not!
Tell us about any of your previous roles in Singapore.
This is the only role I have had in Singapore. It has evolved a lot and I used to be more hands on, doing more of the actual bar openings, training and development. My role now as we have grown is now more coordination, business development, and guardian of our work
Tell us a little bit about the Singapore bar scene?
There was a smattering of good bars before 28 HongKong Street opened in 2011 but since then it's blown up with high quality operators and a mix of local, regional Asian and foreign talent really pushing the local industry. Singapore has the largest representation of bars in the W55BB outside of NYC and London even though it is still a very small scene.
There is also a really wide variety of bars compared to the US or Europe too which is cool, plus a significant good-bar-per-capita ratio going. Its only growing too which will cause some strain on operators but the general drinker and suppliers are loving it.
There's a great sense of community with the bartender scene here too which I think international visiting bartenders notice.
And Singapore LOVES a guest shift. It's become like a national past time here. There is a 'guest shift' on every night.
Would you recommend to a young bartender to pack their bags, jump on a plane and head to Singapore for work? Explain why/ why not.
100%. Although there is no such thing as a working holiday visa per se, so anyone wanting to work in F&B in Singapore has to have at least quality supervisory level experience but I recommend it wholeheartedly and in fact we are constantly recruiting for our clients throughout SE Asia! Hit me up!
What's a bit of trivia about Singapore that our readers might not know?
Singapore has compulsory military conscription of 2 years for all males. The national icon of Singapore is The Merlion, a creature that is half lion and half fish.
What are your Top 5 Singapore bars?
I am biased with 5 of these being our own or consulting partners but here goes… 28 HongKong Street (the OG of the Singapore bar scene), ATLAS, Manhattan, Idlewild, Employees Only, Le Bon Funk and No Sleep Club.
Jason's Top 5 Tips for Singpore Travellers
It's 32 degrees Celsius every day and very humid.
Drink lots of water.
100plus is your friend especially after a big night.
You won't get fined for smoking, chewing gum or dancing in the street (but don't test it).
Google the 'best of' for certain food dishes and don't go to the mainstream Chinatown places – hit the Hawker Centres for good eats.
While you have to check out bar institutions such as 28 HongKong Street, ATLAS and Manhattan and more – also make sure you hit some chicken rice and a long neck of Tiger at Maxwell Hawker.