Singapore is a cracker of a town and its bars are booming, and this is in no small part, thanks to a handful of well-known Australian faces who have stamped their mark on this town. Online this week we'll be hearing from three Australian expats who now call Singapore home.
We've heard from Proof & Company's Jason Williams already — you can read that here — and next up is Julian Serna, who was the long-time face of Hemmesphere, the swanky cocktail bar atop Establishment before moving on to set-up and run numerous bars around Sydney.
He's now the owner of Panamericana on Sentosa island in Singapore.
Julian Serna
Panamericana
How long have you been living in Singapore? 
Did you move there for work? It's been 5 years now. I originally moved up here to advise the Lo & Behold Group as their Group Bar Mentor. Before that, that I did a stint here in 2008 for a year as a consultant for bars and restaurants with Linden Pride and Eben Freeman.
What do you love about it? 
Being in a rapidly developing country with the ability to shape and influence the drinking scene and culture. Singapore is not bound by archaic legislation and red tape so making effective change is easy and quick. The people and the food scene are incredible and extremely diverse. It is also a major bonus having Asia on your doorstep enabling the ability to travel regularly and explore different cultures and customs. And the heat, I love living in the tropics!
ADVERTISEMENT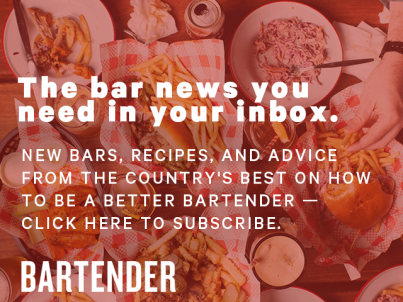 &nbsp
What do you hate about it? 
Although a progressive country there are old heads and a new entitled generation that make staffing and consistency an issue in hospitality over here. With such a small population its always difficult finding the appropriate talent to fill the roles you need so it's a constant struggle HR wise.
Do you plan on staying long or are you planning a move back to Oz? 
With the business model we have created it is about scalability and opening multiple venues in Singapore and in the region, so I will definitely be in the area for a long time to come.
Tell us about any of your previous roles (focusing on Singapore but feel free to include others that are relevant).  
I moved up here to advise on the Lo & Behold Group in 2014, it was a dream job overseeing 7 food and beverage outlets ranging from beach bars, restaurants, nightclubs and hotels. The role encompassed designing cocktail menus and training specifically with a big focus on mentoring, becoming best in class, menu engineering and HR. As well, I oversaw new openings like Odette restaurant (3 Michellin Stars, Best Restaurant in Asia), The Warehouse Hotel and Straits Clan. It was an exciting and diverse role that gave me an incredible insight into the Hospitality landscape in Singapore. I always moved up here to open my own bar so after 3 years when the opportunity was right I left to open Panamericana and have been in that role for 2 years.
Tell us a little bit about the Singapore bar scene? 
The scene has exploded in the last six or seven years with the introduction of international experienced talent and global investment in the area. It is a competitive and somewhat saturated market with more closures than openings, but those that have got the formula right have reaped the rewards with multiple openings. The standard and level of bartending has increased out of sight and hospitality is becoming a recognised profession which will maintain and elevate the current standards. There has been a strong Australian contingent moving up here to shake things up and really influence the way we drink in the region – Jason Williams, Josh Baxter, Jay Gray, Rhyse Borland, Emanuel Barnados, Andy Griffiths to name a few that have made the move to the Red Dot to showcase their wares.
Would you recommend to a young bartender to pack their bags, jump on a plane and head to Singapore for work? Explain why/ why not.  
I think every bartender needs to travel and work in different countries and absorb as much as they can about the landscape, culture and really immerse themselves into the bar scene and learn as much as possible. I feel Singapore would suit Aussie bartenders that want to make the jump from head bartender into a managerial position, there are some great mentors and programs that will facilitate the next step in their careers and step into bigger management roles in the region.
Is it hard to get working visas/ apartments etc? tell us a bit about the logistics of setting up in Singapore. 
It's a straightforward process in obtaining visas for foreigners which takes a few weeks, the only condition is employing a set amount of locals to obtain the foreigner passes. The employer will always apply for the passes so you avoid all the administrative red tape.
What's a bit of trivia about Singapore that our readers might not know? 
The country is only 54 years old, yet one of the most progressive and dynamic countries in South East Asia. Banking, banking and shipping are its main industries. The casino at Marina Bay Sands makes more revenue than all of the Las Vegas casinos combined so worth a look even just for people-watching.
What are your Top 5 Singapore bars? 
The Old Man for cocktails and service, Atlas for a stiff Martini, Spago for Negroni sunsets, 28 HK for late night revelry and Brix for the best live music in SG.