Tom Loosli is in as The Everleigh's new venue manager, taking over from 2019 Host of the Year Bianca Wendt.
You may know Loosli from such bars as Sydney's Eau de Vie and from such competitive cocktail competitions as our very own Bartender of the Year, which saw Loosli landing in the Top 8 in 2017.
Now, Loosli (pronounced as loz-lee) is moving to Melbourne after a two year stint in London as the venue manager at the highly-regarded Original Sin, owned by Alastair Burgess of the influential Happiness Forgets.
"Original Sin and The Everleigh both owe their roots to Milk & Honey and its indelible influence on the wider world of cocktail bars," says Loosli.
"While both bars have ultimately been executed very differently, the principles remain the same: warm service paired with impeccably simple drinks. To be able to apply my experience to continue the late great Sasha Petraske's legacy is a real honour, particularly at such an institution as The Everleigh."
ADVERTISEMENT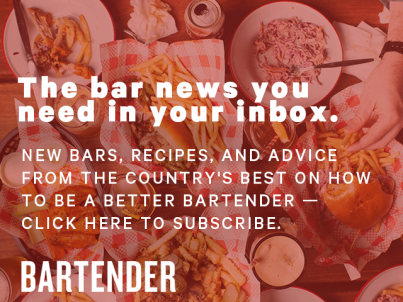 &nbsp
But what is involved in running a bar with such a highly-esteemed reputation as The Everleigh? Below, co-owner Zara Madrusan shares her thoughts on why her and Michael Madrusan hired Loosli, and what the role entails.
Why Tom?
Tom came highly recommended by close friend and industry heavy-weight, Alastair Burgess of Happiness Forgets and Original Sin in London. We heard of Tom's great work as VM of Original Sin over the best part of two years and had to meet him. It was clear in our initial Skype chat that he shared our core values, so we flew him down to Melbourne from Sydney the following week. Tom aced every aspect of the interview process and we both felt his warm charm and diverse experience made him an excellent fit for the role.
Tom is a true hospitality professional, both a strong and dedicated leader and a talented bartender. Above all he is incredibly humble and without ego. We can't wait to see what The Everleigh will achieve with him at the helm.
What does Tom's role entail?
As VM of The Everleigh, Tom will inspire and manage a tight but growing team. He will oversee stock management and procurement, venue maintenance, and manage all back of house responsibilities such as labour, according to budget targets. He will play a part in evolving an events strategy for The Everleigh's private spaces, The Elk Room and The Starling Room, and manage functions, industry events and tastings and some offsite and interstate events and pop ups. He will assist our Group Trainer with rolling out a modular staff training program and develop The Everleigh house cocktails, wine and food menus with the help of his team. Finally as the face of Made in the Shade's flagship venue, he will work on the bar, floor, host, growing relationships with The Everleigh guests, old and new.
What else is on the cards for The Everleigh this year?
The Everleigh turns nine on 4th July, and leading into our 10th year, we're looking to take The Everleigh to new places — quite literally! We'll be hitting the road with a number of residencies around Australia in the second half of the year which we're really excited about. We started January with a takeover of LATE at the Australian Open which was great fun. In addition to some delicious new house cocktails, this month we launched a 'No and Low' list, featuring non alcoholic and low abv drinks that the team are incredibly proud of. The venue will of course support The Everleigh Bottling Co. with some exciting new range releases this year also.