Singapore is a cracker of a town and its bars are booming, and this is in no small part, thanks to a handful of well-known Australian faces who have stamped their mark on this town. Online this week we'll be hearing from three Australian expats who now call Singapore home.
We've already heard from Proof & Company's Jason Williams, and Panamericana's Julian Serna; last bout. certainly not least is David Nguyen-Luu.
Nguyen-Luu earned his stripes working with Marco Faraone way back in the Lotus days, and had a successful stint at four time Gin Bar of the Year, The Barber Shop, in Sydney.
He moved to Singapore in 2019 to take over the bar manager role from Philip Bischoff at Manhattan Bar at Regent Singapore, a bar which landed at number two on the 2019 Asia's 50 Best Bars list (and at number 11 on the 2019 instalment of the World's 50 Best Bars).
David Nguyen-Luu
Bar Manager, Manhattan Bar at Regent Singapore
Where do you work/ what is your role in Singapore currently?
Manhattan Bar at Regent Singapore, bar manager.
ADVERTISEMENT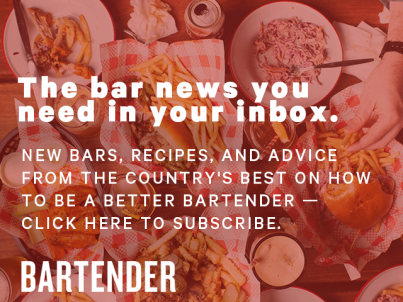 &nbsp
How long have you been living in Singapore? Did you move there for work?
Just into five months now – yes moved over from Sydney after accepting the role in late May.
What do you love about it?
The food and beverage scene is amazing, amongst the best in the world. From high end bars and restaurants to simple hawker centres with great local food.
Do you plan on staying long or are you planning a move back to Oz? 
At this stage, the focus is purely Singapore to stay on and see where this role takes me if it keeps me here or opens the doors to other amazing opportunities, either way it is amazing to be here!
Tell us a little bit about the Singapore bar scene?
Singapore has amazing hospitality. It is a very tight community – whether or not you're a local or foreigner – every bar welcomes you with open arms.
Would you recommend to a young bartender to pack their bags, jump on a plane and head to Singapore for work? Explain why/ why not.
Young bartenders here take a while for progression unlike Australia. Pay scale is also a big difference for young bartenders, so as an Aussie, I would advise young bartenders to gain more experience before jumping on a plane here so they can apply for more senior roles here.
Is it hard to get working visas/ apartments etc? tell us a bit about the logistics of setting up in Singapore.
Singapore has different "Passes" depending on your role and experience and pay scale.  Each business has a quota to achieve on how many local people are employed vs how many foreigners they are allowed to employed. Independent bars may be a bit easier but larger hotel bars are very difficult. Once you are approved for a visa – everything is super easy for set up. Apartments are easy to find, bank set up easy, Singapore is amazingly super-efficient.
What's a bit of trivia about Singapore that our readers might not know?
Singapore noodles did not originate in Singapore…
What are your Top 5 Singapore bars?
MO Bar (Mandarin Oriental), SKAI Bar, No Sleep Club, Jigger & Pony, Nutmeg & Clove.
Dave's Top 5 Tips for Singapore Travellers
Read the laws – Singapore is pretty strict!
Carry cash. Hawker centres mostly accept/prefer cash.
Carry tissues/napkins! Food centres do not provide any napkins with your food dishes – I always forget myself!
Try the chilli crab.
Travel light: it's 30 degrees every day but dress appropriately for bars, a lot of bars have dress codes.