Kiss Kiss Bang Bang is the latest Sydney bar to open from the Speakeasy Group, and they're set to open their doors on Wednesday next week.
Billed as a late night bar, Kiss Kiss Bang Bang will trade until 2am and sits in Bridge Lane in the Sydney CBD, across the alleyway from Merivale restaurant Mr Wong's.
Joy Mou (ex-Door Knock and Eau de Vie) is on board as the venue manager, with Alissa Gabriel making the move from Mjølner to take on the assistant venue manager role.
Below, Speakeasy Group's Sven Almenning tells us what to expect when Kiss Kiss Bang Bang opens.
What is the big idea behind the bar?
With Kiss Kiss Bang Bang we wanted to create a fun and festive place to celebrate and party with friends. Sven used to run a bar in Sydney nearly 20 years ago called the Peppermint Lounge, and Kiss Kiss Bang Bang definitely takes some inspiration from the old Peppermint days. There'll be cocktails, champagne and live performers paired with DJ's to keep the party going until 2am.
ADVERTISEMENT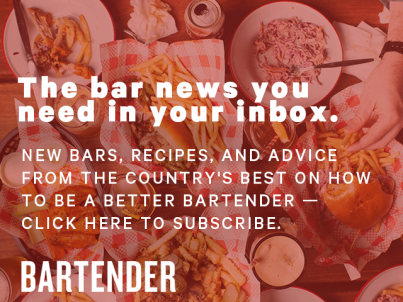 &nbsp
What's the idea behind the name?
We always throw a bunch of names around until we find one that we feel suits the concept, and Kiss Kiss Bang Bang was it. It's not related to the movie by the same name, but actually came from a throwaway line in a letter Ian Fleming wrote to Raymond Chandler, where he described his James Bond books as "straight pillow fantasies of the bang-bang, kiss-kiss variety". We liked the James Bond link, and the whole spy association although the bar is more Bond Girl than Bond Villain. The bar itself resembles that of a gun barrel as well so that helped cement the name for us.
Can you describe the approach to drinks?
We love cocktails, and cocktails will be front and centre here as well with Alissa Gabriel taking lead on the cocktail list. There is no specific spirit focus, the back bar is pretty small compared to the rest of our venues, but our Champagne list will be extensive. As for the cocktails themselves expect, fun, theatrical and delicious drinks – which is very much what Alissa is known for.
Who are the key personnel in place?
We've assembled an awesome crew for this venue with Alex Dahlenburg taking the lead in the set-up and launch of the venue, Joy Mou, has re-joined the Speakeasy group as our venue manager. Joy worked with us at Eau de Vie for quite a while, but has most recently been heading up Door Knock as the venue manager there. We're super excited top have her back. Alissa steps in as her Assistant Venue Manager, vacating her spot as drinks guru and bar-manager at Mjølner, whilst Sam Benetatos joins us our bar manager after several years with Barrio Cellars. In the kitchen we have Tamara Stowers as our chef. She hails from the Pocket group and have been creating an awesome menu for us
What will your opening hours be?
In true Speakeasy style the entrance to the venue is hidden down a laneway, but as it's just across from Mr. Wong and right next to Kid Kyoto on Bridge Lane it should be relatively easy to find. There is also access to the venue through the Christopher Hanna salon on Bridge Street, but this entrance is for their guests only.
We'll be opening from 12/noon Tuesday to Saturday to begin with and trading till late. We have a 2:00am license and are aiming to keep our guests happily sipping cocktails and Champagne whilst dancing the night away until close. Capacity is 100 pax, so it's a small and intimate space.
What will the bar do differently to others in the area?
There are a lot of great venues in the area, and we hope to be a great addition to what already is an awesome precinct of great bars and restaurants. Our approach is not to compare us to others, or to try and find a gap in the market, but rather to be who we are and do what we do as best we can. That said, we'll be kicking off with DJ's paired with a variety of life performances such as vocalists, saxophonists and bongo players etc – very much like the old Peppermint Lounge in the early 2000's. Then of course there is our built in Liquid Nitrogen taps and our extensive Champagne list, and our canapés only food menu which we think is perfect for someone who's out on the town to have fun, but wants some delicious food pair with the drinks.
Can you describe what you're aiming for in terms of the atmosphere of the place?
We're hoping for it to be intimate and fun, with loads of laughter and dancing. The combination of Dj's and Sax players, or DJ's and great vocals will no doubt add to the atmosphere of the venue and encourage people to get up and dance a bit. At the same time it's a small and intimate space, so the atmosphere will no doubt change depending on the day and time. We're expecting the day time to be more relaxed and intimate, hilt the evenings to become a bit more loud and rowdy as people get into the festive vibe of KKBB…
Kiss Kiss Bang Bang is located on Bridge Lane in the Sydney CBD and opens Wednesday 19 February.