The bar industry, it's fair to say, puts a premium on partying; even when you're learning about your job, it often means you're tasting booze. And the partying is often the antidote to long hours on your feet, a sore lower back, and late, late nights.
But as more and more bartenders become lifers, and look to make this thing a long-term career, the question arises: how do you do the hospo thing when you're pregnant?
And, from a wider viewpoint — what can the industry do to be more accomodating to those expecting a baby?
Jess Arnott is one such hospitality lifer: she's worked in top flight bars, led the ambassador life, and you may have even seen her on a certain competitive cooking show. Oh, and she's right in the middle of her first pregnancy. So we thought we'd ask her a few questions about how things have changed for her, and, given she's at the end of a trip to London and Scotland with The Balvenie, what the hospo lifer life looks like when one is pregnant.
ADVERTISEMENT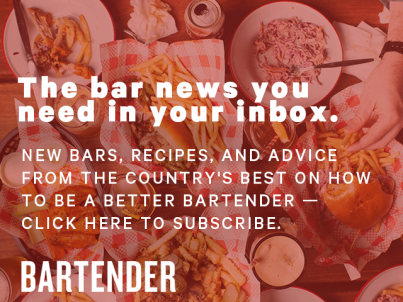 &nbsp
So, you've had some non-alcoholic drinks in London — what's the differences between there and back home? Do they satisfy?
What I've realised since being pregnant is that I don't miss the actual booze that much, but I do miss complexity of flavour. Something interesting to sip and contemplate. The very top bars in Australia are doing a pretty good job at it — the offering at Byrdi in Melbourne was the best I've come across so far and closer to home, Tiny's has always has a really thoughtful no-alc offering.
We are a little earlier on in the low and no-alc trend taking hold than the UK though. The week we were there, Artesian and Lyaness both had features on their no-alc options for dry January. Lyaness has close to half their menu available with a boozeless option and the couple I tried were fantastic.
The one that really impressed me though was Panda & Sons in Edinburgh. They have really embraced no-alc and I was made three options, all delicious and complex. But also the service was just impeccable — I didn't feel left out at all. Every round of shots the table had, I was given a little shot of something no-alc as well. Little things like that that make you feel like you're not sitting on the sidelines make a big difference.
Bartending trips can take their toll, how is it different travelling pregnant?
Growing a human is tiring work! Even when you have nothing to do at home some days just really take it out of you, so travelling around with the full schedule of these trips can really take it out of you. I just laughed and figured it put me on the same level as those who were a bit dusty from the previous night's celebrations.
The afternoon nap has been my best friend. Luckily for me, Ross Blainey and William Grant & Sons put a real emphasis on scheduling what they call "robe time", which is insisting on a couple of free hours every afternoon. I haven't needed to, but prior to the trip I just made a pact with myself that if I wasn't feeling up to it, that it was okay for me to skip certain things. After all, looking after myself and this baby is the number one priority. No point in going to all the cool shit if it jeopardises our health.
Also: You can't just skip lunch when you're preggers, I make sure I eat at every possible opportunity. It's definitely been hard to eat healthily, and that's a problem on trips like this whether you are pregnant or not. You just have to be a bit more conscious of your choices because you're not just feeding that junk to yourself anymore.
When it comes to tasting things — booze, soft cheeses (cheese!) etc — are you nosing things, making prodigious use of a spittoon etc?
It's definitely a topic I put a lot of thought into right at the beginning of my pregnancy. For my job, I really need to taste alcohol. Never before have I been very good at using a spittoon, but it's definitely become a friend. Wine is a taste and spit, spirits you can just take enough into your mouth that it coats the tongue but not enough to swallow and I've found that works for me. Often with spirits, nosing is enough anyway. I judge each product as it comes across my path. If I've tried it before or if it's a very common product, then I just nose it. If it's something a little more rare or esoteric, then I'm having a taste. I'm not drinking at all outside of what is for my job so I feel that allows me the wriggle room to responsibly taste for work.
As far as food goes, I'm a little more fast and loose. I don't believe that women in France stop eating cheese and cured meats or women in Japan stop eating sashimi. In Australia you are just as likely to get listeria from a rockmelon or salmonella from a bag of salad leaves. I'm definitely avoiding that two day old deli meat sandwich from the 7-11, but when I'm eating in a quality restaurant or bar, I'm eating what I want. For me personally, a low stress, varied diet of diverse foods is something I value highly. Gotta get that palate maturing early, ya know?
You're working with Dim [Rtshiladze] at Foxtrot Unicorn at the moment. Are there any considerations you've got to factor in to working now or is it same as it ever was?
I'm lucky with Dim, because he knew I was pregnant before I started working with him, so it was always going to be something for us to work around. I have a very autonomous role that we have built around my changing lifestyle. It will just continue to evolve and we're playing it by ear as I get closer. He still takes the piss out of me as badly as ever so there's no special considerations there! Our team are fantastic though and none of them bat an eyelash at moving heavy things, or doing a bit extra to cover things I can't do. I'm very lucky at Foxtrot, I'm working in my own little kitchen and not really having to do too much front of house. Unfortunately I don't have many answers of how a straight bartending role would work, it would be really hard. One thing I can recommend to any women figuring it out is start pregnancy pilates immediately. It's really helping my stamina with staying on my feet and stretching out all the hospo aches.
Are there things the industry improve in this area from a working perspective?
I just think flexibility is key. You need to feel safe to say: "I need to sit down for a bit," "I have to eat right now," or "I need time to go to this appointment," etc. Without that it would be impossible and very detrimental to your health. I think if businesses can think laterally then it's not too hard. We all have a diverse set of skills and during pregnancy you just need to pivot towards the less physical ones. Yes, it does mean the rest of the team picking up a bit of that stuff, but the same can be said for staff members with injuries or mobility issues etc, so I think it's a positive thing that we all make a bit more effort to make things easier for less physically abled people in the industry. I've had terrible back issues for years so it's something I'm used to working around prior to my pregnancy. I'm great social media, and writing/proofreading menus, I can cash up, I can do ordering, I can still charm and sell to customers. Just because I can't lift a bin or an ice bucket doesn't make me useless and I think that's a mindset the industry could use more of as a whole.
Are there things the industry can improve in this area from a guest perspective?
Just make people feel included. It can be a little isolating sitting around not drinking, particularly when you like it and miss drinking! To give you some insight – imagine that as all your friends are starting to loosen up and get a little buzz on, you are starting to get more and more tired. And there's no second wind when you aren't drinking. You also can't rely on things like coffee or Red Bull to perk you up as you have to limit
The main thing I have noticed and will absolutely change my own behaviour is how we react to people when they tell us they aren't drinking. I'm absolutely guilty of this in the past, but don't ask why because it's none of your business. If someone says they aren't drinking and doesn't offer up an explanation, then they have a reason for that. It might be a pregnancy they aren't ready to share, they might be dealing with some physical or mental health issues they don't want to shout to the world. It amazed me how many people pressed me on why — like, I'm a 34 year old recently married woman, take a wild stab in the dark why I'm not drinking!? I went to Bar Week about five weeks pregnant and had someone actually say to me: "What the fuck is wrong with you this week?" 
Let's have a softer touch and a lot more respect when someone is choosing not to drink. Especially when it is out of character for that person, it means they probably have a pretty good reason.
Lastly I'd just like to add that I've focused on a lot of what is hard here, but I'm really excited and I'm really enjoying pregnancy. I don't know how my new life is going to look, but I do know that I love hospitality and just because motherhood and working in hospo don't have a clearly congruent path, doesn't mean it's not worth doing. I'm not giving up on the industry that I love and I'll find a way to make both part of my life. 
My industry friends have been an incredible support, from my Perth crew keeping my pregnancy secret and looking out for me at Sydney Bar Week (filling up beer cans with soda water and taking my shots "for the team") to people like Ross Blainey who has gone absolutely above and beyond to make sure I've been catered for, looked after and totally included on this trip to the UK and Balvenie. Mostly people are super supportive, interested in my "journey", and amazed by me staying late at the parties. Like anything, visibility is the first step to changing the culture so I hope that more women embrace staying in hospo through raising a family so younger bartenders know that it can be an option for them to choose too.