Take out the top prize in one of these comps and you might embark on a global journey
If you're a bartender looking to make a name for yourself, there's never been more bartender competitions to enter. 
Not only do you pick up bragging rights if you take out one of these comps, you're also picking up lifelong friends and experiences not on offer to the average Joe. So, with that in mind, here's a few bartender competitions that that will win you cash money and see you travel around the globe.
Bartender Magazine's Bartender of the Year sponsored by BACARDÍ
& De Kuyper
The toughest test of bartending ability is back again in 2020.
Bartenders can to register to compete in the Bartender of the Year sponsored by BACARDÍ & De Kuyper; up for grabs is a trip to New Orleans to check out Tales of the Cocktail, and the chance to join the most exclusive bartending club in the country as the Bartender of the Year number one.
ADVERTISEMENT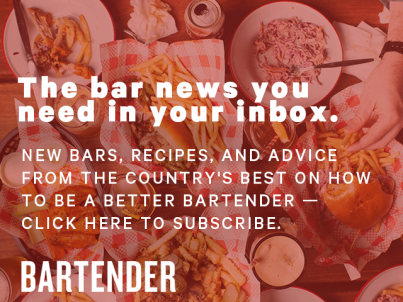 &nbsp
Previous winners of the competition read like a who's who of bartending royalty: last year's winner, Alex Gondzioulis, joined Jenna Hemsworth, Daniel Gregory, Michael Chiem, Lee Potter Cavanagh, Nathan Beasley, Sean Chow, Greg Sanderson, Tim Philips, Jason Williams, Chris Hysted-Adams, Sebastian Reaburn, Charlie Ainsbury, Oliver Stuart, Ben Davidson, George Nemec, and Marco Faraone in the Bartenders of the Year club.
This year will also see the Bartender of the Year receiving a wild card entry into the semi-final round of the Australian leg of the BACARDÍ Legacy Global Cocktail Competition.
Is 2020 your year? Stay tuned to australianbartender.com.au/bartenderoftheyear for more details — entries open in March.
Diageo World Class
It's a big year for Diageo's World Class competition: Sydney will host the World Class Global Finals in September with more than 60 countries participating and the best the world has to offer coming to town.
In March, the Australian round of the competition kicks off with the launch of World Class Studios, which are developed by some of the biggest names in the industry around the globe. The sessions directly correlate to the DIAGEO World Class 2020 opening round challenges, so you'll want to make sure you attend.
For more information contact DIAGEO World Class Ambassador Krystal Hart via krystal@sweetandchilli.com.au.
The MONIN Cup
The MONIN Cup is a biennial competition designed specifically for professional bartenders under the age of 28 — and it is back in 2020.
Back for its 8th year, the MONIN Cup in 2020 is a national competition. A preliminary round will be held with online submissions only to determine the top 12 finalists to compete in the local on-ground competition held in Sydney. The local on-ground competition will then determine the top six finalists and ultimately the Australian winner to represent in the APAC finals in October.
You'll be asked to submit a unique cocktail by video which contains a minimum 10ml of a MONIN product, whilst explaining the inspiration and technique used behind the cocktail. Entries open in April 2020.
Negroni Week 2020 – Campari Photo Competition
Reckon you are a dab hand at the Instagram? This comp from Campari will test your creativity. 
Last year Negroni Week celebrated 100 years of the world's favourite equal parts cocktail (convince us we're wrong); this year they want to highlight bartender imagination and creativity.
From April 15 to May 25, 2020, Campari encourages Australian bartenders to unleash their creativity to come up with an imaginative Negroni twist using Campari as the red heart.
You've just got to come up with the most creative Negroni twist around, and take a killer photo of your creation — and you could win an iPhone 11 and other prizes.
Ask your local Campari Academy brand ambassador for more information.
BACARDI Legacy
BACARDÍ Legacy was established to challenge the best contemporary bartenders in the world to create their own cocktail Legacy – one that will stand the test of time and ensure that both bartender and beverage are remembered like the illustrious classic cocktails of the past.
The winner of the Australian final goes on to compete against the best the world has to offer and the standard is always high: the reigning champ is Adam Dow, with previous Australian winners have been Jenna Hemsworth (2018), James Irvine (2017), Dave Kerr (2016), Andrew Bennet (2015), Fred Siggins (2014), and Alissa Gabriel (2013).
Entries open in June 2020, with the semi-final in October. The Australian final will be held in February 2021. 
For more information visit the Facebook page, facebook.com/BacardiLegacyAustralia.
Reach out to your Bacardi-Martini brand ambassadors if you want further information.
Patrón Perfectionists
This year, Patrón Tequila will again embark on their pursuit of perfection in the search for Australia's Patrón Perfectionist for 2020. The standard of entry for this comp gets higher every year, so you'll want to be on your best form when entries open in June 2020.
Keep in contact with the Bacardi-Martini brand ambassadors for details.
Bombay Sapphire Glasshouse Project
The Bombay Sapphire Glasshouse Project will bring together bartenders for a series of midyear workshops designed to push the boundaries of cocktail creativity
In order to win the Bombay Sapphire Creator Grant, the bartenders will be challenged to invent a concept either for themselves, their customers, venue or the industry, with the only requirement being the inclusion of a Bombay Sapphire cocktail.
For more details and to get involved, register your interest with Peter Hollands at phollands@bacardi.com from late April.
Speed Rack Season 3
Speed Rack is a competition founded by American bartenders Ivy Mix and Lynnette Marrero to put a spotlight on the great female bartenders working in the industry, with all proceeds from the events go to supporting breast cancer education, prevention and research. It's a hell of a good time for a great cause.
And it's back this year for its third season in Australia — keep an eye on speed-rack.com for details.
The Perfect Blend by Beam Suntory
The Perfect Blend is the cocktail competition from Beam-Suntory that challenges you to craft a signature drink from their outstanding range of whiskeys, and offers two categories for entries: one for professionals, that is, those with experience in this kind of competition, and one for apprentices, who are still learning their craft.
The current competition wraps up in a few months, with entries for the next instalment opening in September this year.
Winners in each category for the current competition win a bartender's trip of a lifetime with three unique experiences: a VIP tour of our very own Beam Suntory distilleries in Scotland; then experiencing the excitement of London Cocktail Week; and a chance to go behind the scenes of Lyaness, working alongside some of the world's best bartenders and being inspired by the Lyaness way.
Visit the-blend.com.au for details.

Magnificent 7
The Magnificent 7 is a Jack Daniel's bartending competition which works like this:  all competitors have the same time to make their drinks and the best and most balanced drinks on the night take home the bread.  The seven drinks are built around 7 core Jack Daniel's serves.
It's that simple. Contact your Brown-Forman representative for more details and to find out when entries open.