In a bar world that is as exciting and varied as Australia's is, you can often become distracted by the new and novel and neglect the bars that have been providing great drinking over the years.
But Shady Pines Saloon is a hard bar to forget about. It celebrates 10 years of shelling peanuts, pouring whiskey, and providing honky tonk good times next month.
It's quite the achievement to knock up 10 years of trade. The bar has been so influential that it is easy to forget what a change on the bar scene in Sydney — and Australia-wide — it ushered in. Shady Pines Saloon took great products and combined them with some of the best bar service that has been seen in Sydney (plus a whole bunch of taxidermy on the walls).
There have been many imitators in the years since, but none quite as good as the original.
Here, Swillhouse's Anton Forte talks about how he's grown as an operator since Shady Pines opened its doors, and what he's learned along the way.
ADVERTISEMENT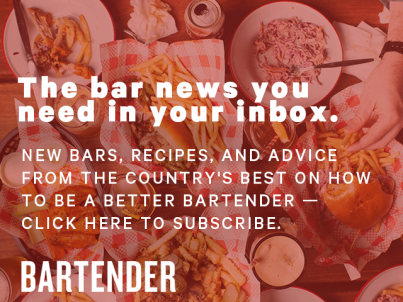 &nbsp
How does it feel to celebrate 10 years of Shady Pines Saloon?
I'm really proud… I'm happy, excited and stoked that we're still doing what we love 10 years later.
How have you changed — if at all — when you look back at opening Shady? What's different about the way you approach hospitality now?
I've changed a lot.
I was only 24 when I set up Swillhouse.  At the time, my sole focus was hospitality.  Being a good bartender and waiter meant more to me than anything.
As I got older I realised there's more to running a successful venue than being really good at service.  I had to develop skills in design, recruitment, business, public relations and real estate.
So much has changed but the fundamentals remain the same.  What made Shady Pines Saloon successful is more relevant than ever – Creating a beautiful space, delivering a high quality product and looking after our guests.
These are the founding principles of Swillhouse, and I think that they have stood the test of time.
Why do you think Shady Pines has been around for 10 years?
I think Shady Pines Saloon has always been a magical bar.  It provides respite for people. It's comfortable, it's charming, and it's friendly – It's the kind of spot you can introduce to an old friend, a date, or your parents.
Everyone feels cool, everyone feels included and everyone feels welcome.
What are you going to do the celebrate the milestone?
Classic Shady Pines Saloon.    Shots, dancing, icy cold cans, friendly service and live honky-tonk.
What's next for Shady?
I think that we need to evolve while keeping true our roots.  It's a hard line to straddle — we need to keep service tight and standards high, but we also need to be a relaxed joint to hang-out in.
That's the magic of Shady.  It's tight, but it's loose.
We need to nurture this philosophy while we grow and mature. I never want to fall into the trap of changing to be relevant.  If there's sound reasoning and our guests are going to have a better experience, I'm all for it.  But, I don't see the need to change for the sake of changing.
Whatever we do needs to feel right and come from the heart.
The details
What: Shady Pines Saloon – 10 Years of Dreams
Date: 1 March 2020
Time: From 4pm