Step down the stairs into the 70s-chic surrounds of Sydney's Double Deuce Lounge, and on any given night you'll meet Claudia Morgan behind the bar.
You may have heard of Morgan featuring at the pointy end of more than a few cocktail comps, or met her behind the bar at a couple of bartender favourite Perth bars, the now defunct bar The Dominion League, or Mechanics Institute. If you've met her, you'll know she brightens up any bar that she's in.
Last year Morgan left her hometown and made the move to Sydney; here, lightly edited and condensed for clarity, she tells Sam Bygrave her bartending origin story, how she approaches the trade, and the benefits of moving cities.
My first hospitality job was as a waitress when I was 18. That was in a hotel, it became a Rydges. Over there I worked in the restaurant, did room service — I did a little bit of bar, but it was pouring wine and making a Gin & Tonic; I didn't know anything.
I've always liked to party, and was hanging out with older people — they were in their 20s and I was 18 — and they took me out to cooler bars; when they wanted to catch up they didn't want to go to a nightclub and dance like my 18 year old mates. And I started getting interested in cocktails, what was in them.
I was working at The Esplanade in Fremantle, and I was bored; I was studying marketing and I wasn't really liking it, and I didn't really know what I was going to do. One of my friends had been offered a role at this bar that hadn't opened up yet, as floor staff; she turned it down thinking it would be too stressful, but she'd given my phone number to this guy. He was ringing me and I screened his calls for a couple of weeks. My friend had talked me up.  Eventually my friend said that it would be the second bar from Mechanics Institute, and I really liked going to Mechanics. I got an interview, and I started on the floor as part of the opening team.
ADVERTISEMENT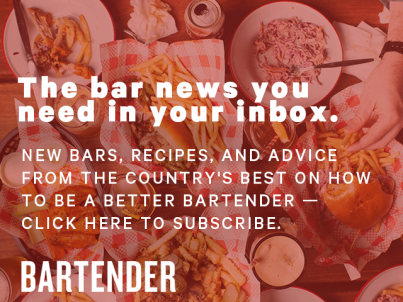 &nbsp
That's how I met Rummy [Mitch Keane], he was the bar manager. Originally The Dominion League was meant to be all table service, and then they decided they didn't want to do that — they didn't need floor staff. I had an interest in cocktails and what I was drinking; I was really into gin.
Because I showed so much interest, they trained me up. They moved me up to Mechanics for a bit. Even though they hire really good bartenders [at Mechanics], it's actually a really good bar to learn in. It was [also] very rowdy back then, we got away with a lot of stuff. 
The great thing about Mechanics is that it's such a relaxed, casual atmosphere, but we did give a shit about the quality, and learning about what we were selling in the bar. That's where I learned.
I was at Dominion from the beginning until the end — I didn't leave, but I did have a little time in an office job. It was a really good learning experience, but it was mainly writing emails and I realised I really missed actually talking to people, having that personal interaction. 
Around that time I started entering cocktail comps, and I realised that bartending was really my creative outlet. I wanted to explore that further — I felt I wasn't ready to finish bartending. 
After The Dominion League closed, I was feeling a little lost again. I felt like there wasn't that much room for progression in Perth. I'd been there a long time, I wanted to work in more bars. Around this time last year, after a bender, Mitch Gurrin and I sat down and he gave me a piece of paper and suggested that I write down all the places I'd like to work and which I feel like will push me, because I wasn't pushing myself. At this time Dim [Rtshiladze, owner of Foxtrot Unicorn in Perth and former Mechanics Institute general manager] didn't have a bar, and I couldn't think of any in Perth. I wrote down a list of bars around Australia and had that in the back of my mind. I started speaking to a couple of bars in Sydney before I booked my flight to check out if they were hiring. I lived in Perth my whole life and felt I needed to live somewhere else.
Rummy described bartending to me, when I was first ever behind the bar, like this: having a bar open is like you're holding a party, and as the bartender you're the host — you look after the guests, your guests, and make sure everyone is good and have a little bit of fun yourself. Just a tad. You want everyone to have a good time at your party.
It's pretty scary moving cities, but I'm really happy. I was over in Perth at
Christmas and I realised, you know I've actually chosen to go to Sydney and I'm actually really happy. At first I was a little unsure, like: what have I done with my life? I've flipped my life over. But I'm really happy — I feel like I've grown more confident.