If you took a random group of bartenders and tested their booze knowledge, you can be confident you'll get some good knowledge back on whiskey, amaro, cocktail specs, gin and more. Historically though, wine hasn't been of much interest — each year in our Bartender of the Year exam there's a section on wine, and each year the answers are, let's just say, underwhelming at best.
Why is that? It might have something to do with the elitist, snobbish image of the wine enthusiast.  But something changed in the world of wine over the 2010s, with the gods of the old world of wine — the big champagne houses, the premier crus and first growths — looking decidedly old fashioned these days, thanks to an anarchic bunch of winemakers making natural wine.
Suffice it to say that natural wine — often funky, sometimes an acquired taste, and with an emphasis on terroir and small scale farming — is bartender bait of the highest order.
But the wines can be damn tasty, too, and that's what got the guys behind Nattie by Nature interested in the stuff. 
Nattie by Nature is a celebration of natural wine and the people who make it, put on by Ryde Pennefather and Alen Nikolovski in Merimbula, on the NSW South Coast.
ADVERTISEMENT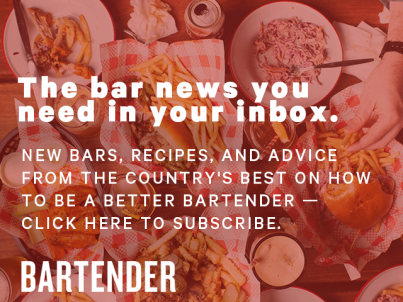 &nbsp
Here, Nikolovski tells us about how they got interested in natural wine, what inspired them to start Nattie by Nature, and what they're looking for in a good bottle. 
What got you interested in natural wine in the first place?
For both of us it was an influence of the venues we worked at, Ryde more so during his stint in Wollongong working at some amazing venues which focused a lot on natural wine. I am quite  lucky to have some good friends that work in venues that focus a lot on natural wine so when I would visit them they would just give me glass after glass of amazing natural wine, I fell in love with it pretty quickly. From working with it and drinking it we both developed a big love for it, plus it's damn tasty.
How do you explain natural wine to people who don't know what it is?
A wine that is made with minimal intervention. Wine that is defined by the fruit and its characteristics along with terroir instead of human intervention. Delicious party juice, is one of our favourites ways to describe it.
What are you looking for in a good natural wine?
It really depends on our mood and what we are feeling that day. We both love a few similar styles but are open to drinking anything. Ryde loves the European style whites and I love a good chilled red (last years Rouge by Jordy Kay was dynamite, I'm pretty sure he sold out quickly), pet nats are the big thing at the moment so we like to dabble in those as well, I mean who doesn't love bubbly delicious wine that's funky and usually super fruity on a hot summers day. The Dr Ongo by Dr Edge is our go to right now, delicious Tassie pinot with a kiss of riesling. For us we are just looking for a smashable delicious wine, isn't that what everyone is looking for? Sometimes we love the super funky wines and other days we just want a clean and crispy white, [it] depends if we are having a few or more than a few.
What's Nattie by Nature all about? Why does it exist?
Nattie by Nature started off as an idea that Ryde pitched to me at the Merimbula RSL while drinking a Corona. We both love natural wine, there wasn't much of it on the coast so we had this idea to bring it to the people down there. It started off as a small idea and it blew up. We basically wanted to put on a wine tasting that's not boring and shit, combine live music, local produce and some of our favourite wine makers and put them all in an amazing location that is the south coast. We were very lucky to have the venue we did it in, we are super thankful to Jason and Kirsty for allowing us to use their venue and Di (one half of Dulcie's owner) for helping us out with everything along the way and on the day, we wouldn't have been able to do it without these guys. So the idea was there to begin with and after one thousand Margaritas and Cuba Libres at Dulcie's — which is the best regional bar in Australia — we kind of got the idea moving. Before we knew it we had almost 350 people going to the coast to come to the party. To simplify this the reason why Nattie By Nature exists is to showcase the amazing South Coast, the amazing produce, to educate people on natural wine, to allow them to experience it and have it poured by the person who made it and just to have fucking fun! Live music, good wine, good people, amazing location, what else do you need in life.
What are your plans for Nattie by Nature?
Plans for Nattie by Nature are to keep putting on more events. We did a few pop ups around the country that were super fun and made so many good friends from them but this year we are going to focus on bigger ones. We want to do what we did with the first one and showcase the amazing wine some of these wine makers are producing, keep meeting and working closely with more winemakers and showcase what we love. We also want to venture out a bit from the wine world and get involved with a wider range of booze and product. We also love the idea of putting on events in rural areas, whether this means going back to the South Coast and doing another one there or going north this time and changing it up, we are not sure but we love the idea of making it a destination and a bit of a getaway for people and showcasing some of the amazing rural areas our country has to offer.
Do you have five recommendations of natural wine producers you love and why?
Five recommendations of natural wine producers. Fuck, tough question. There is a lot, we will stick to the legends we have been lucky enough to work with through Australia. 
Tony of Ari's Natural Wine has been a massive part of the start up of Nattie By Nature (he also has the best after hours night club in Sydney on his balcony), and his protégés Benson & The Mooch, couple of wine makers helping each other out and making unbelievable wines. 
From the Canberra region, Mallaluka's recent release has been with no fault. Jordy Kay, an amazing young wine and wild man. Konpira Maru Mt Midoryiama [pet nat] has been our biggest hit through a wide range of events and Al has the best banter in the biz. Whole bunch of Adelaide crew. Borachio for us is unreal! VHS [Vinous Heroin Soicety] for vision and intrigue, Sam [Smith] is doing something so fucking cool and we back it hard. 
Also if you're looking for places to buy off the shelf P&V have been big supporters and we love their work. There are so many out there now we are really spoilt for choice so try and drink lots — responsibly.