Over the last five years, the Indie Spirits Tasting has unearthed a bunch of little Australian brands that are grinding away, trying to stake their claim in the competitive Australian (and global! fingers crossed) drinks market. With four Indie Spirits Tasting events happening this year (click here for the ticket links), we've taken the opportunity to chat with some of our local distillers, see what they're working on and find out more about the highs and lows of starting your own brand. (FYI the next Indie event is in Melbourne on Sunday, 29th March – click here for tickets)
One of the original brands to sign up to the Indie Spirits Tasting events was Applewood Distillery, which started in a little winery in the small town of Gumeracha in South Australia. A mission to swallow waste and push native ingredients has created a booming spirits business that's all about ethics.
So we wanted to find out more about what's happening with the Applewood brand. And so we got the low down from Distiller, Brendan Carter and Brand guy, Bar Manager and all-rounder Noah Ward. Here's what they had to say…
Tell us a little about your distillery/brand?
Noah: Brendan and Laura Carter started Applewood in 2015 in our little winery (Unico Zelo) set in a former cold store in the sleepy town of Gumeracha in the Northern Adelaide Hills, dedicated to showcasing Native Australian Ingredients in our range of gins, bitters and liqueurs.
Why? What made you go into such a challenging industry? What were your motivations?
Noah: The number one goal for Applewood has always been the monetisation of native Australian ingredients, to get more farmers putting them in the ground because they use far less water than a lot of introduced species, and swallow up the B – G grade botanicals that don't end up on fine dining restaurant plates. Unfortunately that industry doesn't exist for that yet so it was our goal to create one. Swallowing up waste is what distilleries do really, really well. Gin was actually never the primary goal, it was almost a means to an end for us. We just backed ourselves to make a really delicious one.
ADVERTISEMENT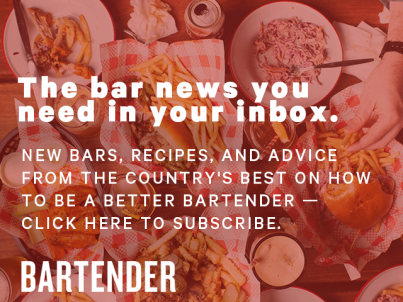 &nbsp
It's no secret our climate and environment have been throwing some curve balls our way? Has this impacted you in any way?
Noah: Outside the fact that our distillery was within 500m of the Adelaide Hills bushfires that occurred just before Christmas (that we were incredibly lucky to get out of unscathed thanks to the legendary CFS), the main issue has been supply. A large portion of our native ingredients that we use – particularly for our Økar Island Bitter – their supply has is just gone. There's growers of riberries on Kangaroo Island who've lost everything, strawberry gum is really tough to get from Northern NSW. We're having to search for new suppliers of wattleseed from WA rather than locally. Yields are down dramatically and producers aren't getting the supply they're hoping for. The good news is that it will all grow back, but it's just going to take some time – we just need new people to plant native ingredients as well.
Tell us about your brands/ products?
Noah: Applewood is known for our Signature Gin – a savoury, aromatic and refreshing style of gin made with Desert Limes, Peppermint Gum, Wattleseed and plenty of Juniper. In November last year we released our Navy Gin, only our second core product in almost five years. Since we've got a higher ABV (58%) we can extract more flavour from more botanicals, so we tripled the load of Desert limes and increased the amount of all the other indigenous ingredients and a double load of Juniper – highlighted with a touch of Yuzu from the Yarra Valley. Applewood releases around 12 Limited Edition Gins every year, currently focused on Mono Botanical showcases of individual native ingredients. We also produce Økar Island Bitter – our take on classic aperitifs made from Australian botanicals to enjoy on the world's biggest island (ahem… Australia) that uses eight times the amount of native ingredients as our Applewood Gin, and our Carter's Original Coffee Liqueur made from artisan coffee roasted in Gumeracha.
Plans for the future?
Noah: We've always got something cooking – it's our five year anniversary in August so we're gonna put out something pretty special then… We've always got a few limited edition gins coming out so keep an eye out for those. Who knows – we might release another core product before the year's out!
Brendan, What's a typical day like for you?
Brendan: As we're doing a lot more export now, I generally like to get up before 5am to ensure a few email exchanges occur with key international markets before they finish up the day and to chip away through a list of unfinished tasks from the days prior with little distractions.
I'll typically get to the distillery by 9am – where the rest of the team have already arrived.
Laura and I will catch up and run through our critical tasks for the day, and I'll generally catch up with the Creative Team not long after to check on the status of various projects and make any necessary captain's calls they were waiting on.
We spend the next couple of hours sprinting through larger tasks, whilst the distillery kicks into full pace – generally setting up a Gin run in the morning.
Whilst Gin is distilling, there's a myriad of other jobs to be done – such as blending for bottling, blending the array of different liqueurs, filtration and setting up the following day's Gin maceration.
After we've got a handle on the day and everything is in motion, then comes the fun part: recipe design!
We have a continual feed of new products in the works – some planned out for the entire year depending on the seasonality of produce. In the early afternoon we'll typically review the next batch of experimental blends or distillates – and gather as a team to discuss any oddities or potential in the resultant spirit.
From there we set the direction for the next round, typically seen a day or two after.
The late afternoon is the ideal time to get through the boring stuff: paperwork! Running a distillery means a lot of checks-and-balances on things like excise, export paperwork, warehouse movements etc. We have a production-focused inventory software that tracks literally everything – but it needs constant maintenance!
Around this time is when we might change the still over for a second run – if we're doing double-runs – Laura and I will hang around until 8pm or so to make the final cuts before putting the distillery to rest!

Brendan Carter's Top 5 Tips on starting your own distillery 
Have An Original Idea. This isn't like the wine industry or beer industry – you're crafting a highly consistent product, that never degrades, and isn't necessarily plagued by vintage variation, whilst you can craft it on a daily basis. This causes a gradual accumulation of product in the marketplace, unless it's being consumed at the same rate you're producing it – which rarely happens. You need an Original Idea – as you're up against everyone else, and they've been doing it for a longer time; therefore: their product accumulation in the marketplace is higher than yours. You can't just change your region/soil-type/branding to provide a unique offering. In the case of beer – it's a constantly degrading product – so freshness works to provide unique 'local' offerings that are superior – you don't get this with spirits – your unique offering is: flavour.
Make Sure There's An Actual Customer Demand For It. No point crafting something nobody will purchase. I'm all for the artiste – but I prefer to see someone's artistic expressions outlive themselves.
Have At Least $200,000 Ready To Burn. This is an expensive game – and most of this capital will be tied up in excise (feeding the market with product actually generates its own liability) – along with product in cask (if that's your game). The $200k figure here is a low estimate too – i'd almost double that to be sure.
Don't Underestimate Packaging. Twofold here; firstly, packaging is the one thing that'll get you immediately noticed (your liquid gets them coming back for the second round) – and secondly, it's the most expensive part of starting a distillery: watch it like a hawk.
Hit The Ground Running. Fast. You're not operating in a vacuum – the spirits industry is a hard-and-fast industry (yep, even though you spend years waiting for the stuff to mature in peaceful tranquility). When you've formed your plan – execute it like a madman – because everyone else is.
ABOUT INDIE SPIRITS TASTING:
Brought to you by the team at Australian Bartender magazine this event is now staged in Brisbane, Perth and Sydney. The event will feature more than 25 exhibitors showcasing more than 100 craft spirits, with master distillers on hand and free seminars going deep into the world of independent spirits. Indie Spirits Tasting is the country's biggest showcase of craft spirits so make sure you book your tickets asap to secure your spot as numbers are strictly limited.
You can get early bird tickets right now, too: they're just $45 plus booking fee and include all the samples, snacks and access to the spirited talks.
Visit indiespiritstasting.com.au to book your tickets to the Melbourne show and to each of the shows around the country. Melbourne is sold out but if you are interested in exhibiting at one of our other events in Sydney, Brisbane and Perth, please email david@spantonmedia.com