The Milk Punch is one of those misunderstood drinks beloved by bartenders, but one which the uninitiated just don't get. It's a Punch, but with milk? But it's not milky?
Of course you can find a milky-looking Milk Punch, and those are the types which are usually single serve drinks — the New Orleans Milk Punch with cognac, rum, pimento dram, sugar and milk is a delicious way to get your calcium intake up.
But those are not Punch, at least not in the classical definition, because they lack a sour element in their recipes.
And it is the citrus and dairy combo which makes Milk Punch so remarkable a drink — and one that has been around since the 1600s.
Citrus, when added to milk, is going to make the milk curdle — the acids don't play so well with the milk proteins, causing the proteins to clump together on the surface.
ADVERTISEMENT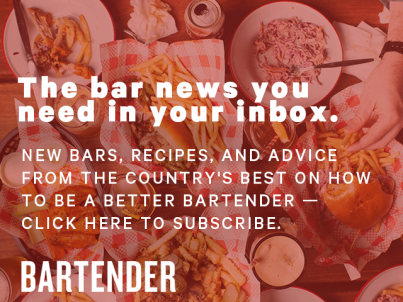 &nbsp
But should you mix all your ingredients — including milk — together, and bring the mixture to a near boil, you can skim away the curdled milk. Do this until all the curdled milk is gone and you'll end up with a clear concoction that is suitable for bottling and storing.
We've seen some interesting takes on the Milk Punch in recent times: Reece Griffiths had a Carrot Milk Punch going at Chula a couple years back (it was a way of making sure they were going through their horchata); more recently at Scout Sydney, their Camelflage used camel milk as the dairy element. Yes, camel milk.
And this recipe here, from Kate McGraw (owner and bartender of Isabel, Bondi) is one of the more technique heavy recipes you'll find. Which is okay, we think, because with a Milk Punch you're getting all the hard flavour work done and out of the way, batching the results for a quick pour during service.
Yuzu Milk Punch
750 ml white chocolate Tanqueray
300 ml whole yuzu juice
170 ml Mancino Bianco Ambrato
150 ml lime leaf syrup
50 % wattle milk
Combine all cold ingredients in a container. Add warm milk and allow to cool. Let mixture sit for at least 6 hours. Drip through in the fridge overnight. Once strained, bottle. Makes a 1 litre batch.
To serve pour 100ml directly in a glass over high density ice.
Adapted from a recipe by Kate McGraw, Isabel, Bondi.
For the white chocolate Tanqueray:
• 500g Tanqueray gin
• 150g caramelised white chocolate
• 5g toasted wattle seed powder
Dry toast 5g of wattle seeds. Crush in the spice crusher. Heat oven to 125 degrees. Scatter white chocolate over a sheet pan. Put in the oven. Every 10 minutes move around with a palate knife so that it heats evenly. After 50 minutes, remove from oven. This must be added to the gin whilst still hot.
For the wattle milk:
• 1000g milk
• 10g toasted wattle crushed
• 125g white chocolate
Place all milk, white chocolate and 2.5g wattle in a saucepan. Blast with heat until milk begins to bubble along the edges. Reduce temperature straight away to medium-low and wait for skin to form. Run a knife around the edge of the pan to separate skin from the sides. Press a canola sprayed sheet of baking paper on top of the skin to lift. Add next 2.5g of wattle and repeat process. Once all wattle has been used, keep milk warm until ready for milk punch.
For the lime leaf syrup:
• 60g lime leaf
• 1100g water
• 600g raw sugar
Combine all ingredients in a blender. Blend until combined. Sit under vacuum for 6 hours before straining.