Story by Amy Cooper
It's now 10 years since a ragtag group of bar lovers decided there were too many dry months on the calendar, and that we were going to devise something different – a way to do good while still having fun. A way to highlight the generosity and community spirit of the hospitality industry and to showcase responsible, social drinking. And a way to hang out with dogs. Lots of dogs.
That something became Bars March, Australia's only annual charity celebration of bar culture in support of animal welfare.
Our rallying cry is 'have a drink, save a dog,' and for a decade we've been urging the public to head out to their favourite bars, pubs and clubs every March, supporting a great cause and discovering the infinite delights of Australian bar culture.
In that 10 years (that's 70 dog years), venues of all shapes and sizes have joined in, selling special Bars March drinks throughout March and donating a little bit to Animal Welfare League (NSW) and Save a Dog Scheme (VIC) from those drink sales.
ADVERTISEMENT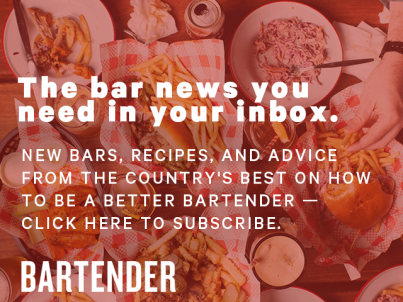 &nbsp
Bars March 2020 features a curated line-up of some of our favourites from the past decade, including in Sydney: The Barber Shop, The Duke of Clarence, Bancho, O Bar Dining, The Erko, Lobo Plantation, Kittyhawk, Bartolo, SoCal, The Butler, Bopp & Tone, The Botanist (Kirribilli). They're joined by newcomers Skye bar at The Marsden Hotel, All Hands Brewing House and The Kurrajong Hotel in Sydney. In Melbourne there's Golden Monkey, Madame Brussels, The Tipsy Cow, Newmarket Hotel and more.
The deeply dog-friendly Erskineville Hotel (The Erko) hosted the Bars March 2020 launch, raising a good chunk of $$ with the help of 4 Pines, in a Pints 4 Paws post-Mardi Gras afternoon to kick off the month. All Hands Brewing House will host a big event to close off the month, and the calendar will continue to fill with parties, soirées and various coffer-boosting antics. Stay updated at the Bars March website.
We're still welcoming venues in both cities to jump on board for 2020, and registration is easy (and free) – just visit the website barsmarch.com and follow the instructions.
Support for Bars March 2020 also comes from two dog-loving brands: Fentimans, and Warner's Distillery and their Rhubarb Gin.
All Fentimans bottles bear a logo depicting Fearless, the founder's beloved dog, and the brand's premium mixers will feature in a selection of Bars March drinks.
Tom and Tina Warner, owners of Warner's Distillery, are mad doggy people – in fact their dog Leia is also their Executive Morale officer. They are travelling to Australia in March to participate in Bars March celebrations, and there will be bespoke Bars March Warner's cocktails on pour at Sydney's The Duke of Clarence, The Barber Shop and Madame Brussels in Melbourne.
Check out the action on Instagram at @barsmarch and online at www.barsmarch.com.