In a bar world that is as exciting and varied as Australia's is, you can often become distracted by the new and novel and neglect the bars that have been providing great drinking over the years.
One such bar worthy of the love is Whisky & Alement in Melbourne. It's an award-winning bar that has been at the forefront of whisky advocacy not just in Melbourne, but natonwide — and this month they turn 10 years old.
As anyone who has ever run a bar will tell you, 10 years in business is quite the achievement and particularly when you're operating at the quality level that Whisky & Alement is. But what are the keys to their longevity?
We asked owners Brooke Hayman and Julian White what their keys to success are, and what they're doing to celebrate the milestone.
How does it feel to celebrate 10 years of Whisky & Alement? 
ADVERTISEMENT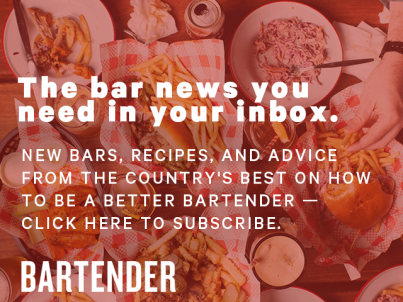 &nbsp
Julian White: The 10th anniversary feels like the moment I just got my drivers license. You're part of the "grown ups group". Trust and relationships are more important than ever and it's lovely having industry and customers reminisce with us.
Brooke Hayman: Exciting! To think we've made it 10 years is incredible.
How have you changed as operators —if at all — when you look back over the 10 years? What's different about the way you approach hospitality now? 
JW: To be taken seriously as a 23 year old operator in those early years with a new concept was pretty tough. Making big changes in your hospitality business is incredibly hard if you're trying to run service every day. You'll see amazing development and be able to "keep current" if you step back, assess what you need to do and execute it with a mind clear of service troubles.
BH: For us we've learnt stability is key and more important than rapid expansion.
Why do you think it is that Whisky & Alement has been around for 10 years?
JW: In a time where drinkers rarely drink the same thing twice, whisky has the ultimate variability in the spirits world. A single cask has all the unique credibility, provenance and importantly flavour variation to keep consumers on their toes. We aim to always have something new for customers to try and it's been that way for 10 years. Our incredible staff have been the single most important factor to our longevity. In 10 years I think we've had less than 40 staff work the bar. Brooke and I try to treat everyone as equal. Meaning I wouldn't ask a staff member to do something that I'm not happy to pick up and do right here, right now myself. Hierarchy is out the window, we're all in this together, so managers mop the floors at the end of the night sometimes and new staff will be invited to make cask selections at distilleries with Brooke and I.
BH: We live and breathe it, to us it's not an enterprising, commercial style business but a passion: we love the people, team, customers and travel too. I think for customers Whisky & Alement is like an old friend, their lounge room. It's their home too.
What are you guys doing to celebrate the milestone? 
JW: We're bringing the team/band back together. Our bar team are like family, not only to us Brooke and I, but to our customers who often visit the bar to have a chat and catch up with the crew. So this will be a celebration for customers and staff to catch up and serve the drinks loved most over the past 10 years. Throughout the year we'll also be hosting 10 'dream' events, cracking bottles and hosting guests that we've always dreamt of but never had the occasion to do so. 10 events over 10 months to celebrate our 10th anniversary, here's a sneak peek with the finer details tbc.
What's next for Whisky & Alement? 
BH: We're going to keep introducing 10 (or more) new whiskies to the back bar every week, build a kitchen (finally) and get better at proudly promoting ourselves as a top quality venue that's stood the test of time.
JW: More exploration! We'll keep on travelling, learning and bringing our customers the best of the best whisky from around the globe like we always have.  
The details
What: Whisky & Alement celebrates 10 years
Time: 4pm – 5am
Date: Friday 27 March 2020
Whisky & Alement hosts their alumni for guest bartender shifts, live blues, with 20% off beer and back bar and $10 Boilermakers.