Adelaide is a city that doesn't always get the limelight; Sydney and Melbourne tend to dominate the conversation around bars and bartenders. But there is something happening in Adelaide.
The bar scene has grown over the last few years, and with it have come a new crop of passionate, professional bartenders.
Bartenders like Maybe Mae's Nicola Dean. She's been at Maybe Mae a little over a year now, and from what we can tell she's a perfect fit for the team: she puts the focus on hospitality, but makes a great drink too, whether it's from the list or a classic (she's a dab hand at the Daiquiri, for what it's worth).
Here, lightly condensed and edited for clarity, she tells us about how her experience in a range of roles has helped her at Maybe Mae, how she got behind the bar, and how she approaches her trade more broadly.
I actually started out as a promoter for a nightclub that no longer exists, called Apple Nightclub. I was at the nightclub most days anyway and they got me on board because I was bringing heaps of people in. I kept bugging the owner: I want to work in the bar, I want to work in the bar.
ADVERTISEMENT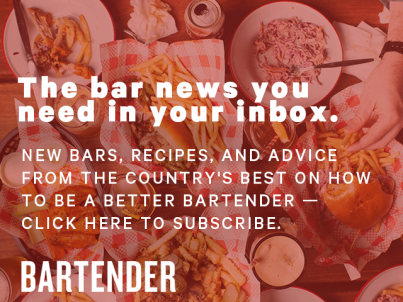 &nbsp
I hated my office job. I really didn't enjoy sitting in an office — I was an inbound call centre operator at a telecommunications company. I just didn't enjoy sitting at a desk — I needed that face to face interaction with people, that's where I thrive.
I worked my way up the ranks, starting out as a glassy, rose to bartender, and then eventually I was made a bar supervisor. It was very much nightclub cocktails — simple, delicious, pump them out. 
And from there I took a big leap of faith after three years in the industry, and applied for a brand new bar that was opening: Bar Torino.
They took a chance on me, and I learned from the head bartender at the time: how to balance cocktails properly, combining flavours; that's where I grew my love for hospitality. 
I moved up to Hamilton Island and worked at a few places, and did some silver service up there at Qualia, the six star resort. I was nestled in at Beach Club, which was a poolside cocktail bar, and I loved it there. Each night there was a different degustation menu on, and the dessert was always paired with a cocktail. So each night you had to really flex your creative muscles and pair a drink to a new dessert. Every day, every shift you had to come up with something new.
I decided to travel around Europe for about three or four months. Came back, and worked in a couple of different pubs because I didn't want to get back into the cocktail bar life — I had a quarter life crisis and I wasn't sure that hospitality was what I wanted to do.
It was the social pressure, the quote unquote ideal nine to five life that everyone should undertake. I tried a few different jobs, but none of them for very long, and came back to hospitality. I worked at Bank Street Social for a year and a half as an assistant manager, nailed back down into the hospitality industry, and fell in love with it all over again.
Nearly two years ago Ollie Margan approached me and said that they had an opening at Maybe Mae, and he thought I'd be a right fit, and lo and behold — here we are.
Maybe Mae is such a high volume cocktail bar. At Bank Street Social it was a different style of service — there it was half nightclub and half cocktail bar. So going into a high volume [dedicated] cocktail bar was intense, at Maybe Mae there's just such a high standard of service. Getting used to that took a bit.
It came fairly easy for me having worked on Hamilton Island and doing the silver service stuff — you understand the professionalism behind it, and that really helped me in becoming so comfortable at Maybe Mae. 
The way Maybe Mae builds drinks was something I hadn't looked at before; they look at flavours, as opposed to building a cocktail around a spirit. You build cocktails around flavours at Maybe Mae. It really altered my way of looking at flavour and expanded my horizons when creating cocktails.
It's very much like a family. I consider everyone I work with to be my brothers and sisters, people I can rely on when I'm going through a hard time. People I can guarantee who will lift me up and be there with me in the good times. Families don't come without issues, especially when you're spending so much time together in a high pressure cooker environment, it can be a little intense sometimes — but we communicate well, and at the end of the day we're a family. We support each other.