Sydney bar PS40 is one of the world's best bars — they landed at 95 on the extend World's 50 Best Bars list last year — and they, like bars across the country, are finding the coronavirus shutdown difficult to navigate.
With NSW now temporarily allowing takeaway alcohol and deliveries during the shutdown, PS40 has moved quickly to roll out a delivered cocktails solution, along with a voucher initiative they're calling afterdrink (you pay now, drink later, obviously — click here to buy your drinks).
PS40 owner and bartender, Michael Chiem, will be doing deliveries himself, so if you've ever wanted the 2016 Bartender of the Year to bring you cocktails to your door, now is the time, people. Take a look at their Instagram post below, give them a follow, and hit their DMs to order.
Here, Chiem talks about how they came to their takeaway cocktail selection, what they're doing, and how PS40 is navigating the shutdown.
This has been a whirlwind couple of weeks — how is PS40 holding up?
It's not really to be honest mate. We're all out of the bar now as it's just not feasible to keep everyone on when there is no incoming revenue. The team have been great though, even though the bar is closed we're still discussing potential ways to create and do our craft. I feel worst for my two lads who are based overseas and don't have family to fall back onto.
ADVERTISEMENT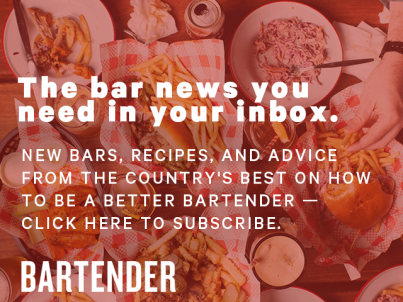 &nbsp
Is there anything you're hoping the government can do for the bar business? What would you like to see?
I've seen places overseas act against this in much stricter fashion, whereas it feels like we are doing things in half measures. Being stricter overall would ultimately see all our bars open up earlier, you'd hope.
Also if we're freezing trade, freezing rent for individuals who are all of a sudden out of a job and commercial rent would help all small businesses that can't work from home. Lots of talk about this but we're yet to see anything conclusive.
How do you decide which cocktails to sell for takeaway? How much work goes into it?
Firstly, the market for takeaway/delivery is oversaturated currently, so we wanted to come up with drinks people couldn't make themselves at home. People at home, have a lot of time right now…
So we've got a few clarified Punches and our Breakfast Negroni which is sous-vide to obtain the flavour and then frozen/strained to obtain mouth feel. We chose these drinks specifically because they have great shelf life too, two months in the fridge at least.
It takes two to three days from start to finish for these drinks but you can do them in relatively big batches, and most importantly they travel.
Do you have any advice for other bars wanting to sell takeaway cocktails?
Choose a bottle that has a decent open closure so the glass washer at the bar actually cleans the insides. Otherwise you'll need to use a more manual glass cleaner, no-rinse sanitiser combo which changes depending on what cleaning brands you use. This is especially useful if you intend to recycle the glass.
Start at affordable prices, people are no longer consuming these in beautifully decked out venues now and a lot of people want to support local but probably have lost their jobs too.