The Australian bar industry is a world-beater. We've long believed that Australian hospitality is amongst the best in the world — it is famous for its warmth, generosity, and focus on good times.
The coronavirus outbreak, however, has brought hard times for Australian bars, bartenders, and those the wider hospitality industry employs.
In light of this, the team at Spanton Media Group have postponed and amended the schedule for Sydney Bar Week 2020. We have changed the dates and reduced the schedule to three action-packed days: Sydney Bar Week will now take place from Sunday 25 October to Tuesday 27 October.
The Indie Spirits Tasting, The Business of Bars Conference, and the Bartender of the Year sponsored by BACARDÍ & De Kuyper will all take place.The Bartender Magazine Australian Bar Awards will also take place, on Tuesday 27 October — the 20th year of the Bar Awards.
ADVERTISEMENT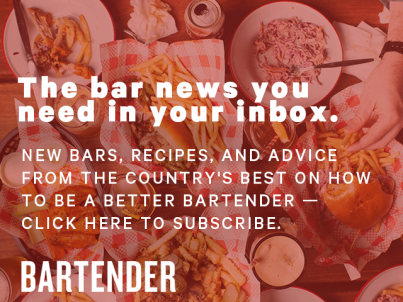 &nbsp
We're making some significant changes to the Bar Awards this year in light of recent developments: we're giving the dinner a rest this year, and moving to a cocktail party format instead. This will allow us to drastically reduce the price of tickets, as we know times will be tight for operators this year. It's still going to be a rager of a party, though — we're pretty sure we'll all need one come October — and it will be held at Upstairs at The Beresford in Sydney.
"In my 20 years of publishing Australian Bartender magazine and hosting the Bar Awards, we have never seen anything like this," says publisher David Spanton. "The difficulties our world and nation face right now are unparalleled. We're all just focusing on keeping safe, paying the bills and trying to keep our jobs or businesses afloat. It is heartbreaking to know so many of our friends in the industry are out of work and doing it tough.
"With that in mind, we are moving Sydney Bar Week and the Bar Awards to late October. For many bars and bartenders, getting away to Sydney for five days is not feasible this year, so we've reduced the Sydney Bar Week to three days. By doing this, we hope the trade will have emerged from the worst of the crisis, and will be ready to come together as an industry. We will need a catch up with industry friends more than ever.
"We are also extremely grateful to Sam Egerton and the team at The Beresford who will help host the 20th Bar Awards, and most importantly to our amazing sponsors who are continuing their strong support. All this combined means we can make attending the awards for finalists either free or less than a third of the normal price.
"For now, however, we are focused on trying to support our wonderful industry the best way we know how every day via Australian Bartender magazine and australianbartender.com.au."
We have temporarily suspended online voting in the Bar Awards, because we figure that at this point in time you have bigger concerns on your plate.
There will be more updates to follow so please stay tuned to australianbartender.com.au and sydneybarweek.com.au and our social channels for all the details of the new format.
Follow Sydney Bar Week on Instagram @sydneybarweek and Facebook here.