This interview was published in the March issue of Australian Bartender.
"You've always got to be thinking ahead of the next best thing and how you're going to fill your bar next week, next month, next year."
If you've spent any time in the bars of Brisbane, there's a high likelihood you'll have come into contact with the work of the Drunken Monkey group.
The group opened the two-time Live Music Bar of the Year, Brooklyn Standard in Brisbane's CBD back in 2015, and followed that up with Fat Angel Sports Bar in the space next door (which they'd previously run as a taco restaurant). 
Then came the news in December last year that the group — owned by Adam Barton and Manny Sakellarakis — had picked up The Bowery in Fortitude Valley, and reopened it as Suzie Wong's Good Time Bar with their Brooklyn Standard general manager, Harlen Pointing.
ADVERTISEMENT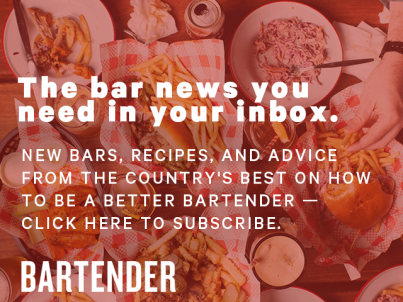 &nbsp
Here, lightly edited and condensed for clarity, is a chat with Barton on how the group came about, some of the challenges they faced along the way, and advice on opening a bar.
Interview by Sam Bygrave
What's the origin story for the Drunken Monkey group? How did you come to open a bar together?
Same old story: boy meets boy. Boys get on the piss together. Boys say 'One day, let's open a bar together… seven years later Manny and I opened Brooklyn Standard together. 
But seriously I was a sales rep for Brown Forman looking after the Brisbane CBD, and left after seven years with them, and opened my own venue in 2012 at Southbank, Cove Bar and Dining. I had no idea about how to write a wine list back then and a mate of mine who was a very well known sommelier here in Brisbane wrote it for me. He said to me you have to meet this mad Greek guy who owns an Italian wine import company, he's got some cracker wines. So he introduced me to Manny. 
We met and started talking and two hours later he owned pretty much 90 percent of my wine list. We became friends and we always said we would love to do something together in Brisbane if the time was right. 
The old Tank hotel in Brisbane CBD was vacant for a few years and everyone thought it was a dog of a site, so no one touched it. I saw the potential of the site, and at that time the city was just starting to kick again and people were starting to come back into the city to drink and I could see a need for something like Brooklyn Standard. 
I spoke to Manny and asked if he was still keen to do something, and boom: Brooklyn Standard was born. But who would run the venue for me? Who would get my vision? There was only one choice, and I had to have him: Justinn Debeer. Juz and I had been mates for years and he was the best in the biz and had run a bunch of the coolest venues in the Valley at that stage, and he just got it, he got what I was trying to do. He said no to me quite a few times, but eventually I got him around. I could not have done what I did without him at Brooklyn Standard.
We opened Fat Angel next to Brooklyn a few years ago to compliment Brooklyn, and now Suzie Wongs Good Time Bar in February this year. With Suzie Wongs I asked Harlen Pointing who was my GM at Brooklyn Standard and Fat Angel to come on board with us with the new venue, and gave him a slice of the pie as an owner on this one. He's been with me from the start with Brooklyn Standard and it's exciting to have watched him grow from a bartender, to bar manager, to having him as a business partner with us now at Suzie Wong's. It's exciting to watch people with you grow.
Why did you want to open a bar and become a bar owner?
Drugs, sex and rock and roll baby. No mate, I always loved hospitality and being involved in it, and I tried a few other gigs over the years away from hospitality in sales etcera, but somehow was always drawn back into it. 
All my best mates either ran venues, managed or owned venues in Brisbane, I socialised with hospos, lived with hospos and when I was out of it, I missed it. It always felt right, just like those old undies that you just cant throw away, because they just feel so good. 
And like most people when they are thinking about opening their first venue, whether a bar or a restaurant always think, shit how hard can it be? Guess what: it's fucking hard!
I wouldn't want to do it by myself though, it's no fun having success if you cant share it with someone, that's why its great to have Manny by my side along for the ride. He's the ying to my yang, we both bring different things to the partnership. He loves spreadsheets and figures, I hate them. I get them, but I hate them. I love the creative part of the business. New ideas, new concepts, new designs. Figuring out how to grow. Figuring out what's next? That excites me.
Tells us a little about how Suzie Wongs came about?
I was good friends with Stephanie (Canfell) who owned The Bowery since it opened from my days as a rep. She was always my favourite customer and I had a lot of respect for her in the industry for what she's done with The Bowery. Steph shot me a text back in November last year to ask if I knew anyone who may want to buy The Bowery. I didn't realise it was for sale at the time. 
We caught up and had a coffee, and I said I didn't really know anyone and I couldn't help, but I'd put my feelers out for her to help her out. I walked away from that catch up and a few days later rang Steph back and said you know what, I want to buy it. 
We weren't looking for another venue at the time, it was the start of December with Christmas coming up and the the venues were going crazy — it was the worst possible time to buy a venue, but we made it happen. 
I knew going into buying The Bowery that we couldn't fuck it up, and whatever we did it had to be completely different from what I was. We don't do cocktail bars, that's not our thing, but lucky for us the site has great bones and I knew that we could make it into something pretty special and make it our own. The pressure of us closing one of the most iconic and most loved cocktail bars in Australia was immense. People were going nuts on social media about how sad they were and devastated. 
So we knew we couldn't stuff it up. We had to bring our A-game and transform it into what we do, live music. The concept?
I've got a million ideas in my head at any stage, and ideas for different venues and concepts, but everything has to be right to make it work. My search history on my laptop is scary, that shit would freak you out. The timing, the site, the staff, the concept — everything has be inline. And with Suzie Wong's the stars aligned. We did the fit out in 10 days, it was a madhouse! But we got there.
How would you describe each of your venues?
Brooklyn Standard is live music, the heart of it is live music and always will be. There are killer drinks, great staff, but it's a live music party venue. Fat Angel is right next door and its my take on American sports bars that I've been to in the States. It's a dirty, raw, old school sports bar. Friday and Saturday nights it turns into a party bar, music comes on, lights go down and the vibe changes, and it feeds off Brooklyn.  The two venues bounce off each other really well. 
Suzie Wong's is similar to Brooklyn, where live music is the heart and soul of what it is. We are new to the area and have to learn what people want but I think our formula will work in its location in Fortitude Valley.
All of our venues are about escaping your daily grind and entering into a fun world where you can party and leave the crap day you may have had at the door — just let loose and enjoy yourself.
Can you describe a big challenge you have faced as operators, and how you went about overcoming it?
Creativity, being ahead of market and not complacent. Always look ahead. Look at what they are doing in other parts of the country, look at what they are doing in the States, look at what they are doing in London, look everywhere. The same exact concept or idea may not work as a whole in your city, but you can draw inspiration and ideas from them and take little pieces from them, and make them your own. Sound, lighting, staff, drinks, we soak it all up. You've always got to be thinking ahead of the next best thing and how you're going to fill your bar next week, next month, next year. How do we overcome it? Listen to my crew, always asking questions about customers reactions to what we do and how we do it, and staying relevant  to what people want.
Live music is a core part of both Brooklyn Standard and Suzie Wongs. Why is this important to you?
I grew up going out and listening to live music in pubs and bars, and just about every bar had a gig on when I was growing up. As I got older, they all slowly started providing less and less live music and gigs. I remember dancing badly, drinking bucket loads of Bundy rum, and just having fun going out listening to bands, and no one was doing this anymore. Live music was literally dying before my eyes in Brisbane, and I had to do something to get it back! In some small way I had to do something. Anyone can open a bar and put an iPad in the corner and put on Spotify, but to me that's boring as shit. 
I want to be entertained when I go out, and I think most people do too. Whether it's a band or a DJ or a trivia night — anything. We give people an escapism to their normal life when they step inside one of our venues. 
People can go to Dan Murphy's and buy a slab of beer and sit at home for a lot cheaper than it is to go out to a bar, so when they decide to come to your venue and spend money, you have to make it an experience for them and create an atmosphere where they have fun, feel comfortable and want to come back and then tell their friends about the night they had. Live music creates that environment, it gets people on the dance floor, gets them up and gets them having fun. 
Where do you draw your inspiration from? 
I give the guys a lot of free rein with the drinks program in each venue, they are in the trenches every night and they know what customers want and will drink. We throw parties for a living, every night is a party in our venues and the drinks are an integral part of that. The staff have to love what they sell, and for them to put a drink together and put it on the list, and then watch it go nuts over the bar and customers take photos of it and enjoy it, [that] is everything to me. That's what I love. They take pride in what they do and how they make drinks, and if they are confident in a drink they will obviously sell more of them. 
Our venues are fast paced and being able to smash out drinks fast and get customers back on the dance floor or back drinking with their friends is key to our formula. Fat Angel is the only venue with food, and that's real dude food. Burgers, wings, tater totts etc. Stuff you want to eat with a beer, when you're watching a game. It's everything you know you shouldn't eat, but love to eat! 
What's your approach to hiring staff — what are you guys looking for?
You have to add something to the team. You have to be a good fit. You have to add something that we are missing. You have to have something we need!  Our teams are tight, and you find out quick if they aren't right very quickly. Like everyone says to this question, personality, you gotta have it, bring it. Show me why I need you, show me why my customers need you. You can learn to make drinks, but I can't teach you not a be a dick if that's your personality in general. 
You have to be able to add to the party vibe, you have to be fun, you have to make the customer feel special when they come to the bar, every single damn customer has to feel special. No exceptions. Leave your fucking ego at home, and if a customer wants a Midori Splice, fucking make it with a smile on your face and look like you love that shit! 
It's hard man, but your staff are everything, the team has to be on point.
What mistakes have taught you the most important lessons?
We had one failure. We had a restaurant which just didn't work. It wasn't the right time, and everything was against us looking back on it. We shouldn't have done it, but we did. We truly thought it was a killer. Guess what — it tanked hard. 
When you go down the dark deep rabbit hole with someone, and you're stripping out your venue and 3am in the morning because the landlord is throwing you out tomorrow morning, you learn who your mates are. You learn who to trust and who you can rely on when shit goes pear-shaped. It teaches you humility and not to think you know everything, because you don't. From that day on, when we looked at a venue or a site for a potential opportunity, everything had to be perfect, if one of us had a doubt, we walked away and didn't look back. 
What advice would you give people who want to open their own bar?
Good luck!! Man I could write a book on this shit, not that anyone would buy it. 
Everything counts. Details. Details. Details. Things you think people won't notice, trust me they will. Eventually. Cover all your bases and go above and beyond to get your space right. Reinvest in your bar — make it epic!
Find out what people want and give it to them. Listen to your customers. Don't be arrogant and think what you love, people will love. I'm not saying just build a bar because you think it's the latest trend or you think it's a money making machine. Because they aren't always. They can be if you get them right. You have to have passion behind the general concept of what you want to build, but you have to ensure its what people will enjoy and what people will want to come back to week after week. 
Venues evolve, customers needs change, your space will evolve into what it needs to be. You have to always be creative and thinking 10 steps ahead of everyone else. Treat your staff right! They are everything. Without them you're nothing. Without them you're back doing what you were doing before you had this magical idea of owning your own bar. Empower them and ensure they love coming to work.. I cannot stress enough, look after your staff!
And surround yourself with people smarter than you and better at doing their job than you. If I'm the smartest guy in the room, then I'm not inspired or excited, Im bored. And I do dumb shit when I'm bored. Surround yourself with people who inspire you and people that you can learn from. They don't even have to be from hospitality, anyone who makes you a better person and makes you want to grow as a boss and a person.
Business partners. They can be your best mate or your worst fucking nightmare. If you go into business with someone make sure it's for the right reasons. Don't do it just because your mates and you think it will be fun, or take someone on as a partner because you need some more cash to invest in your venue. Your partner has to share the vision, they have to be someone you can trust. You have to trust them with your life, your money, your future success. You're going to be together for a long time, so make sure it's a perfect fit.
Suppliers and reps. I see owners treating reps like shit all the time, and it really grinds my gears. Maybe I bias because I've been on that side in a previous life, but it's common sense to me. If you have a good relationship with your reps, it makes life so much easier. Human nature is that if you like someone you'll do more for them and go out of your way to help them. Sure reps have to sell booze, that's what they do, and let's be honest it's a pretty cruisy gig, but why make their life hard? Form good relationships with your suppliers and reps and you'll get more out of them, and visa versa. It works both ways. They will go over and above to help you, you'll get first crack at what they have, you're more likely to get better pricing and discounts. Utilise brand ambassadors to train your staff and ensure you have the best and most knowledgeable team behind the bar.