A speakeasy by the beach? It might not be the style of bar you most associate with a seaside locale, but The Cumberland's connection with Manly is built into its cocktail list. It has a section devoted to foraged and found ingredients, in which a botanical from the local area — in this case, lemon aspen — is showcased and heroed in a cocktail.
Get a deeper look at the bar in our profile right here.
Lemon Aspen Fizz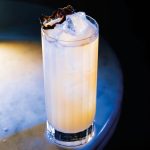 30 ml mezcal
15 ml Grand Marnier
5 ml jalapeño syrup
15 ml lime juice
40 ml lemon aspen kombucha
Shake and strain into a Collins over ice.
Top with kombucha.
Adapted from a recipe at The Cumberland, Manly.
Photo by Christopher Pearce.