Ho Song is a guy well-loved by the local Sydney bar community.  He's at Sydney's Cantina OK!, and we spoke to Song on the day Cantina OK! temporarily closed, due to the restrictions put in place in response to the coronavirus outbreak.  
As told to Sam Bygrave
I started bartending as soon as I turned 18. I got my first gig at Opera Bar, glassying actually. It's probably one of the tougher gigs I've had in hospitality. I started there right at the summer as well — holy hell. That was insane. Those glassies work so bloody hard.
It was a good work ethic. They run a really tight ship. It taught you how to work bloody fast and hard. 
I got a gig at Merivale, doing a little bit at Ivy nightclub, Pool Club. That was okay, but it wasn't [doing] real bartending until I got my proper small gig at Earl's Juke Joint. That would have been four years ago now.
ADVERTISEMENT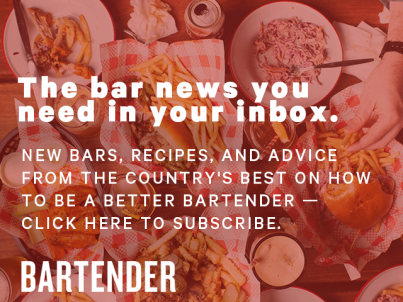 &nbsp
That was the first bar that really showed me another side to hospitality that I totally fell in love with. 
I always liked working hospo. My mum, she owns a small business as well, so I've been working since I could start working, all the family pitched in where they can, right? I've grown up with the mentality that one day I'm going to open my own business. 
I always thought that hospitality would be it. But it wasn't until I started working at Earl's that I was like, wow — this is something I really love doing.
Being a neighbourhood bar as well, you could just see how important that bar was just for the neighbours. For the locals.
I worked at Palmer & Co for about a year; I've never made so many Espresso Martinis and Negroni at the same time. Those Friday nights in there — you know when people come back from war and they have those PTSD stories? Me and the bartenders there would sit down after a Friday service and just be like, holy shit. 
It's so satisfying when you get through a really tough Friday night like that.
Then it was PS40. I ended up being the head bartender there for about a year and a half — I love them [owners Thor Bergquist and Michael Chiem] so much.  
The people that come into Cantina OK! really appreciate what we're trying to do there. People are so hungry to be educated. We get some people, fresh out of high school, and they're trying sotol, they're trying all these bacanoras, and all these funky mezcals, that you would never have been able to sell even five years ago.
It helps serving the seasonal fruit with the mezcal, it makes it a little bit easier to get into ti; if someone is getting into coffee, you wouldn't recommend a short black straight away. You got to get the cappuccino and was into it. And our Margarita and the cocktails are a way for people to get into it as well.
It's pretty shocking right now. For the first time, I've had people come into the bar and the first thing they say to each other his, are you still working? Have you lost your job? 
The thing is it's only turned around sharply in the last few days. There were so many good things happening in Sydney before this, I have no doubt that it will come back around — it's just a matter of when.