This story appeared in the April issue of Australian Bartender — we very much recommend getting down to Adelaide for a drink once this coronavirus shutdown is over.
Something has happened in Adelaide. Since when did it become such an exciting city for the drinking enthusiast?
We visited Adelaide back in February — our first visit to the city of churches in a few years. And a lot has changed: the small bar scene has flourished, with every drinking taste catered for; it really seems to us to be the most exciting bar scene in the country right now.
There have always been good drinking in Adelaide: standouts like the long-gone Cushdy, Botanic Bar, and Proof have flown the flag for great drinks in years going by, and places like Udaberri, Clever Little Tailor, and Maybe Mae have been fixtures on the Bartender Magazine Australian Bar Awards finalist lists for years. There were places in other parts of the city — like Bar Torino, La Buvette, The Bibliotheca Bar & Book Exchange, NOLA — doing new and interesting things. 
ADVERTISEMENT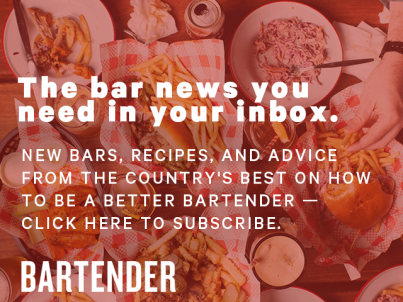 &nbsp
But, as I wrote in my editor's note last month, Adelaide is on a
whole other level now. Places like Sunny's Pizza, 1000 Island, Cry Baby, Paloma, Malt & Juniper and many more are the mark of a bar scene
that has arrived.
Below, we've got a brief look at the 10 bars we visited in February, bars we think are kicking goals and which, taken together, is a great reason to visit Adelaide for a drink.
Paloma Bar & Pantry
20 Peel St, Adelaide
We had the great pleasure of kicking back late one night at this Peel Street gem of a bar, served as we were by bar manager Luke Fleming (brother to Brisbane owner of Alba Bar & Deli, Jamie Fleming). He's certainly got a way with cocktails — get him to make you one of the best Sherry Cobblers you're likely to have.
The bar's namesake cocktail is a tricked up, Spritz take on the classic tequila refresher, with tequila, gin, grapefruit and prosecco making an appearance.
Maybe Mae
15 Peel St, Adelaide
Maybe Mae will celebrate its sixth year of trade this year, and the Peel Street institution has long been the shining light of Adelaide's cocktail scene.
The bar's co-owner, Ollie Margan, landed at number seven on the 2019 Bartender Magazine Most Influential List, and the bar itself won the title of Cocktail List of the Year at the 2019 Bartender Magazine Bar Awards.
But we think one of the keys to Maybe Mae's longevity is the longevity of the bar's crew; bar manager Nick Corletto told us when we visited that they'll lose maybe one or two staff a year, and that the newest member of their crew had been on the team for over a year.
Another key to their success, we think, is that you will always find a great, well-balanced and thoughtful drink put in front of you, and it's always served up by some attentive, humble, and warm service. It's a great place to both start and end one's night if you're after cocktails of a world class standard.
Sunny's Pizza
17 Solomon St, Adelaide
Drinks and pizza. It's a winning combination. The drinks are on point as they are at this laneway refuge for the damned and the drinking, and so too is the pizza. 
1000 Island
15 Solomon St, Adelaide
Perhaps it's the walk down the uninspiring laneway that resets your expectations, but when you step through the doors of 1000 Island on Solomon Street, you might find yourself catching a breath as you take in the beauty of the mid-century style room. It's a gorgeous room, a little bit tiki without the kitsch.
And they've got the drinks to match the drapes, if you will: a Mai Tai is soigné when we visit, the balance of ingredients just so; the service behind the bar affable and agreeable. 
It's a hard bar to leave for another.
Hellbound
Basement/201 Rundle St, Adelaide
We're well established fans of a bottle of sherry (or two), and doubly so when said bottle is accompanied by a plate of anchovies. 
You can get those two things and a whole lot more at this underground Rundle Street wine bar; it's a fine break from the mediocrity that makes for most of the mall outside. There's the aforementioned sherry to be had — they have a plethora of options available along with a healthy selection of vermouth and port — and a comprehensive wine list with an emphasis on top flight French plonk. Italian wines get a run, too — if you're not familiar with the nebbiolo grape we suggest you take a look at their list (and bring a full wallet), and good things to drink in the beer and spirits categories.
Cry Baby
11 Solomon Street, Adelaide
It's getting late. You've hit some of the bars on Peel Street, you've scored some sustenance — maybe some pizza at Sunny's on Solomon Street. In Adelaide, there's one bar where you'll find clocked-off local bartenders: Cry Baby.
It's a dive bar, there's a pool table, and a boatload of great booze to be had. The music is loud, the drinks are good. You really need little else. You're in the right place.
Malt & Juniper
18 Peel St, Adelaide
Come to get a gander of the beautiful bar and a gorgeously designed room; stay for a healthy selection of malt whiskies, gin, and a load of craft beer on tap.
NOLA
28 Vardon Ave, Adelaide
As the name suggests, this little two level bar in Adelaide's East End takes its cues from New Orleans, and they do a strong line in Big Easy-style cocktails: think Sazeracs and Hurricanes and you're on the right track.
But they've also got an extensive craft beer selection, with a rotating list of 16 brews on taps. Whiskey features as well — they've got over 200 to whet your whistle.
The Stag Public House
299 Rundle St, Adelaide
If you're spending a night or two in Adelaide, we reckon you'll need a place to soothe your head around, oh, let's say lunchtime? Well, we sure did, and it was at The Stag Public House that we found some solace. 
It's owned by The Big Easy group, the same guys who own NOLA (it's right around the corner). Here, expect some tasty craft brews on tap and some proper tasty pub food like burgers, steaks and schnitzels. There's plenty of good things to drink, too: you can indulge your feelings for funky wines here, but if you're feeling a little dusty we recommend you lift the mood and order a Mango 'Matt Mai' Tai.
Hennessy Rooftop Bar
45 King William St, Adelaide
If you like to take your cocktails with a little additional elevation, Hennessy Rooftop Bar at the Mayfair hotel is where you want to be. The staff behind the bar are dab hands at the classics — you won't go wrong with a Daiquiri from bartender Christian — and the outdoor rooftop balcony gives you a view right down Rundle Mall to the east of the city.
The Exeter Hotel
246 Rundle St, Adelaide
You don't get much more Adelaide than this pub, we think. All the beers on tap are Coopers, of course. It attracts a kind of uni-student, winemaker, boho kind of clientele (as well as some old school regulars), and of course, this being Adelaide, you'll find some of the world's great wines in its fridges and on its back bar. 
A bottle of Drug to go with your Coopers Dark Ale, perhaps?  
Hains & Co
246 Rundle St, Adelaide
Hains & Co has been a beacon in Adelaide's small bar scene, and have been on our Gin Bar of the Year and Rum Bar of the Year lists a number of times since since they opened back in 2015. They've got dual focus on two spirits with nautical heritage: rum, and gin.
What we love about the place? You can sit at the bar, all the while sitting outside. Not that the inside is a bad place to be — the interiors are gorgeous — but that outdoor seat at the bar is one of a kind.