Pago Pago Cocktail
40 ml white rum
10 ml Green Chartreuse
10 ml white cacao liqueur
3-4 pineapple chunks ((or 45ml pineapple juice))
5 ml lemon juice
Dry blend with 6oz ice cubes.
Garnish with an umbrella (of course), and a pineapple wedge.
Adapted from a recipe used at Lost Luau provided by Tom Bulmer.
ADVERTISEMENT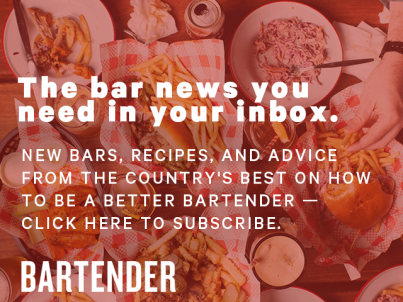 &nbsp
Story by Sam Bygrave
Photograph by Christopher Pearce
The world of tiki drinks is many and varied. The key theme? Well, it's that idea of getting out of the everyday, escaping, of being anywhere other than here. So, with that in mind, here's a drink that looks a little left of centre, but tastes oh so right.
The Pago Pago Cocktail dates at least to 1940, according to tikiman Jeff Beachbum Berry, but this isn't an old, staid cocktail. It's a whole lotta fun, says Tom Bulmer, as he explained to us a few years back in the opening of tiki popup bar Lost Luau.
"When designing this menu we wanted a couple of drinks that have flavours that are popular amongst bartenders and twist it into a tiki style," he says. "The Pago Pago is definitely one of those drinks that cuts through the expectations of Chartreuse and delivers some amazing tropical flavours."
If you find the recipe in Beachbum Berry's book, Intoxica! or in his handy smartphone app, Beachbum Berry's Total Tiki, you'll see that he calls for gold rum. Bulmer, however, has opted for a four year old white rum in his mix.
The choice of rum aside, the Pago Pago Cocktail is what tiki is all about: it's a taste of the unexpected, and a surefire way to get a little party into your night.