[ultimate-recipe id="54300″ template="default"]
Tequila once was the bad boy of the bar's back bar; there have been reams of paper and terabytes of data devoted to the bad old days of tequila drinking, where the smartest serve involved salt, lemon, and a shot glass.
We've moved past the days of the Tequila Slammer, thankfully, but tequila tends to look downright dowdy these days next to ancestrale mezcals, herbaceous sotols, and obscure bacanoras.
Yet there is still a thrill to be had with tequila; the modern classic cocktails utilising this drink are still to be written, and the diversity of its flavour profiles thanks to agave being a truly agricultural, and distinctive ingredient — well let's just say there's many an avenue the adventurous bartender can wander down.
At the 2019 Tequila Bar of the Year, Cantina OK! in Sydney, they've found that the public has been keen to broaden their horizons and eager to try something new.
ADVERTISEMENT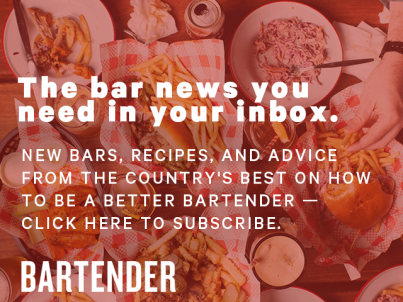 &nbsp
[ultimate-recipe id="54306″ template="default"]
"They come in and they're just like open books — they'll try whatever you recommend," says bartender Ho Song. "They're happy to sit down and listen to what you have to say."
And whilst the bar is geared towards impossible to source mezcal — they're bringing them back from Mexico themselves — they're also punching out some top flight, interesting takes on tequila cocktails like the ones we have here.
Espolon Anejo
Espolon Anejo is finished in former bourbon barrels, after being aged for one year in new American oak barrels. On the palate, it is medium to full-bodied, and wonderfully balanced with a velvety texture in the mouth. There's subtle notes of caramel, vanilla, dried fruits, and chocolate coming through. Campari Australia
Jose Cuervo Tradicional Plata
This is 100% blue agave tequila. Using agaves harvested from the family estate, it shows aromas of agave, with herbaceous and subtle citrus notes. The palate shows spice with a sweet balance and fruit overtone, followed by a refreshing, sweet finish. Proximo Spirits
Milagro Select Barrel Reserve Silver Tequila
Select Barrel Reserve Silver is an estate-grown, 100% blue agave tequila. Unlike most silver tequilas, it is then mellowed in both American and French oak barrels for 30 days, resulting in a fine sipping tequila that is perfectly balanced and full-bodied. William Grant & Sons
Patrón Silver Tequila
Grown in the highlands of Jalisco, Mexico, it is characterised by a lemon and white pepper aroma, buttery sweet and peppery flavours and smooth clean, elegant finish. Bacardi-Martini
Herradura Plata
This iconic 100% agave tequila is rested in oak for 45 days, and has lifted aromas of fruit, cooked agave, oak and vanilla on the nose, which leads through to a slightly sweet, full-bodied palate. Brown-Forman
Olmeca Altos Plata
Made from 100% blue agave grown in the highlands of Tequila, it features herbal and cooked agave aromas, with citrus and a white pepper bite on the palate. Pernod Ricard
Expresiones del Corazón Artisanal Edition Blanco
A limited edition release, it is made from 100% blue weber agave with its brix measured before harvest. Two sets of agave were harvested for the blanco – one with lower sugar and one with higher. SouthTrade