The coronavirus-induced shutdown has seen bartenders switching from their traditional roles as stars behind the stick, and translating that into the digital world of content creation.
Now that the bars are quite, there's more bartending and bar-related content being created than ever before, whether it's live chats, cocktail classes online, or full-on 30 minute edited shows on Youtube.
Owner of Brisbane's Alba Bar & Deli, Jamie Fleming has been going live with bartender David Brosnan and guests every other day, and has also teamed up with Lucky Duck Club's Nick Miles — whom you may know as the 2018 Brand Ambassador of the Year — to make a half hour-long YouTube series called Nick & Jamie's Hitchhikers Guide.
Topics have included such deep subjects as the merits of Dragonball Z, some questionable David Beckham impersonations, and at some point Jamie cooks some food (he was on Masterchef after all) as part of a servo challenge, in which said master cook and Miles cobble together some ingredients from a service station.
ADVERTISEMENT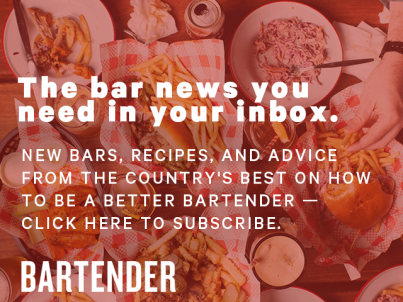 &nbsp
"The idea behind it is pretty much to talk about what you can still do in isolation," says Miles.
"The idea is just two old farts having a good time, and that you can make things with whatever is in the cupboard; the wine we talk about is about supporting local wine and businesses."
But there's a broader theme to the series as well, says Miles.
"We want to show there are other options out there for people. We want to encourage people to be creative, be mindful, and to not always reach for the bottle — to be active and motivated and to try new things. It's about making a mental health impact as well."
We've even seen live DJ sets from bartenders like Jacob Cohen up in Brisbane taking place on Facebook.
Overseas, bartender-influencer Pamela Wiznitzer has released a steady stream of Tik-Tok-able cocktail how to videos set to different scores.
And in terms of brands making things happen around the country, the ambassadors of CCA's The Exchange have been hitting feeds nightly through their Social Exchange – Drams From Afar series; it is also where WA ambassador Brendan Grey has unleashed upon the world some new coronavirus classics in Dim Dislikes Dis and Apocalypse Cooking — click the links to view the weirdness for yourself).
It looks like, if nothing else, 2020 will be the year of some great (and some truly strange) bar-related content.