Can't decide between a refreshing rum drink or a celebratory champagne? This classic Airmail cocktail recipe is one that fits the bill.
The team here at Australian Bartender, it is no secret, are partial to well constructed rum cocktails. You'll often spot us with one hand against the bar and a Daiquiri in the other. But we like many others are also fond of champagne.
The Airmail cocktail is a beautiful bridge between those two worlds, and a criminally underrated drink.
The Airmail cocktail first appears in 1941 in a book called Here's How by W.C. Whitfield, according to Simon McGoram writing in these pages back in 2012. The drink would also appear in David Embury's 1948 book, The Fine Art of Mixing Drinks, in which he writes that the Airmail is pretty much a Bees Knees with rum, a drink which would also go by the name Honeysuckle. But in Embury's specs there's no champagne, and that's a shame.
ADVERTISEMENT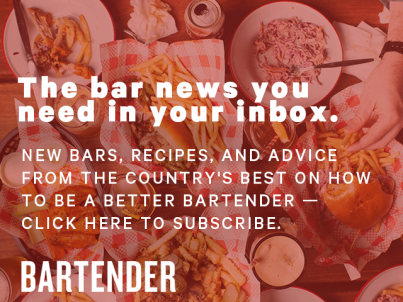 &nbsp
The cocktail we originally thought to be a little obscure, but no sooner had we stumbled upon this beaut did we find that it's a potion well loved by many. Apart from printing it in his marvelous cocktail book PDT's Jim Meehan has also been touting this drink's merits on the airwaves on Martha Stewart's 'Living Radio'.
The inimitable Professor David Wondrich is also a fan of the Airmail cocktail – this is what he had to say about the drink on one of his esquire.com posts: "Way back when, airmail was the last word in getting something from point A to point B. And in fact, this one'll do just that to you, but quick. So quick that, if we were inclined to take such liberties, we'd rename it the 'Email.'"
The not so secret, secret ingredient? Honey syrup — an often overlooked sweeting agent that takes little fuss to prepare; simply add one part hot water to two parts honey.
Airmail cocktail
30 ml dark rum
15 ml fresh lime juice
15 ml honey syrup (2 part honey mixed with 1 part hot water)
30 ml brut champagne to top
Add all ingredients (except champagne) into an iced shaker.
Shake and strain into a chilled champagne saucer or flute glass.
Top with champagne and garnish with a lime wheel.
The Airmail cocktail first appears in 1941 in a book called Here's How by W.C. Whitfield.