The Top 10 finalists for the annual Spirited Awards were announced overnight, and Australian bars have done well in the nominations.
There are 11 Australian bars, bartenders and products that land in the honours this year. Sydney bar Maybe Sammy has done well with two placings, one for Best International Bar Team and one for Best International Cocktail Bar.
Three Australian — or, at least Australian-based — bartenders landed in the top 10 list for International Bartender of the Year: Maybe Sammy's Andrea Gualdi, Luke Whearty of Byrdi in Melbourne, and Matt Whiley of Scout Sydney and London.
Australian-made indie spirits did well, too, with Mr Black Single Origin Colombia making the top 10 list for best new product, and the brand's ambassador Martin Hudak landing in the list for Best International Brand Ambassador.
ADVERTISEMENT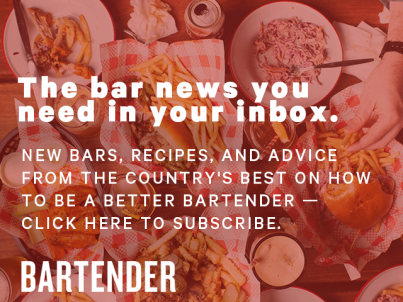 &nbsp
Melbourne was home to two new cocktail bars to make the Best New International Cocktail Bar, with both Byrdi and Bar Margaux landing on the top 10.
And in the Best International Restaurant Bar category, Continental Deli Bar Bistro and Restaurant Hubert, both from Sydney, made the cut.
The Baxter Inn also landed on the top 10 for Best International High Volume Cocktail Bar, while Sydney's mezcal bar, Cantina OK! picked up a nod for World's Best Cocktail Menu.
Take a look at the full list below.
AMERICAN CATEGORIES
Best American Bar Team* 
Café La Trova — Miami, FL
Existing Conditions — New York, NY
Jewel of the South — New Orleans, LA
Lost Lake — Chicago, IL
Navy Strength — Seattle, WA
Nickel City — Austin, TX
Pacific Cocktail Haven — San Francisco, CA
Paper Plane — San Jose, CA
Sweet Liberty — Miami, FL
The Roosevelt Room — Austin, TX
Williams & Graham — Denver, CO
*Includes 11 nominees due to a tie
Best American Bar Mentor
Tony Abou-Ganim
Bridget Albert
Erick Castro
Laura Cullen
Alex Day
Anu Elford
Lynn House
Don Lee
Paul McGee
Nectaly Mendoza
American Bartender of the Year
Kevin Diedrich — Pacific Cocktail Haven, San Francisco, CA
Marco Dionysos — ABV, San Francisco, CA
Ricky Gomez — Palomar, Portland, OR
Chris Hannah — Jewel of the South, New Orleans, LA
Alex Jump — Death & Co, Denver, CO
Julia Momose — Kumiko, Chicago, IL
Mary Palac — Paper Plane, San Jose, CA
Ezra Star — Drink, Boston, MA
Masahiro Urushido — Katana Kitten, New York, NY
Christine Wiseman — Broken Shaker, Los Angeles, CA
Best American Brand Ambassador
Kiowa Bryan — Spiribam Fine R(h)um Specialists
Tad Carducci — Amaro Montenegro
Tracie Franklin — Glenfiddich
Vance Henderson — Hendrick's Gin
Misty Kalkofen — Del Maguey Single Village Mezcal
Robin Nance — Beam Suntory
Trevor Schneider — Reyka Vodka
Willy Shine — MAST – Jagermeister USA
Dominic Venegas — Pernod Ricard USA
Daniel Warrilow — Campari America Italian Portfolio
Best American Cocktail Bar
Bar Goto — New York, NY
Beachbum Berry's Latitude 29 — New Orleans, LA
Best Intentions — Chicago, IL
Drink — Boston, MA
Katana Kitten — New York, NY
Pacific Cocktail Haven — San Francisco, CA
Pearl Diver — Nashville, TN
Raised by Wolves — San Diego, CA
Rob Roy — Seattle, WA
Trick Dog — San Francisco, CA
Best American High Volume Cocktail Bar
ABV — San Francisco, CA
Anvil — Houston, TX
Bitter & Twisted Cocktail Parlour — Phoenix, AZ
Café La Trova — Miami, FL
Ghost Donkey — New York, NY
Nickel City — Austin, TX
Sweet Liberty — Miami, FL
The Dead Rabbit — New York, NY
The NoMad Bar — New York, NY
The Roosevelt Room — Austin, TX
Best American Hotel Bar
Broken Shaker at Freehand Hotel — Los Angeles, CA
Dear Irving on Hudson at the Aliz Hotel — New York, NY
Death & Co at the Ramble Hotel — Denver, CO
Elephant Bar at the NoMad Hotel — New York, NY
Hey Love at The Jupiter — Portland, OR
Le Sirenuse Champagne Bar at the Four Seasons Hotel at the Surf Club — Miami, FL
Libertine Social at the Mandalay Bay — Las Vegas, NV
Mr. COCO at the Palms Casino Resort — Las Vegas, NV
Proof on Main at 21c Museum Hotel — Louisville, KY
The Spare Room at The Hollywood Roosevelt — Los Angeles, CA
Best American Restaurant Bar
Bad Hunter — Chicago, IL
Better Luck Tomorrow — Houston, TX
Cleaver — Las Vegas, NV
Eleven Madison Park — New York, NY
Gramercy Tavern — New York, NY
Grey Ghost — Detroit, MI
Jewel of the South — New Orleans, LA
Jimmy's — Aspen, CO
Otium — Los Angeles, CA
The Silver Dollar — Louisville, KY
Best New American Cocktail Bar
Bar Goto Niban — Brooklyn, NY
Bar Marilou — New Orleans, LA
Belle Époque — New Orleans, LA
Boat Drinks — St. Augustine, FL
Century Grand — Phoenix, AZ
Crown Shy — New York, NY
Elda — San Francisco, CA
Scotch Lodge — Portland, OR
Silver Lyan — Washington, D.C.
Thunderbolt — Los Angeles, CA
INTERNATIONAL CATEGORIES
Best International Bar Team*
Alquímico — Cartagena, Colombia
El Copitas Bar — St. Petersburg, Russia
La Factoría — San Juan, Puerto Rico
Lyaness at Sea Containers London — London, UK
Manhattan at Regent Singapore — Singapore
MAYBE SAMMY — Sydney, Australia
Paradiso — Barcelona, Spain
Sober Company — Shanghai, China
The Clumsies — Athens, Greece
The Connaught Bar — London, UK
Two Schmucks — Barcelona, Spain
*Includes 11 nominees due to a tie
Best International Bar Mentor
Simone Caporale
Aaron Diaz Olivos
Renato Giovannoni
Shingo Gokan
Alex Kratena
Chris Lowder
Dre Masso
Lauren Mote
Agostino Perrone
Carina Soto Velasquez
International Bartender of the Year
Claudia Cabrera — Kaito de Valle, Mexico City, Mexico
Andrea Gualdi — Maybe Sammy, Sydney, Australia
Bannie Kang — MU, Taipei, Taiwan
José Luis León — Ritual H Bars, Mexico City, Mexico
Kelsey Ramage — Supernova Ballroom, Toronto, Canada
Remy Savage — Le Syndicat, Paris, France
Marcio Silva — Guilhotina Bar, São Paulo, Brazil
Kaitlyn Stewart — Royal Dinette, Vancouver, Canada
Luke Whearty — Byrdi, Melbourne, Australia
Matt Whiley — Scout London & Sydney, UK
Best International Brand Ambassador
Camille Austin — Casa Lumbre
Dickie Cullimore — Bacardi Limited
Diego Ferrari — Matusalem Rum
Paulo Figueiredo — Ketel One
Audrey Hands — Havana Club
Martin Hudak — Mr Black Spirits
Daniyel Jones — The House of Angostura
Dave Mitton — Lot No. 40 & J.P. Wiser's Canadian Whisky
Luca Missaglia — Italicus Rosolio di Bergamotto
Nicola Riske — The Macallan & Edrington Malts
Best International Cocktail Bar
CARNAVAL — Lima, Peru
Floreria Atlántico — Buenos Aires, Argentina
MAYBE SAMMY — Sydney, Australia
Native — Singapore
Paradiso — Barcelona, Spain
Speak Low — Shanghai, China
Swift — London, UK
The Old Man — Hong Kong, China
Three Sheets — London, UK
Two Schmucks — Barcelona, Spain
Best International High Volume Cocktail Bar
Alquímico — Cartagena, Colombia
Employees Only — Singapore
Freni e Frizioni — Rome, Italy
HIMKOK — Oslo, Norway
La Factoría — San Juan, Puerto Rico
Licorería Limantour — Mexico City, Mexico
Panda & Sons — Edinburgh, Scotland
The Baxter Inn — Sydney, Australia
The Clumsies — Athens, Greece
Trailer Happiness — London, UK
Best International Hotel Bar
Artesian at The Langham — London, UK
Fifty Mils at the Four Seasons Hotel — Mexico City, Mexico
Jigger & Pony at the Amara Hotel — Singapore
Lyaness at Sea Containers London — London, UK
Punch Room at The London EDITION — London, UK
Scarfes Bar at the Rosewood Hotel — London, UK
The American Bar at The Savoy Hotel — London, UK
The Bamboo Bar at the Mandarin Oriental — Bangkok, Thailand
The Beaufort Bar at The Savoy Hotel — London, UK
The Donovan Bar at the Brown's Hotel — London, UK
Best International Restaurant Bar
ámaZ — Lima, Peru
Bar Kismet — Halifax, Canada
Continental Deli Bar Bistro — Newtown, Australia
Le Mary Celeste — Paris, France
Restaurant Hubert — Sydney, Australia
Sexy Fish — London, UK
Sober Company — Shanghai, China
SubAstor – São Paulo, Brazil
Tippling Club — Singapore
Zuma Dubai — Dubai, United Arab Emirates
Best New International Cocktail Bar
Bar Margaux — Melbourne, Australia
Byrdi — Melbourne, Australia
Café Ocampo — Mexico City, Mexico
Kw?nt — London, UK
Mother Cocktail Bar — Toronto, Canada
No Sleep Club — Singapore
Stillife — Montreal, Canada
Supernova Ballroom — Toronto, Canada
Tay?r + Elementary — London, UK
Tres Monos — Buenos Aires, Argentina
WRITING & MEDIA CATEGORIES
Best Cocktail & Spirits Publication
Class Magazine
Cocktail Lovers
Cocktail Wonk
Difford's Guide
DRiNK Magazine Asia
Half Full
Liquor.com
The Daily Expo
The Spirits Business
VinePair
Best Cocktail & Spirits Writing
M. Carrie Allan, "Chartreuse liqueur's popularity has soared. But how do you market the elixir without offending the monks who make it?" The Washington Post
Céline Bossart, "Sexism in the Bartending World is Real. Here Are Some Ways to Handle It," Liquor.com
Wayne Curtis, "Mixopedia: Under Foot," Imbibe
Philip Duff, "Duff Said: Unwise Investments," Drinks International
Aaron Goldfarb, "JaNee: Where is She Now," PUNCH
Kara Newman, "Can There Be Terroir in Spirits?" Wine Enthusiast
Becky Paskin, "The Case for Drinking Scotch in Tiki Cocktails," The Daily Beast
Matt Pietrek, "Can the U.S Recognize Rum Regulations?" Cocktail Wonk
Clay Risen, "Yes, African-Americans Drink Bourbon. You'd Never Know It From the Marketing," The New York Times
Hamish Smith, "New Yawk Boyz!" Class Magazine
Best New Cocktail or Bartending Book
Bar Chef: Handcrafted Cocktails By Christiaan Rollich and Carolynn Carreño
Cocktails with a Twist by Kara Newman
Great Northern Cocktails by Shawn Soole
Miami Cocktails: An Elegant Collection of over 100 Recipes Inspired by the Magic City by Gabriel Urrutia
Minimalist Tiki: A Cocktail Wonk Look at Classic Libations and the Modern Tiki Vanguard by Matt Pietrek
Schofield's Fine and Classic Cocktails: Celebrated Libations & Other Fancy Drinks by Daniel Schofield and Joe Schofield
Sip: 100 Gin Cocktails with Only Three Ingredients by Sipsmith
The Martini Cocktail: A Meditation on the World's Greatest Drink, with Recipes by Robert Simonson
The NoMad Cocktail Book by Leo Robitschek
Tiki: Modern Tropical Cocktails by Shannon Mustipher
Best New Book on Drinks Culture, History or Spirits*
Amaro Italiano by Matteo Zed
Drunk in China: Baijiu and the World's Oldest Drinking Culture by Derek Sandhaus
Last Call: Bartenders on Their Final Drink and the Wisdom and Rituals of Closing Time by Brad Thomas Parsons
Spirits, Sugar, Water, Bitters: How the Cocktail Conquered the World by Derek Brown and Robert Yule
The Complete Whiskey Course: A Comprehensive Tasting School in Ten Classes by Robin Robinson
The Tequila Dictionary: An A–Z of All Things Tequila, Mezcal and Agave Spirits by Eric Zandona
The World Atlas of Gin: Explore the Gins of More Than 50 Countries by Joel Harrison & Neil Ridley
Understanding Spirits: Explaining Style and Quality by WSET
*Due to a limited number of submissions, this category includes less than 10 nominees
Best Broadcast, Podcast or Online Video Series
Difford's Guide
Happy Hour History
Life Behind Bars
Living Proof: Conversations for Bartenders
Post Shift Podcast with Shawn Soole
Shift Drink
That Boutique-y Broadcasting Company's Uncorked: Whisky Sessions
The Speakeasy
What We're Drinking with Dan Dunn
WhiskyCast
GLOBAL CATEGORIES
Best New Spirit or Cocktail Ingredient
Avallen Calvados
Del Maguey Single Village Mezcal Las Milpas
Empirical Spirits Ayuuk
Fever-Tree Refreshingly Light Cucumber Tonic Water
Heaven Hill 7 Year Bottled in Bond
Hendrick's Midsummer Solstice
iichiko Saiten Shochu
Mr Black Single Origin Colombia
SCHOFIELDS Dry Vermouth
Tequila Fortaleza Winter Blend 2019
World's Best Cocktail Menu
ATLAS Bar — Singapore
Dante — New York, NY
Little Red Door — Paris, France
Lyaness at Sea Containers London — London, UK
Panda & Sons — Edinburgh, Scotland
Paradiso — Barcelona, Spain
Raised by Wolves — San Diego, CA
Tay?r + Elementary — London, UK
The American Bar at The Savoy Hotel — London, UK
The Connaught Bar — London, UK
World's Best Spirits Selection
Amor Y Amargo – New York, NY
Cantina OK! — Sydney, Australia
Coupette — London, UK
Old Lightning — Los Angeles, CA
Raised by Wolves — San Diego, CA
Rumba — Seattle, WA
Sexy Fish — London, UK
Speak Low — Shanghai, China
The Beaufort Bar at The Savoy Hotel — London, UK
The Office — Chicago, IL