"We started out with the intention of being around a long time, not just providing a flashy product that was of the moment," Vernon Chalker told us in 2015, talking about beloved Melbourne institution, Gin Palace. "We had a very stable vision."
Yet while Gin Palace is still serving the public today, yesterday we received the sad news that Mr Chalker had died. He was 55.
"For me, the start of our modern quality bar culture — it all started with meeting Vernon and experiencing his hospitality and game changing venue that was and is the Gin Palace," says Dave Spanton, Australian Bartender founder and publisher. 
"Sydney at the time was dominated by pubs and clubs, so it was exciting to see Vernon — an amazing host — work the room while we enjoyed the best Martinis and toasted sandwiches until 3am. It was a true awakening to what the future of bars needed to look like.
"Vernon was a true gentleman, a mate, and a pioneer for our industry. He will be greatly missed."
ADVERTISEMENT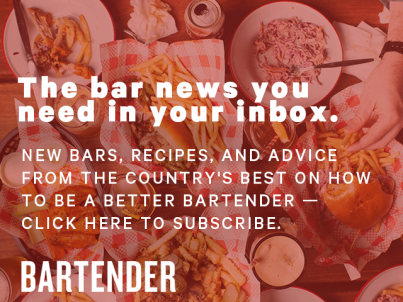 &nbsp
Spanton will be hosting a farewell Martini toast to Vernon Chalker on Friday 8, at 4pm AEST on the Australian Bartender magazine Facebook page.
Chalker redefined the bar experience in Melbourne, and Gin Palace is one of that city's first laneway bars. The bar also advocated for gin, long before it became as popular is today.
"We started stale — it's a grandmother gin palace, it just stays as it is," Chalker told us in 2015. "We're open til three in the morning, we are what we are. We don't need to be fresh and lively, but we've added things here and there.
"When we first started, gin as a category — there was about 15 gins available on the market that we could get. Now we stock over 200 gins, and we've had to limit for the shelf space as the category's exploded. We were ahead of our time on that."
Chalker grew up in Nathalia in northern Victoria. He moved to Melbourne in 1982 at the age of 18 and entered the hospitality industry, as a banquet waiter at what was then called The Wentworth Melbourne Hotel, on Collins Street.
Chalker started a catering company in 1991 that operated the cafe at the Malthouse Theatre in Southbank, before opening Gin Palace in 1997 with then business partners Daniel Besen, Robert Lehrer, and Michael Kantor. Gin Palace realised their vision of a cocktail lounge "with full service and no attitude" and in the process created one of Melbourne's first laneway bars.
"When the liquor licence laws changed during that decade the opportunity arose to open a business where the focus could be solely on drinks without food," Chalker told us in 2010. "My idea was to provide service like a restaurant, rather than expecting guests to go to the bar and order drinks. Of course I wanted it to be sexy and luxurious too."
He went on to open Madame Brussels in the mid 2000s on a rooftop in Bourke Street, as well as Collins Quarter in 2007, and the futurist-inspired Bar Ampère next door to Gin Palace in 2011.
But it was Gin Palace that Chalker was most passionate about. 
"As an owner, you've got create a place you want to go yourself, and I still feel that Gin Palace is the one I want to go to — it's still my favourite," he told us in 2015. "I've had input into every aspect of it, and sometimes my managers get a bit disgruntled because I don't want to make changes that they think could bring it out of the dark ages, but they might just need to move on because Gin Palace is just how it is, you know?
"That's how I want it to be."
Read more about the late Vernon Chalker: