The Bartender at Large podcast, which many of you may have tuned into, is about to hit a benchmark of 200 episodes. We took this opportunity to have a chat with the man behind the podcast, bartending professional (and the man behind two iconic San Diego bars – Raised by Wolves and Polite Provisions) Erick Castro.
How would you describe the show to anyone that has never heard it before?
The Bartender at Large is fairly unique in that it is a podcast made by bartenders for bartenders. Since, we know that our audience is comprised of almost exclusively industry professionals, so it gives us the freedom to get deep into issues related to bartenders, so we never have to dumb anything down for the average joe. While we definitely have a good number of enthusiasts that tune in to the show, they are operating at a much more advanced level. Which is great because you will never have to worry about us stopping the conversation in order to explain what simple syrup is.
Do you feel that this has played a part in the show's success?
Absolutely. There is already so much information out there for the layman who is into cocktails, yet only a slim percentage of that is at the caliber of the consummate professional. So ,with the show we are able to address topics that are more pertinent to our work and lifestyle. In other words, we get to talk about the things that are specifically unique to the trade.
ADVERTISEMENT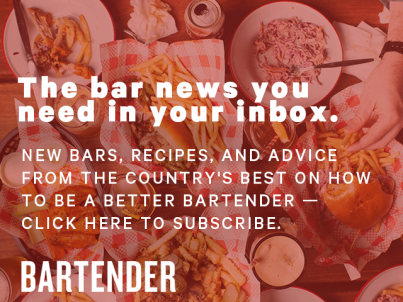 &nbsp
Such as?
Well in the past, we have covered everything from career burnout to substance abuse. Things that have long been considered taboo within industry circles. But of course, we want to make sure that we can play a part in bringing those topics to the surface, as they are extremely important to the longevity of bartending, as both a craft and a profession. In addition to such serious topics, however, we still discuss whiskey production and barrel aging spirits, but we try to do our best to encompass the entire profession.
If someone had never tuned in, but was thinking of checking out the show, what are some of your favorite episodes?
While I would usually recommend someone to start with our newest episode and work their way through the catalog, there are definitely a few that I would recommend to someone just getting into the show. Such as the episode that we did with tiki legend, Beachbum Berry. He is just such a wealth of knowledge & there is quite literally no one like him. Another one that I would recommend is the episode that we did on tequila with Julio Bermejo. It is difficult to think of anyone else in the business that has done as much for agave spirits as Julio, so listening to him talk about tequila is truly amazing. Another great one is an episode on health & wellness that we did with Camille Vidal of La Maison Wellness. This is just such an important topic for our industry and it is something that she is so passionate about that is it difficult to not be inspired by her message. It is not only one of my favorite episodes, but also one of our most important.
When are you coming down to Australia to do some episodes?
I knew you were going to ask me this & I hate that I have to say that I don't know. It really pains me that I have not yet been, especially, because Australia is one of our biggest markets for the show. Plus, while we have had plenty of notable Australians on the show over the years, we have yet to make it down there ourselves. We were meant to be at Sydney Bar Week this summer, but with the Covid crisis that obviously got pushed back. But we are still committed to coming out for a visit as soon as we are able. Hopefully, that will be sometime in 2020, so we will definitely be keeping our fingers crossed.