Story by Amy Spanton, hosted by David Spanton
This recap has been edited and condensed to highlight a few key points but you can watch the whole thing by clicking right here.
Coronavirus iso brought with it some strangeness, let's be honest. Tiger King. Toilet paper. If we'd had a functioning crystal ball we would definitely have bought stocks in Zoom. But instead of that, we jumped on board the Zoom train to bring some industry folks together and streamed it live on our Facebook page. One of the first of these was a tribute to iconic Sydney bar, The Bayswater.
Nigel Lacy, Bayswater Brasserie owner, 2000-2009
Q: Let's get a full picture of the Bayz, Nige. Tell me a bit about it before you took in on in 2000?
It opened before Charlie was born, I suspect, in 1982. It was opened by three kiwis – Robert, Tony and Dean. It was an institution before any of us got involved. It was a standalone business on Bayswater Road in the Cross and it was there by itself before all the chaos of Bayswater Road ensued in the 90s. It was a very busy restaurant popular with media, TV, publishing with lots of loyal regulars. It was a building that really had a lot of soul. It had the bones of a gorgeous social space. I was lucky to get involved with it and to have that opportunity. I think most of the guys that are on this call now really helped to mold it.
Q: When you took it over was there a big change from what it was before?
I thought the most important thing was to get rid of the Stoli Crush. It was the best-selling cocktail and it was, to all intents and purposes, a vodka lime and soda. I'd been exposed to some pretty decent cocktails and bartending in London. I went in there on that first Friday and the bartender was juicing fresh limes and I thought 'this is amazing, it's fresh lime juice' but it only went into the margaritas and the Stoli Crush.
ADVERTISEMENT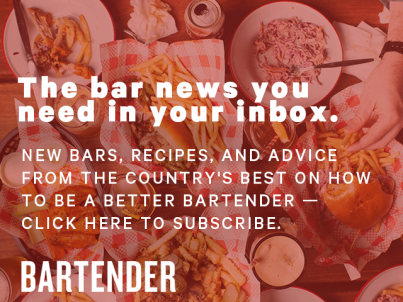 &nbsp
Lenny Opai, manager, 1999- 2009. Currently, Icebergs Group.
Q: Lenny, you were there before Nige, from 1999 all the way to the very end. You had an amazing racket going on or you really loved the place. Tell us about it.
Could be both to be honest. When I started working there, there was a real buzz going on, it was just before the Olympics. At that stage there were only two bartenders there – David Harris and myself – and it was just a few cocktails we put up. It was the Stoli crush (which was actually lemon juice) – and we used to make our margaritas with lemon juice, egg white and lime cordial! When I got to The Bayz I was ready to learn more. The foresight of Nigel, giving us a lot of latitude to work with, it came from the top down. And that attracted the other guys. It just had a soul about it.
Naren Young, 2001 – 2006. NYC for the last 14 years and Dante (his most recent gig), was crowned world's best bar in 2020.
Q: Naz, how did you end up getting started there? And how would you describe it to someone who has never been?
I came to the Brasserie and I think we can all agree, it just had this aura about it. It had a lot of soul and had a lot of energy that drew me in there. It also just felt more grown up than the other bars that were going on in Sydney at the time. There was an older clientele from the fashion world and the media world but it wasn't pretentious at all and I really liked that. It was such an anomaly, in the middle of kings cross, in the red light district, full of nightclubs, junkies and gangsters.
At its core, The Bayz was a classic bar. There was nothing molecular and fancy. When Brian was running the bar, there were 300 drinks on the list, which we pared back to 80. We had a big Martini drinking crowd. For those who knew the term power lunch, that was the Bayz. You'd walk in on a Friday and go back into the garden and people would be smashing oysters and drinking martinis and bloody marys. A lot of that came from Nigel and that was the style in London. It would be remiss if we didn't pay more credit to what Nigel allowed us to do. It wouldn't have worked if we tried to create a bar that was too esoteric and weird.
Charlie Ainsbury, barback to bartender, 2005 – 2010. Currently, Proof & Company, Australia and New Zealand.
Q: Charlie, you started out as a barback, do you remember your first shift?
To be honest those shifts all meld into one. I remember meeting Lenny on my first shift and he asked me if I was a 'seppo'. If you don't what that is, it's a septic tank, an American, full of shit! I remember it was really hard, Lenny was a real arsehole during those first few shifts. I remember a busy Friday night and the splits were always in a row – lemonade, soda, cola all in rows of five. They were getting slammed – each order was 10 vodka sodas or 15 mojitos – so I thought I'd think smart and pull out an extra five bottle of soda as no one was touching the bitter lemon. And Lenny just takes his arms and swipes all the bottles and tells me… "No, it's five bottles in a row!"
Andy Penney, bartender from 2007 -2010. He's now at The Dolphin Hotel in Surry HIlls.
Q: Andy, you were a seasoned professional when you got back on the tools at The Bayz, what made you do that?
Like everyone said, there was just something about that bar. It was perfect timing, Naren had just left and Simon, Lenny and Chino were there. The thirst for knowledge that all the staff had would flow onto patrons. I remember how excited we all were when we could get Beefeater 40 per cent. Chino and I used to go on Whiskey Exchange to buy booze for the back bar. All the companies that exist now are bringing in all these amazing brands but we had to do all that ourselves. It was a lot of fun, working behind the bar, and not having the responsibility (of management). I had a lot of fun when I worked there.
Simon McGoram, bartender 2007 – 2008. Now at Atom Brands.
Q: Simon, how did you end up there and what was the scene like in the 2000s.
It was one of the first bars I ever went to in Sydney. I was blown away. I had come over for BarShow previously and there was a huge difference in Auckland and Sydney at that time. Auckland had dozens of small bars where you could sit on a bar stool at the bar but in Sydney at the time there were no bar stools. Bars were a flat wall with nowhere to put your legs. Bars were dispense. But it was so nice to sit at the bar and have a chat with someone knowledgeable. It was the only bar in Sydney that I wanted to work. My boss at the time at a little bar in Auckland called Mea Culpa, Lindsey Sorrel, wrote me a glowing reference and I got an interview with Nige and got a job there.
Amy Cooper, drinks and social writer, now at Good Food's monthly magazine The Drop
Q: Amy – you are a journo and lived around the corner from the Bayswater. What was it like in the Cross back in the early noughties?
It was my world for a really important time of my life and has a very treasured place in my personal history. The Cross back then was a very different place. It still had its glitter and its soul. Yes, it had its grime and crime. But at the heart of it all you had this place that was very much an oasis but also really a part of its neighbourhood. The Bayswater was impervious to trends and a bubble of its time. I was writing the social pages at the time and I would wash up after events, I would pull up a seat at that bar, watch my drink being crafted and get my equilibrium back. There was always someone wandering in, wandering out. It was the kind of bar that people make films and TV shows about. And as a writer, it felt very much to me like a writer's bar. It inspired us. And it's no accident that writers have come out from behind that bar. It was a great thing for me learning to love that cocktail culture. It was a fantastic place (the cross back at that time).
DJ Jason Martin, creating the fun from 1999 to 2009
Q: Bayswater was a restaurant until 10pm and after that, you had to mix it up. I'd go in there sober and play some jazz. And then the wines would kick in and I would ramp things up. It was like a big family. I would find out what that person's favourite song was and next time they walked in the door, after their second drink their favourite song would come on 'randomly' and everybody would feed off that.
Q: What are the three songs? There were certain songs where the staff would stop, line up the shots and then it was on. And the customers knew it was on too. The first one was the Scissor Sisters, Comfortably Numb,. Another one was Womack and Womack, Tear Drops, that was towards the end of the night, and the really important one that was the closer for many years was Lionel Richie 'All Night Long'. When that came on there were tears!