Many of you know Bartender magazine's founding Editor Naren Young. You can catch him online doing cocktail videos under the banner of Fork and Shaker and he was an integral part of leading Dante in NYC to the peak of its, being named 'World's Best Bar 2019'.
We're excited to announce that Naren will once again be contributing to Australian Bartender magazine with his first monthly column appearing in our upcoming August issue. In other good news, he is back behind the stick at The Orchard Townhouse in Chelsea, New York.
"It's a great feeling to be back working again after months (mostly) at home," said Naren in a recent Facebook post. "I've always had a strong work ethic (I think), so not being in and around a bar for a while has been an odd feeling, like for many of us in the bar industry.
"Being creative is also something that drives me constantly so to be back in that head space means the world, while maintaining a positive mental state of well being. I've teamed up with my dear friend Natalie Freihon, one of the real bad asses in this industry to get things moving again at The Orchard Townhouse in Chelsea, which had only been open a short time before the COVID closures.
ADVERTISEMENT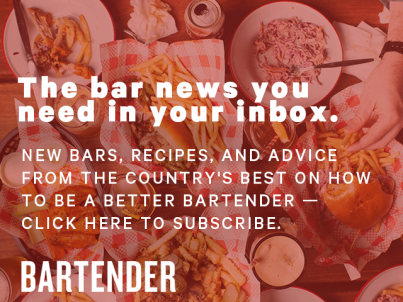 &nbsp
"Larger family-style meals can be ordered online in advance while there's some damn tasty sandwich and salad options also being sold out of our take out window. The patio is one of the prettiest I've seen in the city since the lockdown and the drinks, dare I say it, are simple, pretty, delicious, somewhat familiar and just want I think people want right now. We're open from Wed-Sun at the moment, from 12-7pm."
We wish Naren and the team at The Orchard Townhouse all the best with reopening and you can check out all the menus and some of Naren's drinks on the cocktail menu or follow him @forkandshaker on Insta. In the meantime, here are a selection of the drinks for you to peruse:
ESPRESSO MARTINI HIGHBALL
Grey Goose, Fernet Branca, Mr Black, PX Sherry, Espresso, Earl Grey, Chocolate Bitters, Soda
THAT YELLOW LEMONY FROZEN DRINK
Grey Goose, Limoncello, St Germain, Fresh Lemon, Lemon Bitters, Prosecco
GRAPES ETC.
Barsol Pisco, Dolin Blanc, Dry White Wine, Pressed Grape Juice, Tannin Tincture, Verjus, Champagne, Cotton Candy Grapes
BELLINI CRUSH
Absolut Peach, Rinquinquin, Blood Peach Puree, Lemon, Maldon Salt, Peach Vinegar, Moscato d'Asti, Black Sesame
BLOODY MARY
Absolut Peppar, Fresh Pressed Vegetables, Random Spices, Grated Horseradish
OUR PINA COLADA
Banks Rum, Fresh Pineapple, Coco Lopez, Banana, Sea Salt
BOURBON n' STUFF
Woodford Reserve, Raspberries, Black Pepper, Balsamic, Pressed Lemon, Ginger Beer
CORN MILK PUNCH
Abasolo Mexican Whiskey, Nixta Corn Liqueur, Spiced Agave, Corn-Infused Milk, Nutmeg
YUZU HIGHBALL
Suntory Toki, Midori, Choyu Plum Wine, Mirin, Yuzu Juice, Wasabi Salt, Icy Soda Water
ROSÉ NEGRONI ROYALE served frappé style
Hendrick's, Regal Rogue Rosé, Martini Fiero Aperitivo, Rose Salt, Sparkling Rosé
LAVENDER COLLINS
Bombay Sapphire, Crème Yvette, Pressed Lemon, Lavender Soda
RUM PUNCH
Three Rums, Fresh Pineapple, Guava Nectar, Orgeat, All Spice, Pressed Ginger, Cinnamon
VENETIAN SPRITZ
Select Aperitivo, Dry Curacao, Lillet Blanc, Orange Bitters, San Pellegrino Aranciata, Prosecco
FANCY POMEGRANATE MOJITO
Banks Rum, Pressed Lime, Torn Mint, Pomegranate, Bubbly
KINDA SORTA MAYBE PALOMA
El Tesoro, Italian Bitters, Fresh Grapefruit, Saffron, Fever Tree Pink Grapefruit, Citrus Salt
THE BIG APPLE
Laird's Applejack, Pear Eau de Vie, Becherovka, Pressed Lemon, Apple Cider, Chamomile Soda
VERMOUTH CUP
Dolin Dry & Blanc, Aquavit, Peychaud's Bitters, Bubbly Things
PASSIONFRUIT MARGARITA
Altos Blanco, Cointreau, Ancho Reyes, Pressed Lime, Jalapeno, Passionfruit, Agave, Tajin
WATERMELON FIZZ
Reyka Vodka, Martini Bitter, Lillet Rose, Fresh Watermelon, Pink Bubbles, Rosewater, Watermelon Radish
COSMO FRAPPÉ
Absolut Citron, Cointreau, White Cranberry, Pressed Lime, Cranberry Liqueur
THE GARDEN
Banhez Mezcal, Milagro Blanco, Benedictine, Fresh Cucumber, Pressed Lime, Dill, Celery Soda