On August 7th, The Blend will be launching a new platform called the IDEA LAB, designed to help support the Australian Bartender Community to rebuild, regenerate and, well, innovate!
The Blend is offering industry grants of up to $20,000!
Yes, you read that correctly.
With just a couple of weeks until the launch date, we thought we would give you a bit of extra time to get your ducks, (that like most of us are in the ponds swimming around,) somewhat in a row.
ADVERTISEMENT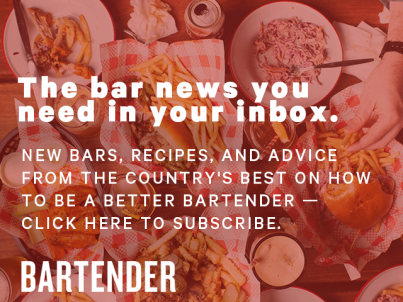 &nbsp
So, what is the IDEA LAB, you ask?
Everything begins with an idea.
An idea to drive change, an idea to empower, or an idea to rebuild.
However, most of the time ideas stay as dreams, and unfortunately never become reality.
Either put on the back burner, sitting under a pile of notes gathering dust, thrown in the trash, or stored in someone's brain with no voice to be shared. That makes us sad. Very sad.
The IDEA LAB is here to make those dreams a reality.
For our industry, it's certainly been a time of hardship, impact and a lot of change for everyone.
Rules and regulations enforced by the government saw us face times of isolation and lockdown (for Victoria, twice!)
It was here, at home, probably in our active wear or Pjs that we were given a chance to stop, think and reevaluate.
A time to create and revolutionise.
Over the past few years, we've been witness to genius light bulb moments and topics of discussion that leaders of our industry have put into practice.
Take, for example, Trash Tiki with the Sustainability, minimal waste movement, White Lyan removing ice from their venue operations and changing the 'standard bar', Tim Etherington-Judge with Healthy Hospo, talking about Mental health; and that's just to name a few!
Those ideas have transformed the industry, not just locally, but globally as well!
We know that there is a bank of ideas that are being sat on, that may not have had their chance to shine.
Maybe due to resource support limitations, timings or financial investment not previously available.  But… The Blend is here to help!
The IDEA LAB is giving away multiple grants of up to $20,000*, as well as the option of applying for $5,000 worth of Beam Suntory stock support.  (We have two (2) of these available!)
Through the IDEA LAB, bartenders are given the opportunity to submit an original idea, that is to support their team, venue, or a personal passion project, that may be beyond the bar.
A creative outlet to which The Blend will support, nurture, educate and mentor the shortlisted ideas, and provide grants to those selected to enable the idea to take full flight.
If you're not a member, sign up today to receive further information, or stay tuned from August 7th on the application process online at www.the-blend.world
In the meantime, start perfecting that idea, or gather your team together.
Details to come!