Story by Nick Focareta, photography by Brook James
Nick and Nora's Melbourne – 11 Benson Walk (enter via Little Collins Street), 80 Collins Street Precinct, Melbourne
Note: This story featured in our new openings section in the August issue of Bartender magazine, which went to press just as Melbourne's second lockdown started. We wanted to give a shout out to all the Melbourne bars and bar people who are enduring stage four restrictions and we look forward to seeing you at the bar again in six weeks.
Nick and Nora's Melbourne is the Speakeasy Group's eighth venue opening in as many years. Following the success of sibling bar Nick and Nora's Parramatta, owner-operators Greg Sanderson and Sven Almenning decided to take the experience interstate. The first venue to be opened in Melbourne's eagerly awaited 80 Collins St precinct, the theme is all things luxury: cocktails, champagne, cognac and caviar.
ADVERTISEMENT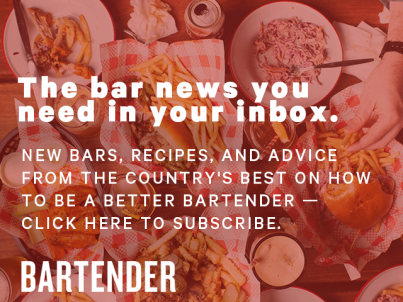 &nbsp
Designed by long time collaborators Studio Y, post prohibition American glamour was the brief. From emerald green marble to gold and dark wood finishes, you'll feel like you've been transported back to the roaring 30s. In keeping with the surroundings, an impressive five-metre-long display housing a staggering 400 bottles of rare and hard to find champagnes adorns the entrance.
Kayla Reid (Savile Row, Cobbler) was brought on to run the bar, forming the cocktail list around the sordid characters that would consort with Dashiell Hammett's protagonists Nick and Nora Charles. The Honey Trap lists sweet and decadent drinks, the Femme Fatale features martinis and the Snitch encompasses sours; to name a few. Food offerings have been thoughtfully chosen to pair with a drink in hand: charcuterie and cheeses, oysters with French 75 granita, smoked eel blinis topped with caviar.
Nick and Nora's will reopen after lockdown in Victoria.