Story by Ollie Margan from Adelaide bar, Maybe Mae
Adelaide's premier small bar turns seven
The number of small venue licenses in Adelaide is fast approaching 200. As this issue goes to print, Proof Laneway Rooms (license #001) will turn seven.
Joseph Wilkinson and Shane Ettridge opened their little all-rounder in a small pocket of Adelaide's west end with genuine intent. A "sophisticated drinking house", sans pretension. Whilst waistcoats have relaxed to more casual attire, an ambitious food offering has given way to some of the best toasties in town, and the block ice display hasn't seen the chill in some time, that ethos rings true as ever.
ADVERTISEMENT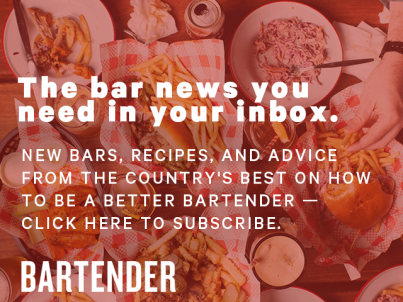 &nbsp
A disclaimer should be made, Proof Laneway Room's was this author's first bar job, a certain bias may exist.
The precedent set by Proof, laid foundation for a local industry that is gaining strong momentum and national recognition. Juiced to order citrus, clear ice, metal straws, bespoke glassware and an absinthe fountain were all staples in Proof's original offering.
Perhaps these luxuries were not fully appreciated at the time by the broader drinking audience – looking back however, this was a class operation well ahead of its time. The current day fare is more balanced across the board, showcasing a greater depth in wine (both local and afar) alongside a succinct, yet complete beverage package. Try the 'Uno' cocktail for a taste of the beginning – Aperol, gin, fino sherry, honey, ruby grapefruit.
Food sits secondary to the drinks offering here, though the hedonistic waft of gruyere hitting the jaffle iron is as much a crucial piece to the puzzle as any libation. Their 'Toastie Takeover' has seen the likes of industry heavyweights Simon Bryant and Cheong Liew on the pans as well as an ongoing offering from neighbouring restaurant Press*. It is the personality found in the details here, that you perhaps can't get outside of Adelaide. For city newcomers, a certain first port of call.
The fact that Proof lies off the popular Peel/Leigh St beat may not give it the same late-night energy that its counterparts enjoy, yet you ask any of those operators where they would spend their night off… The answer is in unison. Joe and Shane have proven that long term success of a venue lies not in an abstract product, but a gently honed offering and service; driven by the guest. Sounds simple enough, though having the humility and maturity to be generous with your legacy such as this, is not often observed in this industry.
On behalf of Adelaide, Happy Birthday Proof. Long may she reign.